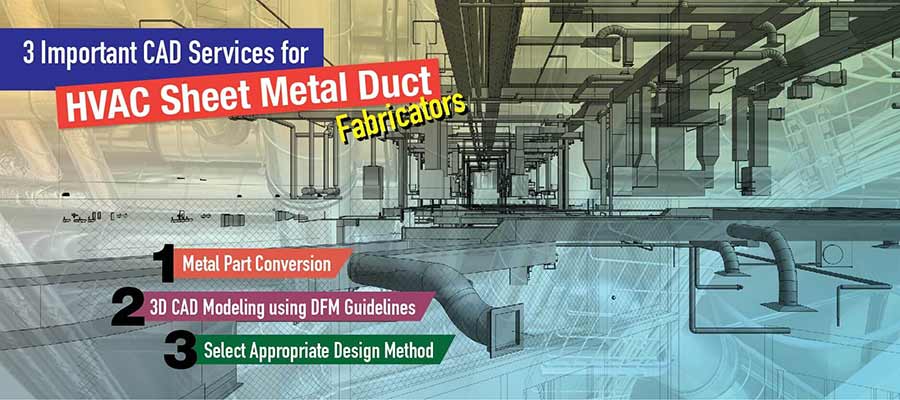 HVAC industry has embraced rectangular sheet metal ducts because of the good height clearance it offers and the connection with FCUs to main ducts is also rectangular. However, round or rectangular sheet metal ducts, it requires efficient designs that complement the building layout and with efficient design cycle.
Design and fabrication collaboration through CAD
From designing to physical fabrication of sheet metal ducts means close collaboration of sheet metal design engineers and sheet metal fabricators through 3D CAD models of ducts, designed comprehensively. Accelerated design cycle with detailed engineering and fabrication drawings to communicate design intent essentially brings design engineer and sheet metal contractor closer and delivers exact HVAC industry needs.
Usually, if the contractor or fabricator and the design engineer aren't clear with design intent and customized tooling capacity of shop floor, it invites engineering change orders. It lies in the onus of the design engineer, or when outsourced CAD works to engineering design service provider, to ensure that the sheet designs are complete and self-explanatory.
At Hitech CADD Services, we partner with sheet metal contractors, fabricators and design engineers to deliver CAD designs using popular software like SolidWorks or Creo or Autodesk Inventor.
Enlisted are the three essential services that our sheet metal 3D designs expert delivers and serve as an extended arm for design engineers and essential for sheet metal fabricators.
1. Sheet metal part conversion
In order to enable the fabricators to easily achieve flat patterns with required gauge and bend allowances quickly, sheet metal product industry needs conversion of a solid CAD part in sheet metal part. The prime reason to do this is to allow warehousing manufacturing information within the 3D models or CAD drafts which are different for sheet metal and a solid part.
Solid parts are made by cutting a solid piece of metal while sheet metal parts are made from a flat sheet of a suitable metal, aluminum, cast iron, steel or any other. Mostly for complex sheet metal part designs, CAD specialists prefer to create solid parts like any normal CAD model and then convert it to sheet metal part – an easy way out.
Once the conversion is complete in CAD, extracting flat patterns and fabrication drawings is pretty easy considering k-factor, bend allowance, thermal expansion coefficient of metal, spring back effect of sheet metal etc.
At Hitech CADD Services, our team of CAD experts competent at using convert to sheet metal feature of SolidWorks delivers conversion service to help fabricators and manufacturing firms for seamless fabrication. We help them reduce errors, and increase productivity without worrying about the allowances during early stages of conceptual designing of ducts and design seamlessly.
2. 3D CAD modeling using DFM guidelines for sheet metal
Whatever is your design approach, equal friction, static regain or constant velocity; our CAD specialists have the competence to deliver 3D CAD models for your choice of HVAC duct designs and 2D CAD shop drawings to help you carry out uninterrupted fabrication stage.
Bottom line for smooth transition of designs to fabrication stage is accepting the fact that designs are made in accordance with the shop floor tooling capacity, detailed engineering information and mention of accurate BOMs and GD&Ts. Furthermore, the designs should be made with the end usage in mind. This is to say that the environment where the ducts are to be installed should be examined, building designs should be studied thoroughly and then designs should be made so that reworks can be avoided.
For example, sheet metal designers take utmost care, to maximize the space within the building, appropriate routing of ducts, and provide uniform cooling or heating across the building. Sheet metal designers should also consider architectural design aspect and galvanized steel construction, 20, 18, 16 or 14 gauges, with welded corners and with seams joined by continuous water and air tight welds to align themselves with the fabricators.
3. Helping to select appropriate design method
Designs of sheet metal ducts are based on the type of sheet metal used, its physical properties like thickness, material elasticity or plasticity, thermal expansion and other alike. Other factors influencing the designs also include duct material, air velocity, intended frictional losses, pressure drop, size and shape, and duct length etc. which is usually to be adjusted in a compact space that is allocated to the HVAC contractor after the structural and architectural designs of the building is finalized.
Our CAD managers have the expertise to work with inter-teams by coordinating all the aspects of the project and help you select the most appropriate design approach. By consolidating the requirements and analyzing the situations at all divisions related to duct design development, we enable efficient development of duct designs for any intended shape and application.
We have delivered duct design works to HVAC sheet metal fabricators and manufacturing firms for over a decade long experience in CAD modeling and drafting.
For discussing your outsourced project requirements with our CAD managers, please drop us an email at info@hitechcaddservices.com