Business need for the extension
We received multiple requests to club multiple files into one or different groups for easy maintenance, storage and file sharing. The clients' primary need was to share different document generated by DriveWorks as a single attachment in an email to their acquaintance.
Currently DriveWorks do not have any inbuilt functionality that allows the user to merge two or more files into one. And thus, Hitech's DriveWorks engineers developed custom add-in (DriveWorks Specification Task) to address the client needs.
Description:
Merge PDF task allows you to combine multiple PDFs into one single PDF with the specified output document name within DriveWorks interface and allows the user to define the location to save the document. The files (PDFs) are merged in a sequence which is passed in the list. Any missing file or files with incorrect name i.e., the files that do not exist in the source directory provided with list of documents to be merged are skipped and reported in the specification report.
We recommended performing this task only after DriveWorks completes generating the documents listed to be merged. With DriveWorks Triggered actions, which allows DriveWorks to watch for the documents to be generated, and then perform the required tasks.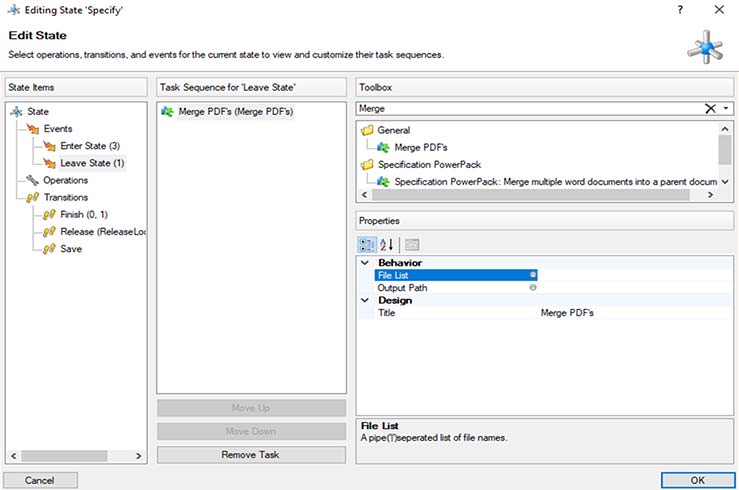 DriveWorks Pro 2017 help file Stage 4:
Administrator>Using DriveWorks Administrators>Project Designer>Output Rules->Documents->Documents-Data>Triggered Action
One can create a Trigger Action which allows a Specification to Transition to a State once a specified file has been created. In this instance the file list which needs to be merged. As Triggered Actions can only be processed by DriveWorks Autopilot, this in turn keeps a watch on the location of files mentioned in the Trigger Action document. Once all the files listed in the Trigger Action which also happens to be the list of files to be deleted is generated, DriveWorks now allows the Specification Task (Delete Files) to occur during the transition.
The above image represents the use of the Merge PDF's Specification Task.
File List: This input field accepts list of file names which are separated by a pipe bar "|".
Output Path: This input field accepts the output path along with file name and extension.