Hitech remains fully operational amidst the Covid-19 challenges. Our business continuity plan is fully in place and allows our teams to conduct 'business as usual' remotely and safely. For any questions, please connect with Bachal Bhambhani (USA)
+1 408 338 8047
or Brett Parnham (UK/Europe)
+44 782 436 5444
.
Project Information
Client Profile
World Market Leader in Explosion Protection Panels
Industry
Sheet Metal Panel Manufacturing
Inputs
Unfurnished DriveWorks Projects and 3D Models
Deliverables
DriveWorks Configurators
Software
SolidWorks and DriveWorks
Services
Design Automation
Client Challenges
Difficulties in arranging 3D Parts (Cable gland Plugs and Internal Components like Terminal blocks) in 3D preview
Unable to generate drawings for specific outputs corresponding to inputs parameters
Inaccurate power dissipation calculation
DIN Rail spacing and Earth bar issues
Business Needs
Develop and setup efficient product configurator for electrical junction enclosures.
Fix bugs in 3D preview, SolidWorks models, drawings etc. while automating.
Rework on design rules for effective configurator interactivity and automation.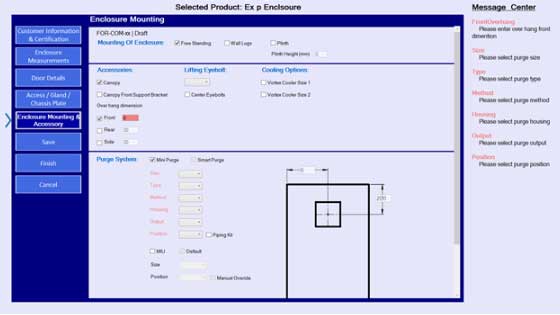 DriveWorks Configurators
Our Detailed Engineering Solution and Approach:
The safety equipment manufacturer was directed to Hitech by DriveWorks UK team while looking for a competent DriveWorks partner. The primary need for partnership was to accomplish configurator development for automating electrical junction box design originally initiated by another reseller who couldn't clear off the roadblocks.
Hitech automation experts carried out an in-depth study of the sales sheet and current overall implementation of the project to make improvements in configurator developed by previously hired DriveWorks reseller.
Hitech was always available at short notice to assist, troubleshoot and fix any issues. Their expertise gave us confidence that the final product would meet expectations.
Hitech went beyond the initial scope of the project. Their excellent support during our recent SolidWorks 2020 upgrade ensured the configurator tool was working correctly.
Project Team Leader
Hazard Protection Technologies Company, UK
Our initial studies suggested that 3D preview was the center that needed modeling and programming furnishing to achieve higher functionality.
In order to create interactive 3D configurators, we improved model features to make them reactive in real-time based on selection made.
DriveWorks Experts also fixed disorientation challenges of cable gland plugs by reorganizing their spaces which resolved improper 3D preview.
The existing configurator rules didn't display internal components creating chaos to the sales personal on frontend which was fixed by redesigning the rules.
Furthermore, the Hitech engineers also recalculated power dissipation and recreated models with unusual cut-outs for enclosure body.
Safety equipment manufacturer was able to setup configurator for his sales team without any snags in the models, drawings, 3D previews or any output for any given selection made by the user.
Business Impact
Created error-free configurator using DriveWorks Pro for multiple design combinations of electrical enclosures.
Corrected models, drawings and 3D previews using logical design rules.
Recalculated power dissipation to have accurate value for perfecting enclosure designs.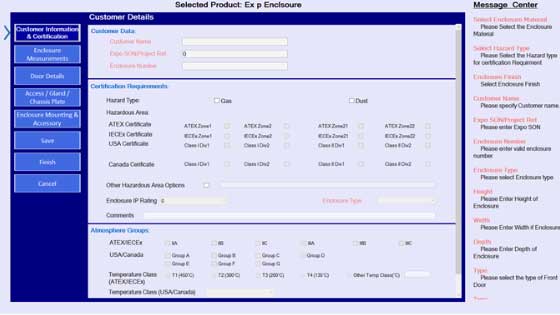 Created Error-free Configurator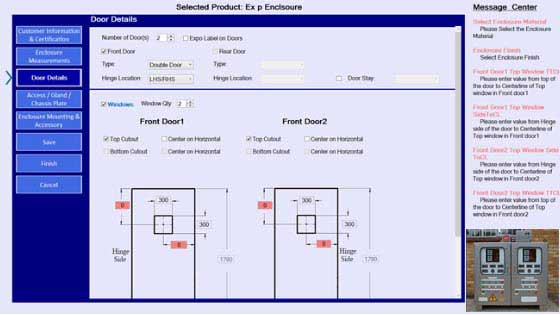 Product Configurator for Electrical Enclosures