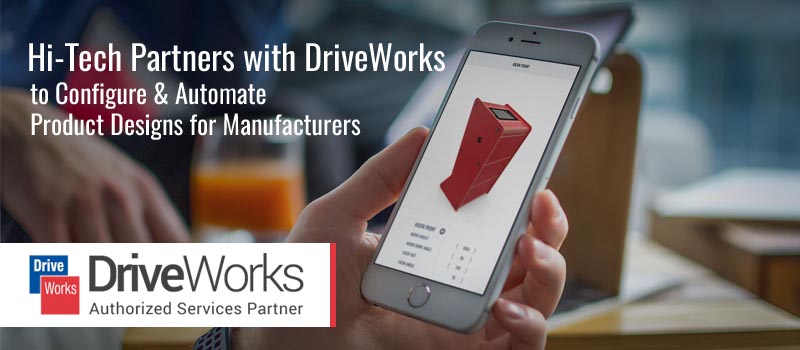 Hitech Becomes India's First Authorized DriveWorks Service Partner
In our pursuit to be one of the leading design support solution providers to manufacturers globally, we at Hitech joined hands with DriveWorks, the leading design configuration and automation tool company. This makes us India's first authorized service partner, delivering solutions for DriveWorks implementation, design automation along with CAM, ERP, PDM, SQL, web and other specific integration.
We are looking forward to transform Hitech as a Center of Excellence for design automation. It is indeed a wonderful opportunity for us as Maria Sarkar, VP of DriveWorks along with her team members will visit our delivery center, to train our engineers and certify them in DriveWorks.
Technical knowledge and 3D CAD design expertise of mechanical designers are the key elements to any engineering design, which comes only with years of experience. Our engineering design support experience of more than 10 years' is "priceless"; as the efforts, innovations & synergies developed by us is what makes us not only to survive, but also thrive in today's market.
Our engineers pioneered the use of DriveWorks, to automate CAD modeling process in SolidWorks for ETO (Engineered-to-Order) products. Ranging from furniture and industrial equipment to sheet metal and building products, we have enabled manufacturers to leverage design automation and guided selling, through DriveWorks.
Even before this partnership was thought of, Hitech efficiently used DriveWorks to deliver effective & customized design automation, product configuration and quote estimation solutions to one of the leading window and door manufacturers in US. The end result of our DriveWorks implementation in their design process was reduced engineering time from 4-5 days to merely 10 minutes.
With design automation, our client was able to respond to customer inquiries faster and with better and accurate quotes. Customers can order their specific doors and frames, just in time when they need it.
Another prominent DriveWorks design automation solution that we implemented was for a leading metal & wooden furniture manufacturer for retail stores & restaurants.
From cabinets and food counters to wall display stands and other retail furniture, integrating a degree of automation in the design helped our client to minimize development time.
Automating designs of these products using DriveWorks enabled the client to directly generate manufacturing drawings and quotation for customers. There was an exponential growth in sales and revenue along with an increase in their ability to deliver products on time. We also have several other automation projects lined up, some of which involve development of application specific plug-ins.
While we have been providing design automation solutions already to our esteemed clients, this partnership with DriveWorks will further enable us to project ourselves as a true productivity partner to manufacturing units and engineering firms spread across the globe.