Hitech remains fully operational amidst the Covid-19 challenges. Our business continuity plan is fully in place and allows our teams to conduct 'business as usual' remotely and safely. For any questions, please connect with Bachal Bhambhani (USA)
+1 408 338 8047
or Brett Parnham (UK/Europe)
+44 782 436 5444
.
Project Information
Client Profile
Door and frame manufacturer
Industry
Sheet metal building products manufacturing
Inputs
Custom design needs and database
Deliverables
2D drawings PDFs, DXFs, Bill of Materials [BoMs]
Services
Design Automation
Client Challenges
30-35 customized product designs each having numerous variants causing hassle during design customization
Difficulties in managing data-base of input/output design and drawings
Time consuming and error-prone repetitive tasks
Business Needs
Develop a tool to automate the door design customization by sales teams or by the customer when design specifications are defined.
Our Detailed Engineering Solution and Approach:
Owing to our strong pre-existing portfolio in the domain, Australia based manufacturing firm approached Hitech teams to develop an automation tool and reduce design cycle time. Automation team working on the project initially studied the SolidWorks models and drawings shared by the client to identify the scope for automation.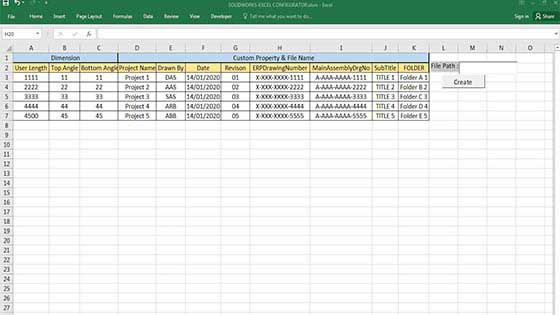 Excel based SolidWorks Configurator
Primary investigation led the project team to advice manufacturer to create an Excel based configurator for implementing automation at various stages of design and modelling.
The user can enter custom specifications in the master Excel sheet which is in turn connected to SolidWorks with VBA API.
All the design specifications received from the end-user will be fetched from the CAD library and opened in SolidWorks.
User only needs to select the product number and enter data in Excel rows such as require dimensions, end client data, project name, option for generate DXFs and Revisions etc.
The final output of assembly models with all technical documents will be created from the master models based on input design specifications.
At the end of project duration a structured MS Excel spreadsheet with VBA scripts were shared with the client capable to automatically generate standard files, parts, assemblies, drawings, DXF files, BOMs, etc.
Business Impact
Reduced design cycle time from 15 days to a few hours.
Overall project cost effectiveness since MS Excel based configurator is economical as compared to other automation platforms and tools.
Improved deliverables quality by 99% due to automated design development and drawings.
Fewer errors transmitted on shop floor.
Output/input data stored in Excel database with a structured format.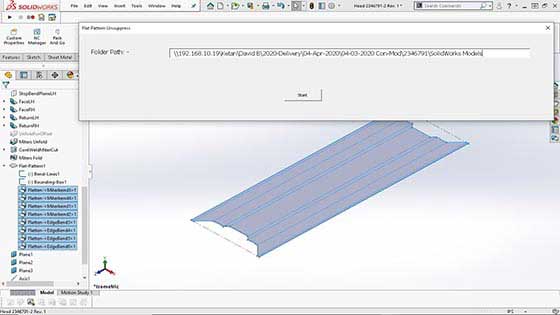 Design Specifications Received from the CAD Library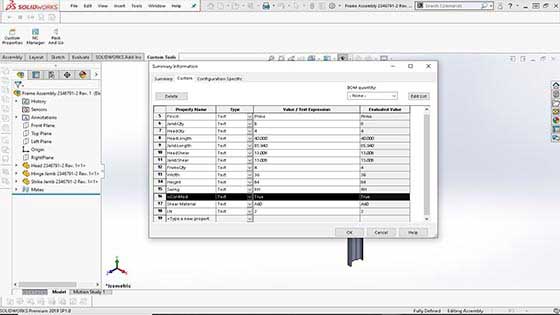 Automated Door Design Customization