Hitech remains fully operational amidst the Covid-19 challenges. Our business continuity plan is fully in place and allows our teams to conduct 'business as usual' remotely and safely. For any questions, please connect with Bachal Bhambhani (USA)
+1 408 338 8047
or Brett Parnham (UK/Europe)
+44 782 436 5444
.
Project Information
Client Profile
Environmental systems manufacturer
Industry
Power engineering
Inputs
Custom design needs and design parameters
Deliverables
.ivb file integrated with assembly file, 3D CAD Models & Mfg. Drawings.
Software
Autodesk Inventor
Services
CAD Customization
Client Challenges
3-5 days of engineering lead time, affecting final product delivery
High possibility of errors hence risk of design flaws 
Time consuming repetitive tasks
Business Needs
Speed up engineering lead time through a customized tool to update CAD models and CAD drawings along with their model references and auto assemble sound proof tank.
Our Detailed Engineering Solution and Approach:
The client, a Japan based designer and manufacturer for power industry, was manufacturing a sound proof tank with lengthy design curves for tank assembly. The client approached Hitech automation teams to resolve this issue and bring down the design cycle time.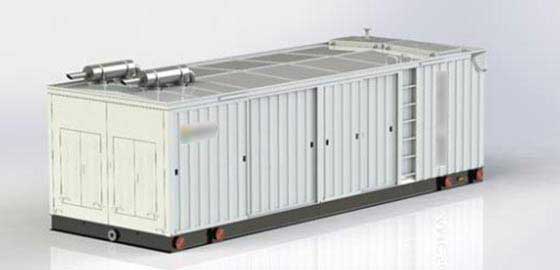 Automated Tank Assembly Creation

Top Panels
Automation engineers studied the scope of automation and carried out feasibility study for custom design needs.
Based on the study and design engineering of the tank, Hitech's automation specialists suggested to develop an automation through for rule based entries of the panel.
A macro with a user interface (GUI) was developed for Autodesk Inventor models and assembly which would select the number of panels on each side of the tank. The user can also define the storage path for the assembly.
The user can specify the details for custom dimensions and position of panels by populating it in a standard MS Excel file format.
By using the user defined data in Excel spreadsheets, all technical documents, models and drawings are created.
The project involved 750 hours of dedicated efforts from Hitech engineers and .ivb file were created based on several criteria and logical-rules. It led to error-free models development as well as increased production quality and rate. Furthermore, the deployment of macros resulted in saving time for engineers.
Business Impact
Development of macros by Hitech's design automation team led to several positive impacts for manufacturing firm which included:
Reduction in design cycle time to approximately 10 minutes from 3-5 days.
2-3 engineers were liberated from assembly creation task as even a non-technical professional can run the macro.
Saved time for engineers led to investment of time in design research development.
Higher profitability for the client due to saved time and increased productivity.

Side Corner Panels

Side Panels