We turn conceptual ideas, mockups, hand drawn sketches to 2D drawings and 3D CAD models for plant engineering, furniture manufacturing, fabricated metal & alloy manufacturing and sheet metal product manufacturing companies. Providing the opportunity to plan the manufacturing and assembly processes early in the development cycle, our mechanical 3D solid modeling services support plays a crucial role in reducing the cost of expensive tooling.
Our engineers make use of industry-leading 3D CAD modeling tools such as SolidWorks, Inventor, SolidEdge and Creo to develop high-quality, accurate 3D models for small parts to large and complex assemblies.
Our mechanical product design development teams assist you in documenting your components or products. We did reverse engineering of a complete recycling plant and documented the information for a production plant in Europe. On other hand our engineers, for design optimization; our engineers delivered CAD conversion of reducer gear assembly for a steel strapping machine.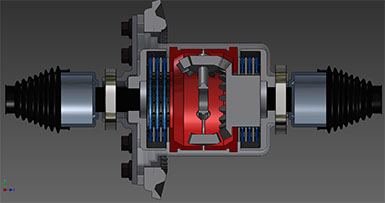 3D Model of Automotive Differential
3D Model of Power Transmission
We also developed 3D model, assembly and detailed 2D drawings for crash test dummies in USA, where the comprehensive design information reduced manufacturing time. Our assistance was asked by a Heavy engineering company for 3D modeling & detail drawing development of casting components.
Hi-Tech has proven excellent project management capabilities and served as a virtual design extension for manufacturers spread across USA, Canada, UK, Europe, Middle East, Australia & APEC regions.
Our 3D CAD Modeling Services include:
3D solid models for small, large and complex mechanical parts and assemblies
CAD models for large assembly designs
CAM-ready flat patterns DXF including bend compensation and sheet metal manufacturing cost estimation
3D models for welded structures, frames and bases
Piping and tubing design with accurate bend tables, cut lengths and BOMs
Electrical cable harness and conduit design
3D modeling services from 2D CAD /scanned /hand drawings for mechanical components, assemblies and plant layouts
3D model design for reverse engineering of legacy parts, new product development and competitor product analysis
Surface modeling to represent complex surface geometries in CAD format
Software Capabilities
Our integrated team of qualified engineers with broad experience and good exposure to various projects help in delivering creative and quality engineering services
Get in Touch