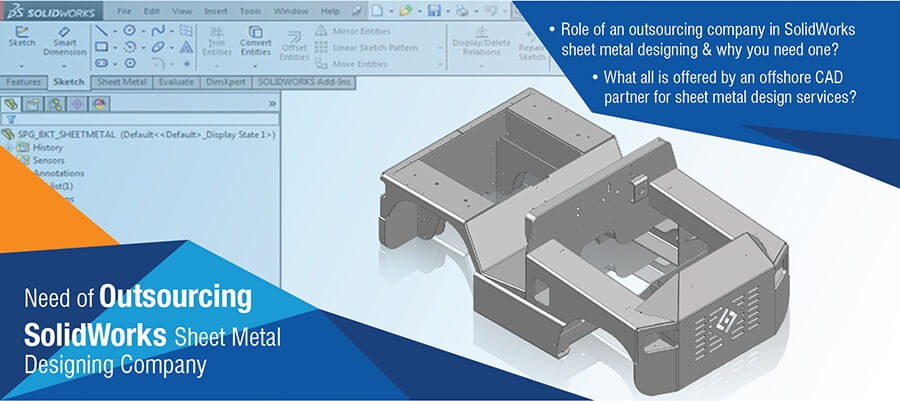 Today, SolidWorks remain the popular choice for a majority of sheet metal fabrication companies and sheet metal contractors. Sheet metal design engineers and experts develop exclusive sheet metal parts in the 3D CAD software like SolidWorks to create the parts and multi-component assemblies. In case, if the parts are complex, they are first modeled into regular 3D CAD Solid model and then converted into sheet metal part in SolidWorks by the standard steps of conversion in the software.
However, if you ask, how to convert solid part to sheet metal part, and how easy it is, then despite all the CAD software, one needs an expert to efficiently convert the part into sheet metal. SolidWorks tutorials and other handbooks will only take a fabricator so far, the full-spectrum high-level designing can be done by an offshore sheet metal SolidWorks drafter.
Sheet metal gauges of different sizes as per the table, DFMA guidelines, k-factor, bend radius etc. will be assigned correctly to the part and this can be done by an expert only. An external company, delivering outsourcing services for sheet metal designing is the ideal choice.
Role of an outsourcing company in SolidWorks sheet metal designing
Any company that specializes in 3D CAD modeling and drafting outsourcing solutions with capabilities in SolidWorks is the correct partner for converting or designing sheet metal parts. This is because their drafters know the acuteness of SolidWorks drafting and the correct in-built functions, SolidWorks APIs, and the commands within.
A CAD outsourcing firm that takes up your project not only delivers you designing of metal sheets but also considers the custom tooling capacity of the fabrication shop floor to develop designs. Based on these, they help you create fabrication drawings, shop drawings, assembly and part drawings of sheet metal components including sheet metal enclosures, furniture pieces, industrial equipment including pressure vessels, storage structural frames, racks, etc.
The CAD drafters and sheet metal design engineers will create custom fabrication drawings and designs based on the part utility and application with varying dimension, material such as aluminum, steel, chromium, copper, etc. They follow DFM strategies for welding, joining, cutting, bend regions, holes, grain orientation and size, bolting, etc. to ensure the part strength and durability.
What all is offered by an offshore CAD partner for sheet metal design services?
Ideally, service offerings of a CAD firm may differ based on the capabilities of their in-house engineers and drafter. But a pioneer company, like Hitech, offers enlisted services:
CAD conversion for legacy sheet metal design data
Convert a hollow solid part to sheet metal flat pattern(s) with SolidWorks
Convert solid 3d pipe models to sheet metal/weld
Convert standard part to sheet metal part drawings with Autodesk Inventor®
2D manufacturing drawings with advanced BOMs
SolidWorks 3D modeling for sheet metal with edges, miter, bends, flanges, rib, gusset, collars and more for DFM requirements
Shop drawings and fabrication drawings in DWG and DXF formats
IGES/STEP files to easy transition at CNC machining stage
Design automation of engineering-to-order (ETO) and bespoke products like doors, windows, panels, racks, etc.
Quick CPQ solutions with online product configurator
At Hitech CADD Services, our rich experience of 25+ years in outsourcing CAD services and 12+ years of SolidWorks expertise for a multitude of industry verticals, we deliver unparalleled assistance to sheet metal fabrication industry professionals. Based in India and offices across the USA, UK, Europe and client's presence in Germany, France, Italy, Singapore, Middle East, GCC, and Australia, our sheet metal design engineers and consultants are just near you.
We follow every design regulation acts, guarantee design data privacy, client identity secrecy and strict compliance to GDPR. Our SolidWorks 3D modeling and 2D drafting teams of 80+ engineers, drafters, CAD experts and consultants are well-versed at international design standards like ASME, IS, TEMA, ANSI, BS and many more for your needs.
Speak to us about your SolidWorks Sheet metal fabrication design queries at info@hitechcaddservices.com and collaborate to troubleshoot the design and shop floor challenges.