We deliver robust and reliable pressure vessel design support with the least possible risk factor for manufacturers and fabricators to stay profitable. Our CAD outsourcing services include 3D solid modeling and 2D drafting for all types of pressure vessels and accessories deployed in chemical, food & beverages, oil and gas, cement plant and power plant applications.
We use AutoCAD, SolidWorks, Inventor and Solid Edge for delivering 3D CAD models of pressure vessel components. Our engineers help you develop fabrication drawings, installation and assembly drawings for pressure vessels, storage tanks, cylinder support, heads, nozzles, flanges etc. According to regulatory standards and abiding ASME codes for pressure vessel.
With our sound understanding of ASME code written under Section VIII division 2, guidelines for pressure vessel, we deliver a trust of safe designs to fabricators and project themselves better in markets.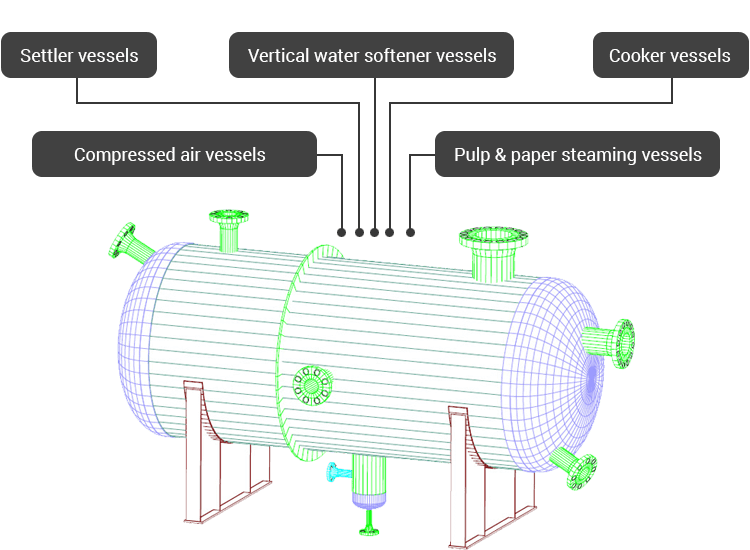 Our turnkey pressure vessel design services include:
Detailed 2D fabrication, layout and installation drawings using AutoCAD
Custom pressure vessel design development according to its application
3D modeling for piping runs and surrounding accessories
Detailed 3D model for pressure vessels and plant layout in SolidWorks and Solid Edge
Finite element analysis for structural and fatigue studies as per ASME guidelines
Heat transfer and fluid flow studies using CFD and FEA using ANSYS Fluent and ANSYS Mechanical respectively
Platform/equipment asset life assessment
Pressure Vessel Design Case Studies
Our integrated team of qualified engineers with broad experience and good exposure to various projects help in delivering creative and quality engineering services
Get in Touch