As an authorized service partner of DriveWorks, we empower fabricators to openly embrace custom fabrication even for ETO projects. With our extensive experience in engineering design, we are excel in harnessing the supremacy of automatically generating fabrication and installation drawings, BOMs, and other design documents using DriveWorks capabilities along with SolidWorks.
Our design automation solutions are flexible and agile with the changing market and customer needs and fabricators' shop floor setting. We adhere to industry standards to keep sheet metal fabricators, fabricators of ETO products, furniture manufacturers, etc. Our team of design automation experts delivers an extended design arm to shopfitting, retail store furniture needs, hotels furniture, industry components etc. with their amateur knowledge base.
We also leverage Autodesk's Inventor and iLogic capabilities along with Configurator 360, to address the needs of product manufacturers for penetrating the markets at right times. We help fabricators develop product configurator and automatically generate BOMs, fabrication drawings and manage production control by keeping a check on inventory. We automate repetitive design tasks and improve the productivity of designers and fabricators by helping them to reduce product development cycle time.
Glass Doors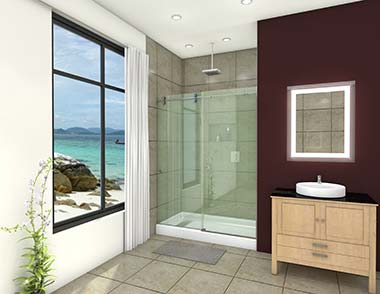 Vanity System
At Hi-Tech, design automation services are aimed to be fabricator centric to keep them profitable right from concept design to all the way through production. We deliver engineering designs automation to reduce engineering lead time and allow significant cost savings in fabricating customized designs by eliminating human interference and hence errors.
Apart from design automation for 3D CAD models and drafts, we also provide solutions to streamline sales and manufacturing by integrating automation for quick product configuration, quote estimation and generation of manufacturing information for customized products. We work on leading CAD and automation tools as well as help clients in CAD customization through APIs to seamlessly integrate automation for wide range of product variants.
At Hi-Tech we classify our design automation services under three sub-heads as enlisted:
Design Automation
3D Model and assembly creation to support design automation
Auto generation of 3D models, drawings and documents for engineering-to-order products to automate tedious, repetitive and time-consuming tasks
Increase productivity, decrease QC time
CAD Customization (Support for SolidWorks and Autodesk Inventor)
Add new features in the CAD software add-ins to suit "Industry" specific need
Integrate "third-party" software with CAD software using programming languages such as C, C++, VB, VBA ,VB .NET, ASP .NET with VB and C#, Java and MS SQL database technologies
Tools to assist engineering decision making:
Decision such as costing, standard part/material selection, knowledge management etc.
Automation for quote generation, proposal and other sales documents
Integrating design information with SQL database or ERP systems
Technical Publications to assist decision on shop floor
CPQ solutions for quick customer enquiry response
Software Capabilities
Our integrated team of qualified engineers with broad experience and good exposure to various projects help in delivering creative and quality engineering services
Get in Touch