Our experienced team of CAD specialists and design engineers help in automating repetitive design tasks and improve the productivity of the designer, while reducing the overall product development time.
With over 10+ years of experience, we have developed a strong knowledge base to help clients in pinpointing opportunities for engineering design automation and reduce the engineering lead time from days to hours and minutes. Harnessing the power of commonality in products and BOMs, we utilize rule-based approach to automate ETO processes and keep manufacturers productive and profitable. We work on leading CAD and automation tools as well as help clients in CAD customization through APIs to seamlessly integrate automation for wide range of product variants.
We delivered SolidWorks design automation solution for a leading door and window manufacturer in USA, which reduced engineering lead time and gave significant cost savings in developing customized door designs. Apart from design automation for 3D CAD model and drawings development, we also provide solutions to streamline sales and manufacturing by integrating automation for quick product configuration, quote estimation and generation of manufacturing information for customized products.
Glass Doors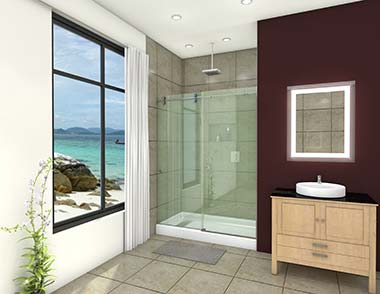 Vanity System
From automatic generation of 3D parametric CAD model, manufacturing drawings, Bill of Materials (BOM) and purchase lists to flat patterns, estimates, proposals and reports, we eliminate human errors involved in handling each unique product configuration. Hi-Tech supported a leading building products supplier for hotels in USA with design automation for doors, cabinets and bathroom accessories using Autodesk Inventor iLogic and Configurator 360.
Our engineers have delivered engineering design automation solutions for wide range of projects for clients from industries like fabricated metal and alloy products, furniture, building products, industrial equipments and door and window manufacturing.
Whether the requirement is to integrate automation through DriveWorks-SolidWorks, Autodesk Configurator 360, Autodesk Inventor iLogic or SolidEdge, Hi-Tech is a center of excellence for CAD design automation and configuration.
Our Engineering Design Automation services include:
Design Automation
3D Model and assembly creation to support design automation
Auto generation of 3D models, drawings and documents for engineering-to-order products to automate tedious, repetitive and time-consuming tasks
Increase productivity, decrease QC time
CAD Customization (Support for SolidWorks and Autodesk Inventor)
Add new features in the CAD software add-ins to suit "Industry" specific need
Integrate "third-party" software with CAD software using programming languages such as C, C++, VB, VBA ,VB .NET, ASP .NET with VB and C#, Java and MS SQL database technologies
Tools to assist engineering decision making:
Decision such as costing, standard part/material selection, knowledge management etc.
Automation for quote generation, proposal and other sales documents
Integrating design information with SQL database or ERP systems
Technical Publications to assist decision on shop floor
Software Capabilities
Our integrated team of qualified engineers with broad experience and good exposure to various projects help in delivering creative and quality engineering services
Get in Touch