Globally, manufacturers of consumer products, industrial equipment, automotive parts and construction equipment rely on SolidWorks intuitive CAD modeling and virtual prototyping capabilities.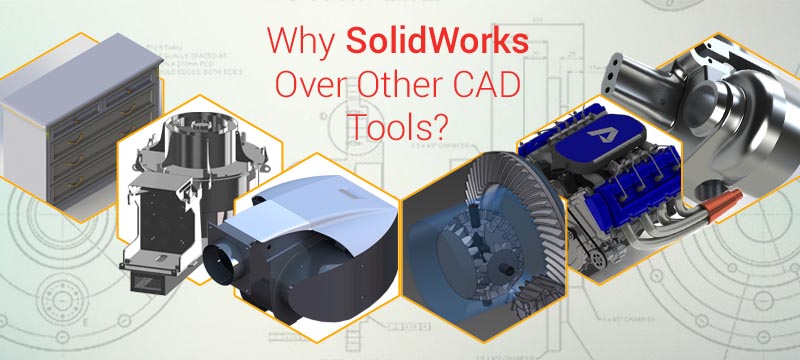 From conceptual modeling, 2D drawings and detailed 3D modeling to design automation, animation and manufacturing documentation, SolidWorks is indeed the first choice of design engineers across the globe. While some manufacturers have their own in-house resources, others prefer to hire SolidWorks certified drafting and modeling professionals, to meet the product development requirements. Either ways, SolidWorks still holds a major share in the CAD market.
A recent 2016 CAD market survey from CNC Cookbook revealed that in the pro CAD market segment, SolidWorks holds 47% market share, far ahead of its competitors like Inventor®, Creo or SolidEdge. Such widespread adoption of this tool is invariably due to the Company's genuine focus on improving the productivity and accuracy in product design development. More than 3.1 million product designers and engineers globally use SW to bring their innovative ideas to life and build a better tomorrow.
The significance of SolidWorks however can better be explained through its capabilities and its comparison with one of its closest competitor – Autodesk® Inventor. While both these tools have equally good number of 3D capabilities, SW stands apart from the crowd due to its adoption in almost every engineering industry. This 3D modeling tool also supports most of the file formats when compared to Inventor, which again helps designers to collaborate efficiently and convert legacy designs developed on any older CAD platform to 3D model with detailed product manufacturing information (PMI).

Industries like sheet metal fabrication, furniture products, industrial equipment, heavy machinery, medical devices, machine tools and consumer products need qualified SolidWorks drafters and designers to achieve goals of reducing design cycles, cost and faster time-to-market.
Enlisted are the key benefits that make SolidWorks, one of the most popular CAD platforms today:
User-friendly GUI with quick to understand features and utilize them for design development
Shorter learning curve as compared to other leading CAD tools in the market
Parametric and direct modeling capabilities
Test designs, develop renderings and manufacturing documentation under common platform
Automate repetitive design tasks and improve productivity
Design faster with a massive library of CAD models of commonly used parts and components
Smart components and fasteners allowing automatic assembly
Estimate quotes and manufacturing costs in real-time
Develop animations, instruction manuals and catalogs with ease
Implement model based design for paperless manufacturing through SolidWorks MBD
With the launch of SolidWorks 2017, the company has further simplified the design and development process with better user experience, new capabilities for emerging technologies and improvement in keeping the collaboration seamless. Some of the key advancements include improvements modeling with new tools for chamfer, fillet and advanced hole specification. New surfacing features like wrap, drag and drop, emboss and deboss further makes 3D geometry development easy. Magnetic mates is also an important feature available with SolidWorks 2017, which allows designers to easily work with large assemblies by organizing equipment and space, publishing parts and assemblies as assets with connection points to easily drag and drop mating and repositioning models.
SolidWorks stands apart from the horde of CAD tools available today, allowing end customers to keep their product development processes efficient not only for their present requirements but also for future needs.

This is possible through a wide range of capabilities that the tool possesses, which include:
3D Solid and Surface Modeling
Large Assembly Design
Sheet Metal Design
Weldments
Electrical Cable Harness and Conduit Design & Routing
Piping and Tubing Design & Routing
Design Automation and Customization
Model Based Design (MBD)
3D Animation and Rendering
Simulation
Apart from these capabilities, SolidWorks is packed with additional features that allow an engineer as well as a manufacturer to quickly create, validate, communicate and manage the product development process. With advanced CAD capabilities, it is possible to reduce the manufacturing time and cost, as well as improve product quality with the ability to push the product to market faster. Further, SolidWorks also has the ability to automate design through the integrated add-in from DriveWorks, which enables high volume product manufacturers to capture and re-use design knowledge and improve sales.
Advanced SolidWorks Capabilities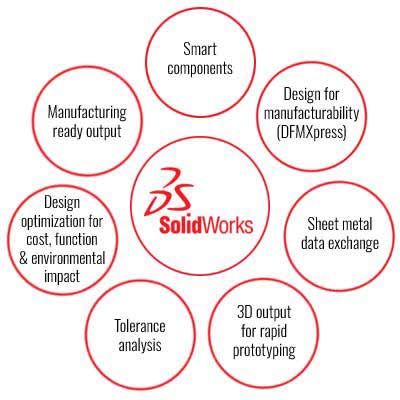 DriveWorks for Design Automation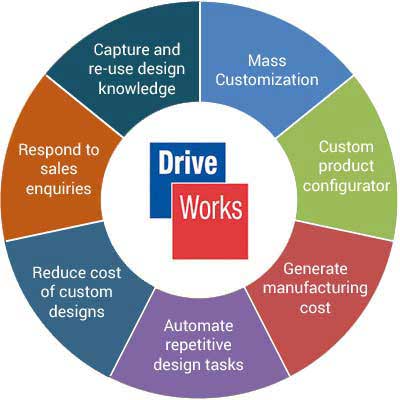 Working with Certified SolidWorks Professionals
With more than 3.1 million SolidWorks users globally, across different industry verticals, it is fair to say that finding an experienced and knowledgeable SolidWorks designer is difficult. As a manufacturer, if you are looking to hire SolidWorks designers for your product design requirements, it is indeed a good practice to look for certified professionals.
Working with a SolidWorks Certified professional has several benefits. At first, there is a surety that your critical designs are in the hands of a competent professional, who thoroughly understands the software features and functionality. As a client, you can expect more productive output from the designer, due to their proven knowledge in modeling and evaluation techniques.
Design challenges can be addressed better and quickly, allowing you to save more time and cost. There are currently 13 certification exams covering skills from associate to expert and other advanced exams such as weldments, surfacing, sheet metal and drawing tools that specify the skill set of the designer for advanced modeling requirements.

Explore more about how we can help in improving your productivity and profitability through efficient product design, virtual testing and manufacturing support through our experience and expertise in SolidWorks.