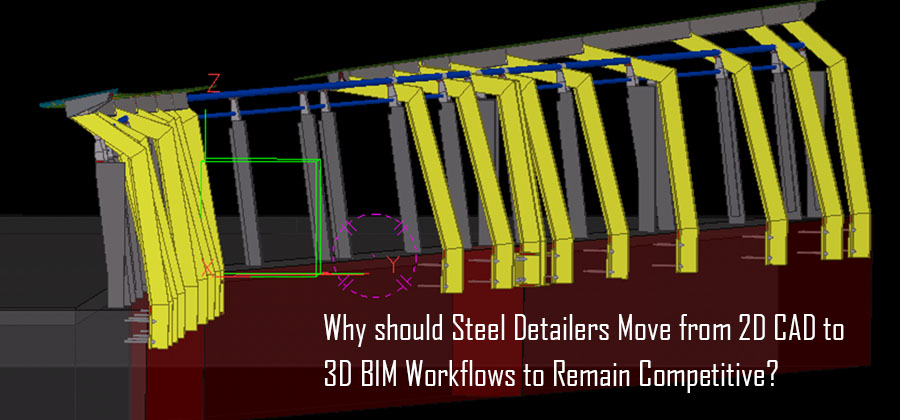 Globally, the construction sector is under a major evolution phase as large and small enterprises continue to embrace BIM (Building Information Modeling) for efficient workflows. The shift from 2D to 3D workflows for BIM is subsequently putting pressure on steel detailers too, who form an important link in the entire construction value chain. It is important for you as an owner of steel detailing company to realize that increasing usage of BIM and 3D workflows is likely to affect your business soon, if it hasn't already.
This is precisely because the industry is reshaping not just on utilizing 3D model based technology, but on leveraging the technology to connect project teams and move the data efficiently from one phase to the next. Making a move from 2D workflows to 3D is as such a necessity for steel detailers to ensure tight collaboration between stakeholders involved in the construction project.
Following are some of the important reasons that drive the need for steel detailing companies to switch their design workflows from 2D CAD to 3D BIM:
The Need to Adapt with the Change
Architects, engineers and contractors prefer BIM workflows to reduce rework, simplify clash detection and extract costs efficiently. Even the owners consider BIM to trim down schedules and manage facilities cost-effectively. It is thus important for a steel detailer to adapt this change in the construction sector and adopt BIM rather than losing the contract altogether.
The Need to Connect Geographically Dispersed Teams
While many of the steel detailers have been utilizing 3D CAD since long to gain production benefits, the problem with the process is it is still performed in a silo, causing a disconnect between larger design and construction teams. BIM technology is allowing companies for globalization of construction projects, where teams are often more geographically distributed. For a steel detailing company, it is thus crucial to maintain collaborative workflows and remain competitive.
The Need to Bring Down Production Costs
The growing trend of utilizing BIM workflows in construction projects is largely aimed to reduce cost and time. To win project bids, it is thus important for a steel detailing company to keep production processes cost-effective. BIM workflows enable companies to reduce rework, estimate cost and eliminate production scrap through easy interrogation of intelligent 3D BIM-ready models.
Making the Move to 3D BIM
It is the right time for steel detailing companies to make the move of transitioning 2D design processes to 3D BIM workflows and gain improved efficiency, enhanced collaboration and a competitive edge in the market.
However, adopting entire new way of working can be a daunting task for you, due to investment in time required for software implementation, training the staff and converting legacy data. Fortunately, there are techniques that can help your company to efficiently transition to 3D workflows and bring staff to full productivity quickly.
The first way to do this is to train your staff early before the implementation and prepare them and others who will be affected by the change for future. Another way is to choose the software that is related to the 2D system that your team already uses. This will ensure that the learning curve is short due to familiar working interface. Steel detailers can also seek assistance from BIM service providers that can help throughout the transition process with a team of experienced professionals.