A visual product configurator bridges gaps across stakeholders in any furniture value chain by offering increased and guided interactivity with real-time product models.
Communicating the right design intent across manufacturing value chain for any retail furniture manufacturer is critical. Any gaps in product design information exchange adversely hits the buying experience of customers and leads don't convert. This idea is reinforced by a Gartner report that nails discrepancies in communication between engineers, manufacturers, and customers as the primary culprit affecting revenues.
An interactive visual configurator not only closes many of these gaps but enhances purchase experience by empowering personalization of furniture 3D models in real-time. Configurators also serve as a frontend platform for buyers, sellers, and engineers to collaborate and agree on furniture customization.
Poor communication cripples furniture sales
In the furniture industry, where every product demands personalization to some extent, any gap in sales communication creates challenges. These challenges multiply when face-to-face interaction is minimal. Fallouts include:
Delayed responses to customer inquiries
Gaps in consensus on furniture quality, materials, or design
Inaccurate guidance on furniture choice against room size and setup
Inability to let the customer accurately visualize the end product of configuration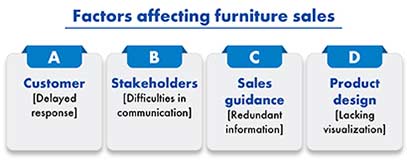 Here are four stories that show how visual product configurators enhance customer buying experience:
Story#1: Customer queries addressed faster by reducing lead time from 5 days to a few hours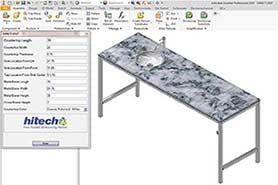 A USA-based vanity manufacturer was struggling with the mass inflow of drawing changes from the customer. Drawing changes even for small customizations needed hours of drafting efforts and lengthy approvals from design engineers and manufacturers.
Traditional design-drafting methods took 3-5 days for the smallest design customization, which called for reworking manufacturing drawings for all parts. The manufacturer found it was affecting productivity and the time to market. The firm also found that the constant delay in responding to customers' inquiries was negatively affecting their revenues.
"We reviewed their drawing change management process, and it was consuming 80% of their engineering time. Their primary CAD tool was Autodesk Inventor®. We proposed implementing an iLogic based CAD configurator that could address the drafting tasks. This would allow in-house engineers to engage in innovation and R&D," says Ketan Panchal, Design Automation Manager at Hitech CADD Services.
The target for developing and implementing a configurator using Autodesk Inventor iLogic was reduction in lead time for vanity modeling. The team developed a master model of vanities and captured the intelligence. Rules were written in iLogic to create and deploy the configurator using Configurator 360 to achieve:
Increased customer interaction with customized product models
Input of all accessory design models such as doors, locks, handles, etc
Creation of immediate sales quotes with 100% accuracy and sharing with the customer
Development of IGES and STEP files with images and 3D models for customers
Generation of manufacturing drawings for shop floor on the same day
The vanity manufacturer was convinced that the change was needed in his system to serve the customer better. So, they adopted design automation by implementing product configurator for vanity. Response cycles to customer queries reduced from close to a week to a few hours!
Check out the case study »
Story#2: Guided selling offered to customers with online table configurator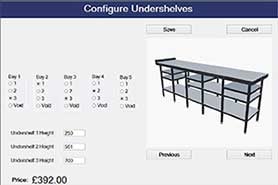 Retail store furniture manufacturers get numerous design orders with design confidentiality and continuously changing inputs. The customer can have doubts that their design intelligence will be leaked to competitors. And manufacturers have to put in place systems to allay such fears.
A UK-based stainless steel manufacturer specializing in retail store furniture approached Hitech CADD Services with similar concerns. They also wanted to create a secure customer database login that ensured safety of designs and built trust.
Hitech CADD Services' design automation team handled the project from scratch by developing 3D models of tables for skeletal design. The intelligence was then captured by DriveWorks and the coders wrote logical rules for automating customization.
DriveWorks implementation resulted in:
Elimination of external databases for customer data
Better allocation of time and resources for engineering design research
A personalized experience for each customer
While recalling this project, Ketan says, "Once the configurator was ready and embedded on the website, we created a customer login page. This established a secure login for all customers because customers usually do not configure the entire product at once. They select a few features and then come back after researching online. Through sign-up credentials, each customer will have secure login and they can pick up from where they left."
Check out the case study »
Story#3: 360° visualization for customers to help make informed decisions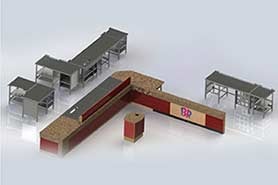 Fabricators have been using 2D drawings for a very long time but they have their limitations. They fall short in communicating designs to non-technical professionals like the sales team and customers who may not have required design knowledge. By adding a third dimension to these drawings, visualization becomes easy for all. Fabricators have now started using 3D solid models with sheet metal properties and other manufacturing information.
A furniture manufacturer approached Hitech CADD Services to transform their legacy 2D drawings to 3D. They wanted to leverage the benefits of 3D sheet metal modeling and offer better services to customers.
Since the manufacturer dealt with retail store furniture, all their customers had varying floor spaces. Design changes were needed for every order. They also faced pre-sales queries on what the end product would look like. 3D sheet metal modeling could not resolve these challenges.
Hitech CADD Services engineers identified the need for 360-degree visualization and a real-time model for all configured products. They split the entire project into three stages:
Converting AutoCAD® 2D drawings to 3D SolidWorks models with DFM properties
Capturing design intelligence from master 3D models in SolidWorks
Implementing DriveWorks visual product configurator to automate repetitive design work
This helped the furniture manufacturer to offer better visualization to customers. It also ensured faster responses to customer inquiries and enhanced sales communication.
Check out the case study »
Story#4: AI-backed configuration guides customers based on past purchase-patterns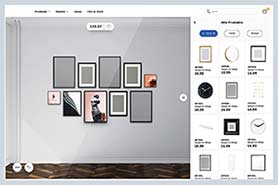 As technology developments gain traction in the furniture industry, more manufacturers are moving online. Giants like Ikea, the Swedish furniture icon, are setting examples. Ikea's recent configurator setup for their German store transformed the concept of interior designing with online planning.
The webAR feature of the configurator enables projection walls from customers' homes and allows for configuring the furniture. This tool eliminates any use of external Augmented Reality applications and works well with mobile platforms through Google Chrome. It has transformed the way people decorate living spaces in real context and as per the spatial conditions.
Conclusion
The furniture industry has come a long way from selling off-the-shelf products to customizing every single feature being offered. But the gap in coordination between design engineers, manufacturers, sales, and customers continues to trouble those following legacy workflows.
And this is all it takes for a manufacturer to lose customers – lack of synchronization.
We need better systems, and visual product configurators offer exactly what is needed to transform and uplift a customer's buying experience. They also bridge much of the communication gaps between separate verticals that hold stakes in the production of customized furniture.