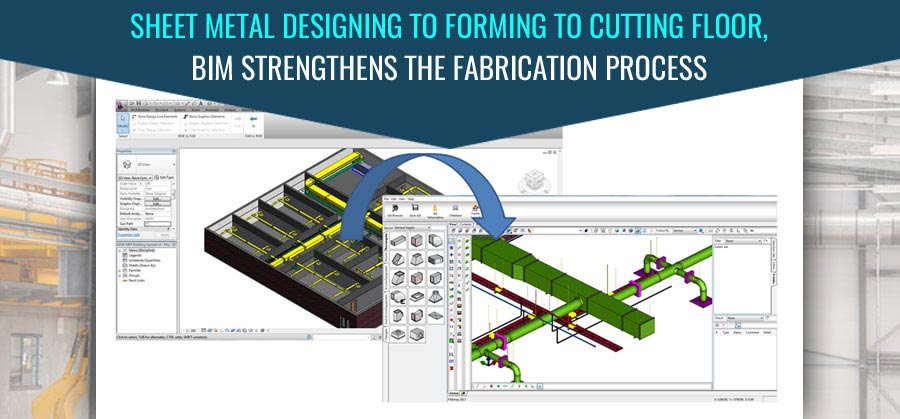 "BIM for duct manufacturers is all about putting the right data in the right place. Industry-standard CAD programs like Autodesk's AutoCAD, MEP and Revit don't automatically import or support manufacturer defaults, but are dependent on sheet metal design support service providers for 3D CAD modeling, animation and CAD conversion from conceptual sketches, PDF, image, etc., the manual coordination to turn them into true fabricate-able sections."
Ongoing BIM – Building Information Modeling revolution has transformed the way buildings are constructed, doing exactly what it was expected to do. It has stood to its reputation across levels, from initial architectural drawings right down to the design and fabrication of metal components like ductwork.
We have come to a juncture where people should now understand and realize that BIM is not merely software. Lots of people think that just because they are using computer aided drafting programs, they are equipped with BIM. Based on our experience of more than two decades, working with AEC clients across UK, USA, CANDA, Europe, Australia and Middle East, we would make a strong statement that "BIM is so much more than just "Computer based 3D Modeling".
Let's understand that a drawing is not the same as "modeling". BIM is the trendsetter of creating comprehensive, robust data systems that puts information at work, instead of just storing it. It's about making data useful as much as it is about building 3-D models for rendering.
While building well-coordinated, information rich responsive 3D models, you can successfully integrate design with ductwork fabrication into a single workflow which automatically adjusts when it is populated with new information. BIM eradicates the barriers between the drafting tables and sheet metal forming cutting floor, to strengthen the entire fabrication process. It takes each sector out of its individual silo to create a unified operation which is more powerful with improvised efficiencies.
Building construction, specifically with the sheet metal work, is still in a lot of ways operating in traditional ways. While designing and drafting with pen and paper have made their way out long back, using powerful drafting programs like Autodesk's AutoCAD MEP, is generally practiced as a stand-alone activity.
The usual process is to send the design sheets to the floor for nesting and cutting, only to discover halfway through, that it has been incorrectly or inappropriately drawn, or mislabeled. It does not adhere to the right specification from the Sheet Metal and Air-Conditioning Contractor's requirements or the Spiral Duct manufacturer's on-site needs, as something was neglected. So then it is sent back to be redrawn or reworked and then re-nested and recut. Now this is time and cost consuming, making the entire job less profitable and frustrating of course.
Why can't the errors be avoided in the first place?
Use of BIM system to organize ductwork fabrication would certainly save everyone a lot of time, money and the frustration. Begin the job by creating a unified data environment in which all shop specification are pre-implemented or fed accordingly. Data then is applied to CAD drawings from the initial stage, and nesting and labelling is automated for a convenient cutting process. Automated data transfer and specification loading, enables you to generate drawings at the design stage which are already primed for fabrication, without spending costly time at the coordination and fabrication stages.
We specialize in delivering sheet metal design support services for metal components and equipment using SOLIDWORKS 3D design, accelerating the design process, development costs, saving time and increasing productivity. By integrating data in the model, we build self-correcting designs; where if a job specification changes, we simply update the system with the new information, to automatically adjust the new requirements. It saves our clients a lot of time and money during the fabrication and installation process. We allow them to be proactive instead of reactive. In case a re-fabrication is required to meet the onsite situation, there is absolutely no time that we waste in recalculating and redrawing the entire duct system.
Simplification is the Design Mantra
We use the BIM oriented software integration to simplify client projects and reduce overall working time by minimizing the inputs and enabling automation. Designing an intelligent system or programming, is all about coordinating client data, as it is mandatory to automate the specifications.
It needs a lot of practice to adjust client specifications without having to remodel the entire component, and with our experience and expertise of more than two decades, what better practice one can have; of delivering CAD services to support metal furniture design for office, residential and commercial needs, building products and outdoor products, doors, frames, windows, kiosks and steel panels to machine tools, automotive parts, industrial products and process equipment.
For instance if we are designing a reducing, round-T conical, and are required to adjust the outlet diameter of the piece, we are equipped with the software to automatically ensure that the length of the reducer remains consistent with the desired specifications, with no math or additional work required on the part of the designer to ensure it conforms to industry standards.
Round-T conical, the component, is loaded with tons of information including dimensions, material it's going to be made of, gauge, licks, joints and connectors and much more. The component also is fed with the information whether it will need any additional reinforcements to support the air pressure, for which it is being designed for. The most important aspect, for our clients, it conforms to the SPIDA specifications, used across North America, or any other set of shop rules our clients would want to apply to it.
Making the long story short, you as a client are always ensured that the fitting does conform, without requiring any additional design work to be done. Even if the component is laid out, later on it can and will be modified, & the data will automatically adjust accordingly.
Integration; the Final Step
We then integrate programs into a fully BIM-Optimized workflow to remove manual coordination and automatically pump out fully developed fabrication layouts, converting a simple model to appropriate standards.
This is the juncture where we help our clients with that big shift, from CAD into computer-aided manufacturing, by loading intelligent files into a CAM program which then takes them to the automated nesting process to ready the sheets for cutting and assembly.
Utilizing a single file, created by our CAD modelers, containing all the information they need to fabricate a project saves sheet metal fabricators and their shop floors, considerable amount of time and money. Now you as a fabricator profoundly reduce the amount of time needed to review and manage the dozens of files and documents that would otherwise be required to completely fabricate a comprehensive set of ductwork. Our completely BIM oriented workflow creates a fully responsive model which can be easily tweaked without requiring hours of work, and essentially equips itself for final manufacture and installation.
We leverage the power of design and fabrication together. Our designs meet the needs of the fabricators on the ground because they all exist in a common data environment, reducing inefficiencies, preventing costly last-minute reworking, and ensuring happier client outcomes.