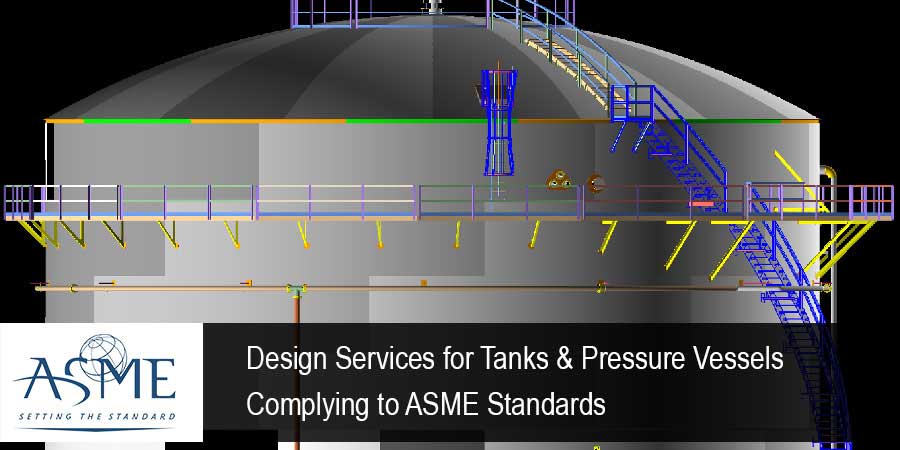 As a tank and pressure vessel manufacturer, it is important to look for a certified and experienced design service providers, who can deliver the project on time and without much disturbance.
One of the best ways is then to look for a mechanical design support company that effectively handles project management right from concept to installation, and also provides inspection support for high-risk vessels meant to store pressurized liquids or gases. The critical part about the pressurized vessel is that any mistake in its design can lead to severe safety hazards.
Any difference in pressure could lead to crack formation, which eventually can turn fatal. This is the reason why it is mandatory to follow specific regulatory standards and codes like ASME BPVC to design, manufacture and operate these tanks and pressure vessels safely. While these standards are followed across the U.S., they are also considered critical across different parts of the world apart from country specific code specifications.
Moreover, the design of pressure vessels vary with varying pressure requirements based on diverse applications ranging from industrial compressed air receivers and petrochemical plants, to nuclear reactor vessels. As such, designing vessels specific to their application is critical and is often regulated by leading engineering authorities supported by legislation. Pressure vessel designs such as vertical, horizontal, cylindrical, spherical, non-circular, rectangular, high temperature as well as jacketed design are common in the industry.
Pressure Vessel Design Development ensures that the equipments operate safely at a specified pressure and temperature, commonly referred to as design pressure and temperature. In many cases, manufacturers also seek support from companies delivering tanks and pressure vessel design services to ensure that each design of the storage tank or a pressure vessel is according to the customer requirement and in accordance with regulatory standards.
Design services are usually utilized by manufacturers who do not want to maintain in-house engineering staff and allocate a special budget for it. Also, for pressure vessel manufacturers who do not wish to have a contract with any third-party engineering and design firm, to participate in the actual manufacturing and fabrication process, utilizing design support services for storage tank and pressure vessel is extremely helpful. In addition to design support, companies also provide virtual testing services for pressure vessels as per ASME BPVC Div. 2 codes.
Leading design firms make use of finite element analysis tools like ANSYS Mechanical to perform stress and deformation studies on the pressure vessel geometry. This virtual testing helps in predicting the behavior of the pressure vessel against high pressure and temperature of gases or liquids.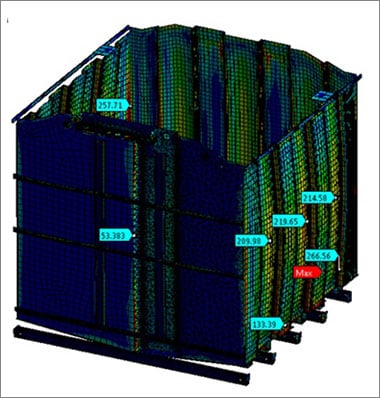 Storage Tank Structural Analysis Using ANSYS Professional NLS
One of the advantages of this service is that it helps in identifying critical design parameters prior to actual manufacturing and prevents manufacturers from performing repetitive physical test trials. Also, it is possible to estimate the useful life of these storage containers through fatigue life estimation and thereby determine warranty and servicing schedules effectively.
Selecting the design support partner is critical for a pressure vessel manufacturer. It is important that manufacturers select partners that meet their specific requirements.
Some of the vital pressure vessel design services provided by leading engineering design services providing firms include:
Pressure vessel design calculation according to country specific or ASME standards
Development of manufacturing and fabrication drawing along with installation
2D drawings for shop floor requirements
Finite element analysis for structural strength and life estimation
Design verification of storage tanks and pressure vessels
While design support companies usually offer tanks and pressure vessel design services for multiple industries like food & beverages, oil and gas, cement and power plant, as a manufacturer it is important to choose the one that possesses enough experience in your specific domain. This ensures that the service provider is well aware of the standards and codes required to be followed and helps in reducing change orders.