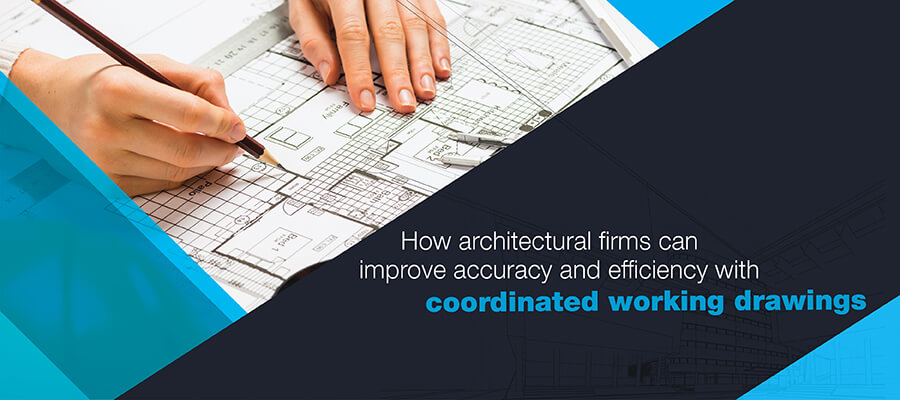 Coordinated working drawings are critical for obtaining construction permissions and providing accurate and detailed engineering information to contractors. Architects create these drawings to help contractors execute site projects without hassles, enhance construction site safety, and reduce project hiccups.
Design drawings, or coordinated working drawings made by architectural firms, are used in obtaining construction permissions and for executing onsite work. They contain all relevant construction phase details required by engineers and contractors to erect a project. They also act as a project validation logbook for authorities to verify periodic regulatory compliance. Acting as fieldwork manuals for construction project teams, they carry all important guidelines and details to be followed for construction safety, smooth project work and meeting of deadlines.
The same working drawings can, however, add to confusion on site if they lack coherence. This is why, coordination in preparing working drawings is critical at the pre-construction stage. Coordinated working drawings resolve conflicts and clashes beforehand, and thus serve as better field manuals for project teams.
In this blog, we discuss the issues that architectural firms solve with the use of coordinated working drawings, and the challenges faced in effecting such coordination using legacy methods.
Challenges faced by architectural firms using traditional 2D methods
Traditionally, working drawings were 2D orthogonal projections drafted according to desired scales. But they posed a series of challenges for architects and architectural firms such as:
Uncoordinated architectural drawings, with multiple design changes not documented correctly during the design stage, lead to errors/issues at later stages of the project
Inaccurate architectural drawings cause readability issues leading to communication and construction errors
Delays in sharing updated information to onsite teams can cause greater RFIs, construction inaccuracies, and cost overruns
Delays in approvals due to inaccurate, silo, and incomplete drawing revisions lead to project delays
Lack of 360-degree visualization in 2D drawings leads to errors, resulting in increased project costs
Get 360 degree visualization for your projects with our architectural BIM services.
LEARN MORE HERE »
Benefits of coordinated working drawings for architectural firms
Architectural firms extract detailed and information rich coordinated working drawings from 3D BIM models to get quick construction permissions and make the handover process to contractors easier and smoother. A few of the benefits of coordinated working drawings include time savings, simplified construction, early error rectification, change order avoidance, etc.
1. Coordinated architectural working drawings reduce construction errors and rework
A dataset of coordinated architectural drawings in the preconstruction stage sets a strong foundation for onsite construction. A 3D model coordinated with various trades and architectural drawings pulled from a clash-free model reduces design changes in the preconstruction stage. Identifying, rectifying, and documenting design errors in the early stage, lessens construction ambiguities.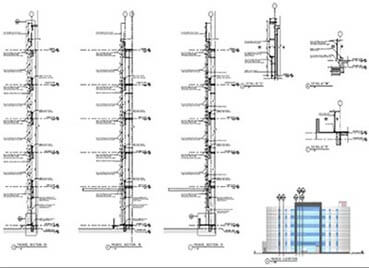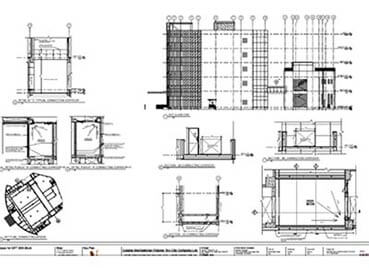 Coordinated elevation and section plan/floor plan of an office building in Asia
2. Accurate graphical drawings improve readability for teams
Coordinated architectural working drawings extracted from clash-free 3D BIM models are accurate and complete. Architects can leverage several parameters by pulling out precise coordinated data from 3D models that include the project name, contractor notes, room titles, etc. With checklist in hand, drawing readability is improved and architects and get a clear graphical representation or visualization of the project.
Reduce onsite errors and clashes with coordinated working drawings.
Read more here »
3. Reduced RFIs and change orders during construction with detailed drawing designs
Parametric 3D modeling in Revit® enables architects to easily update the information contained in the 3D model. Model-wide changes are automatically reflected in the 3D model while storing multiple revisions on a cloud-based platform. Architects use BIM services to access these detailed 3D models to extract accurate, coordinated, and clash-free working drawings, leading to fewer RFIs and change orders.
With every revision stored on a cloud-based platform, tracking updates or changes becomes quick and easy. Quick and proactive collaboration through digital platforms reduces the need or time to create and process RFIs. Significant reduction in RFI creation leads to greater cost savings and seamless construction.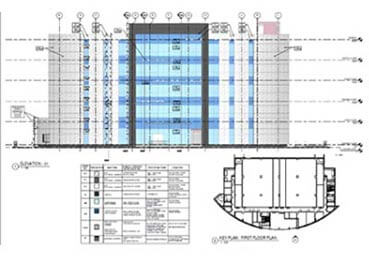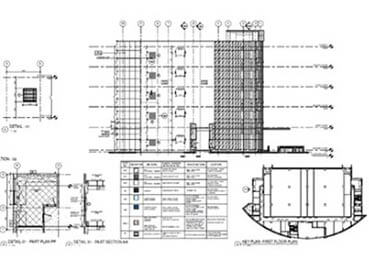 Architectural drawings extracted from 3D Revit models
4. Quick approvals and permissions through information detailing
Working drawings obtained from Revit 3D models carry all information needed for greater transparency, quick client approvals and permissions. Detailed data on elevations, floor plans, foundation plans, roof framing, section views, etc. reduce rework and promote better construction through consistent industry standards.
Coordinated drawings enable quick client approvals for a railyard project in Australia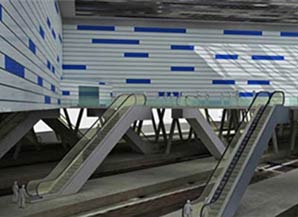 BIM Clash Detection
An architectural firm from Australia outsourced its architectural 3D visualization needs to Hitech CADD Services for a railyard project. With building construction plans shared as input, 3D visualization models enriched with coordinated working designs of the railyard were required. The team used Revit to build the deliverables which enabled:
Quick client approvals with improved project clarity
Timely project completion
Fast-paced project progression
Read Complete Case Study »
5. Coordinated architectural working drawings based on 360-degree visualization solve design issues
Clash-free working drawings lower the risk of miscommunication and improve constructability. The 360-degree visualization of physical space represented in coordinated working drawings solves design coordination issues in the pre-construction stage. When design issues and clashes are resolved in the early stage, it leads to reduction in errors during the later stage of construction.
360-degree visualization with coordinated drawings ensure hassle-free construction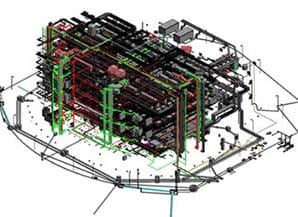 BIM Clash Detection
Hitech CADD Services were approached by an architectural firm from Gujarat, India to create a coordinated Revit 3D model combined with sheet setup for a commercial data centre building.
With 2D drawings provided as input, the team at Hitech CADD Services built a coordinated and clash-free 3D model. The 360-degree visualization with accurate construction documentation and complete sheet setup helped the client:
Gain hassle-free construction
Complete the project on time
Stay within budget to drive cost-effectiveness
Read Complete Case Study »
A complete set of coordinated working drawings includes:
Floor plans
Design layout
Flooring and cladding
Foundation level, plinth, and slab
General Arrangement (GA) drawings
Elevations and sections
Reflected ceiling plans
Electrical outlet locations, circuits, and their usage
Duct locations for HVAC equipment
Expanded and detailed plans (kitchen, toilets, bedroom)
Wall and site sections
BOQs and BOMs
Relevant project details
Dimensions of cabinets and equipment
Location and weight of heavy equipment
Site layout with connectivity and contours

Coordinated working drawings for a data centre building
Improving the accuracy and efficiency of architectural drawings with Revit automation using Dynamo
The precision and efficiency of architectural working drawings can be improved with Revit automation using Dynamo. Visual programming tools like Dynamo help architects and designers speed up the modeling process and create multiple design prototypes.
Automation-centric Revit content promotes greater standardization enriched with design validation and plan compliance. Revit automation using Dynamo offers a host of benefits including automating repetitive tasks, better workflow automation, conflict resolution, specifications enrichment, parameter setting, etc. Extracting architectural working drawings from automated and validated 3D models ensures their accuracy and efficiency.
Conclusion
Architectural working drawings not only help architects gain quick approvals by bringing greater project clarity via enhanced visualization, but also help architects communicate design intent better with other stakeholders. These detailed drawings help architectural firms deliver construction details to contractors so they can execute the onsite installation process as per the design specifications.
BIM automation has eased the creation of working drawings to a large extent. BIM-based coordinated working drawings will continue to remain crucial for architects and other stakeholders to achieve confident bids, quick approvals, and greater buildability.