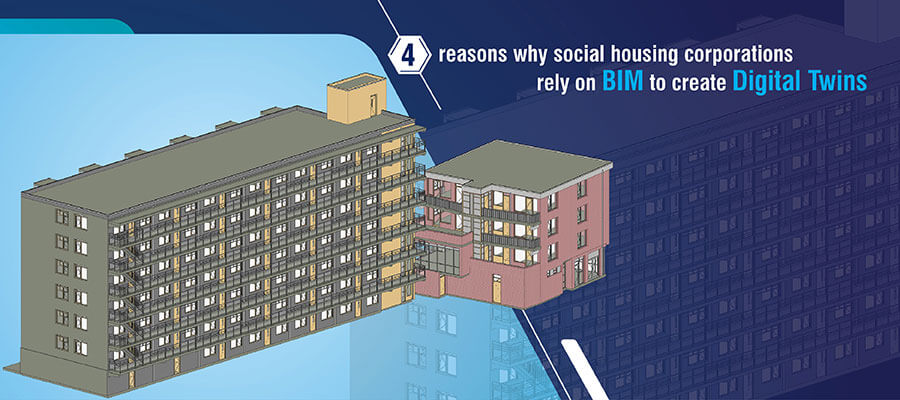 Digital twins are detailed 3D digital copies of real-world building assets with data links between the asset and its digital twin. Social housing corporations leverage digital properties of these BIM models for better rent and asset management and to ensure government compliances.
Digital twins lie at the heart of Industry 4.0, but the building sector had been adopting it at a slow pace. In the last decade, using digital twins in building management systems has become more feasible with BIM tools and technology, opening up opportunities in the social housing sector. Smart digital twins, enhanced with Revit® automation, enable better asset management, rental calculations, and government compliances for social housing corporations.
Based on Matterport research, 74% of agents using BIM services win deals on property listings with virtual viewings through Digital Twin technology and 3D experiences.
It is crucial for property owners to collect, manage, and utilize building data for operations and maintenance. Conventional methods of building asset management in both new and existing structures fail to leverage the data to its full extent. Layers of complexities contained in 2D drawings and notes can impede the management and maintenance of buildings.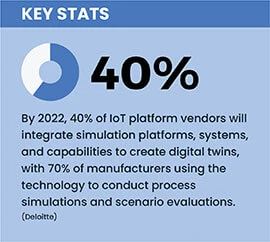 Think of having a comprehensive and real-time digital replica of your social housing assets for management and maintenance. Having asset performance data, real-time asset tracking, visualization, etc. through digital twins in BIM can enormously improve the social housing experience. Management of property data through BIM models can optimize the performance, management, efficiency, and safety of physical assets.
Issues of traditional building management faced by social housing owners
Silos and unstructured 2D data limits visualization for proper spatial planning
Limited visibility for property owners using legacy methods for document management
Difficulty in complying with government mandates such as NEN 2580 due to lack of proper workflows and data integration
Absence of a holistic picture for tenants/ occupants. 2D drafts and drawings do not provide visualization of housing assets and inhibit a remote user experience
Benefits of BIM services to social housing corporations
Asset visualization enables property owners to offer enhanced user experience
BIM services provide asset visualization through 3D BIM models for digital twins, which allows property owners to provide enhanced visualization to potential tenants/occupants. Users can view multiple spaces in a virtual environment with the 360-degree visualization, accompanied by data, and make quicker decisions about rental properties.
As per a Matterport study, 95% of people are more likely to call an agent about properties that showcase a 3D virtual tour.
An architectural and engineering services company from Europe needed to avail BIM services to create 3D BIM models for 13,000 housing units. 2D drawings and notes were provided as input by the client. The team at Hitech CADD Services created coordinated and clash-free 3D models using Dynamo with floor plans, accurate BOQ's and façade views. GIS data was linked to the 3D BIM models and datasheets were uploaded on an online platform.
The extensive inventory of 13,000 BIM models and construction documents enabled client to improve building management and maintenance with:
Time savings of 50% on project delivery
Cost savings of 18%
High-quality deliverables enriched with 100% accuracy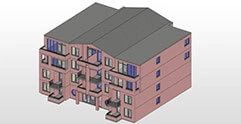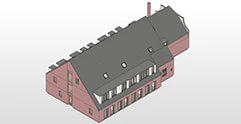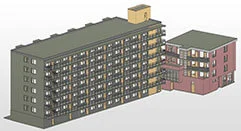 Read Complete Case Study »
Improved rent and asset management for property owners
Detailed and accurate data provided by digital twins helps housing programs to improve asset management and streamline rental processes.
BIM links a building management database to actual geometry, so that each piece of equipment can be identified with its precise location. Organized maintenance data and work orders can be streamlined by linking them to each apartment for corrective and preventive maintenance. Data being recorded and validated during design and construction leads to better asset and facility management.
The digital properties of the 3D BIM models allows enhanced property visualization, tracking of occupancy and better rental management.
Generating models with higher levels of detailing for better standardization
Spatial and geometric information carried by 3D BIM models, coordinated and clash-free 2D plans, performance data, asset registers, etc. improve or enhance the level of detailing for standardization.
Social housing corporations give great emphasis to the operations phase with initiatives like ILS (Information Delivery System). Here model data can be reinforced through performance, classifications, and operations information. Better space management for existing facilities can be achieved through Point Cloud to BIM, CAD to BIM conversions, and data collection tools.
Quick project approvals with BIM-based data integration and compliance
Every country has a set of government mandates to follow. It is important for social housing corporations to create drawings or models that cater to the local norms. For instance, the NEN-2580 norms as mandated by the Netherlands government. BIM models show accurate measurements of areas or units and provide greater transparency, leading to quick project approvals.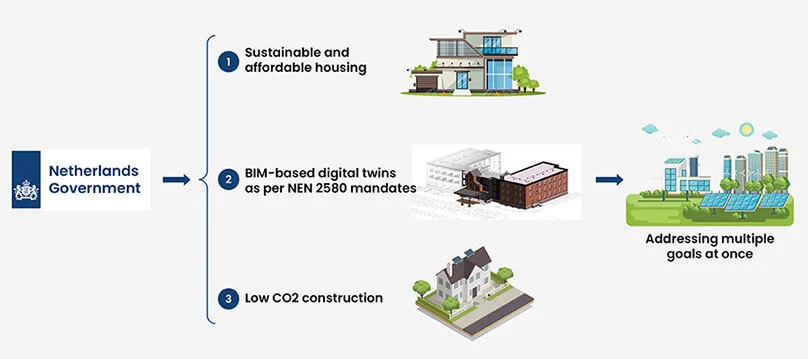 The future of digital twins in social housing
Present-day construction projects need to be planned and executed quicker than ever. Social housing owners need to reshape their thoughts and workflows on how tenants can receive improved living conditions and higher safety. Occupants who felt disconnected can start connecting with their living spaces and owners through digital transformation tools like IoT and digital twins.

Smart housing covered by 5G and IoT will unlock transformational capabilities. Tenants and housing owners will be able to optimize energy consumption and reduce carbon footprint.
Digital twins enriched with AR and VR can be used for virtual tours, visual guides, and walkthroughs. You can use them to monitor and assess performance of an entire building.. Operations and maintenance teams can enhance the field of view for repairs and maintenance. This can reduce human errors, lower execution cost and time, enhance operations speed, and improve productivity. Quick diagnosis and solutions for building issues can reduce downtime and improve the tenant experience.
Conclusion
The real value of asset management through digital twins has been well established for optimal occupant comfort and greater safety. Digital twins also offer a greater personalized experience for architects, planners, and construction companies for every stage of the building lifecycle.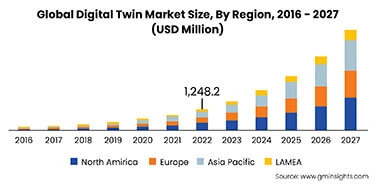 Digital twins will continue to be adopted in the building industry as the digital and physical world blend to promote long-term strategies for sustainable and high-quality housing. The social housing sector must draw on experiences and embrace BIM-based techniques and tools to drive them towards transformational digital prospects.