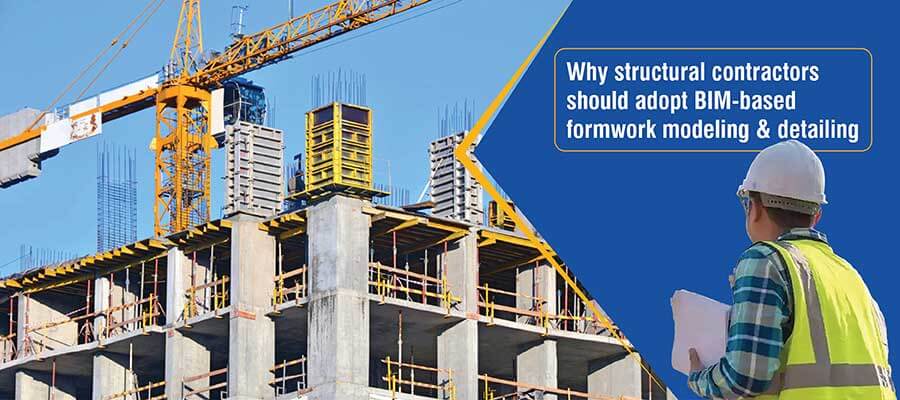 Inaccuracies in formwork design create onsite hassles related to safe and accurate placement, often calling for rework. BIM-based formwork modeling allows structural contractors to preemptively resolve issues with formwork size and shape. Greater project control leads to better finish and minimal waste.
The demand for advanced concrete formwork modeling and formwork detailing has shot up with aggressive urbanization demanding complex and fast-paced construction projects. But without the accurate datasets in various construction settings, structural contractors often face onsite formwork placement inconsistencies. Here, BIM modeling helps them to bridge the gap with improved precision in formwork detailing.
BIM models offer 3D visualization of formwork design, improving design visibility. Contractors can examine formwork elements in reference to other building elements and examine their correlation in a 360-degree view. They can also plan the formwork module execution in keeping with size and shape constraints, safety provisions and scaffolding requirements for on-site concrete casting. BIM allows contractors to plan out a smooth construction process with smart use of formwork modules. It results in minimal material wastage, better finishing, and savings in time and costs.
The formwork market is expected to grow from $5.5 billion in 2020 to $7.4 billion by 2028.
Snags in legacy formwork methods
A significant number of structural contractors and formwork manufacturing companies still utilize 2D CAD-based methods to plan, manufacture, and install formwork. Keeping formwork planning disconnected from pre-construction planning reduces accuracy, and results in information inconsistencies, inaccurate schedules, and other issues.
Lack of visualization into project details in traditional formwork design leads to greater rework, time, and material waste
Formwork design, placement, and planning through 2D drawings creates inconsistencies and uncertainties in formwork proposals (assigning different concrete casting, and other problems)
Inefficient formwork planning or placement, or presence of leakage, results in unsuccessful pours, greater onsite risk, safety hazards, and structural failure
Lack of collaboration between multiple stakeholders in the preconstruction stage lowers the quality of formwork for construction
Information gaps regarding details on where and when the formwork is to be used when involving multiple locations
BIM-powered formwork detailing provides solutions to legacy construction challenges
Accurate and safe planning of formwork placement
For structural contractors, working with an accurate and data-rich constructible 3D model provides clarity on planning and placement of formwork. In-depth visualization in 3D using effective tools supports the creation of pour geometry and its components (for clamps and ties). Pour geometry modeled in 3D can help pinpoint the right angles and location to speed up installation.
Structural contractors can work with updated information stored within 3D models and model-extracted shop drawings and documentation. BIM modeling reduces disconnected workflows, limits manual intervention, and supports contractors with formwork planning workflows for quick and secure construction.
Formwork Construction on BIM 360 for Commercial Office, Netherlands
Hitech CADD Services was approached by a formwork production company from the Netherlands. Their business needs included a coordinated Revit® 3D model with shop drawings. The 22-storey commercial building project required 3D visualization to understand the overall composition and structure of the commercial building.
The team used advanced BIM tools like Revit, Dynamo, and BIM360 for the conversion of 2D drafts into a coordinated and clash-free 3D model. The use of Revit BIM modeling in formwork yielded a significant impact for the client including:
20% reduction in production time
Accurate and hassle-free creation of shop drawings
100% output quality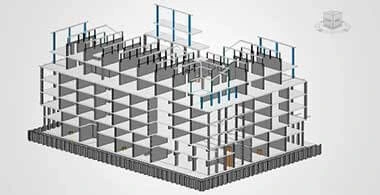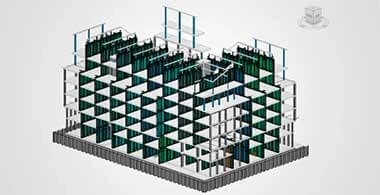 Read Complete Case Study →
Easy access to project specifications from model
3D formwork models generated from 2D drawings or pdf inputs using Revit contain accurate schedule floor layouts, sheet setup, and component sheets. Horizontal panels are used for floors, slabs, beam, etc. and vertical panels are used for column, walls, etc. These panels have to withstand forces of the poured concrete while maintaining the required shape of the concrete element. Thus, it is crucial to have accurately designed formwork panels and modules at the required location.
Model-driven shop drawings produce precise part counts, specifications, dimensions, and location references for hassle-free documentation, fabrication, and installation. 3D formwork visualization and formwork component mapping and annotations help structural contractors identify hard-to-reach spaces and reduce onsite risks.
Collision detection and resolution plugs material waste and delays
Rather than identifying and resolving formwork clashes in the field, Revit BIM modeling takes a preemptive approach. Modeling temporary formwork and permanent concrete structures in a single 3D geometry enables easier spot collision between components as compared to 2D drawings.
Enhanced coordination between various disciplines brings in greater visibility to contractors to detect and resolve costly interferences. Clash coordination and resolution using BIM in the pre-construction stage, reduces rework and material waste and saves time.
Improved project deliverables in terms of time and cost
BIM's structural simulation helps contractors analyze the structure in terms of load bearing capacity. Any deviation in sizes of elements changes the parameters of the concrete structure. BIM-based formwork models allow contractors to assemble a reinforcement cage in 3D and to place reinforcements with proper dimensions in a reinforcement concrete formwork.
Leveraging data from an accurate and information-rich 3D model speeds up modeling and standardization. IFC files imported to BIM tools like Revit support the creation of a fully functional BIM deliverable. Formwork families in Revit allow greater customization for improved fabrication and installation. Shop drawings and 3D models on a single platform like BIM 360 facilitates quick production and project delivery.
Improved pour cycles without risk of failures
Detailing formwork in 3D promotes precise and high-quality formwork planning, production, and installation. Taking the guesswork out of the equation to achieve successful pours requires accurate pour counts and precise material quantities. Making pour cycles seamless requires accurate logistics planning, precise scaffolding layouts, load calculations, and formwork sequencing and cross utilization.
Producing accurate and reliable estimates for concrete consumption within the model reduces failure risks for overall planning and installation. Making flexible and real-time changes to pour cycle data keeps multiple teams in the loop for exact quantity calculations.
Improved structure consistency and better concrete finish
Coordination and collaboration become efficient with BIM-enabled 3D formwork. Design data, change requests, and other information are exchanged in real time through 3D models. Thus, on a collaborative platform, greater project clarity can be reached by identifying and assigning formwork planning and detailing tasks. The enhanced visualization and simulations support structural engineers and other onsite personnel understand the formwork installation better.
BIM-led formwork helps produce accurate and high-quality deliverables. Updating the 3D model with Formwork families helps structural engineers derive an accurate part list. Overall consistency can be improved and time can be reduced with precise model data and schedule forecasts.
Adaptive design of formwork for building renovation through construction sustainability
Changing site conditions require adaptive designs to achieve greater building quality. Adaptive factors that can affect formwork load include concrete loading, pressure on the formwork structure, site loads, and other environmental aspects. Adaptive formwork design focuses on sustainability throughout the entire lifecycle of the project. A BIM setup, including 3D, 4D, and other multidimensional models, is used for planning.
BIM allows accurate adaptation of formwork to lighting, ventilation, temperature, and heat. Also with BIM, Augmented Reality (AR) can be used to display 3D formwork models.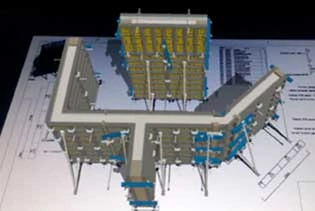 AR for 3D formwork
Formwork planning and design need to respond to various changes, including layout, technical requirements, time demands, construction costs, etc. For example, an optimal thermal setup for an indoor environment can be achieved with thermal activation for building systems. Here, the components can be integrated into walls and ceilings through concrete core activation for adaptive cooling and heating. This influences the formwork design. Formwork planned and laid out in 3D must be reliable to assemble a reinforcement cage for RC formwork. Concrete detailing with BIM offers the best solution.
Conclusion
It is important to bridge the gap between planning formwork, manufacturing, and installation. Greater emphasis on BIM communication and coordination makes it crucial to detail temporary formwork and permanent concrete in the pre-construction stage. This avoids costly rework at a later stage.
BIM's ability to produce accurate formwork proposals through 3D visualization and improved collaboration has kept formwork in step with modern construction trends. It will continue to play a major role and provide opportunities to structural contractors for engaging with the entire supply chain.