Generate more design variants of the same product in less time with design automation solution.
Designed 70,000+ doors with reduced cost and faster response time, using logical rules for design automation.
Read the Case Study
When your product designers are engrossed in repetitive, routine and time-consuming tasks, it stops your firm from offering range of customizations. Design automation can get you to achieve 70% faster design cycles that reduces 4-5 days of work to a few hours offering you to opt for ETO (Engineer-to-Order) over mass production.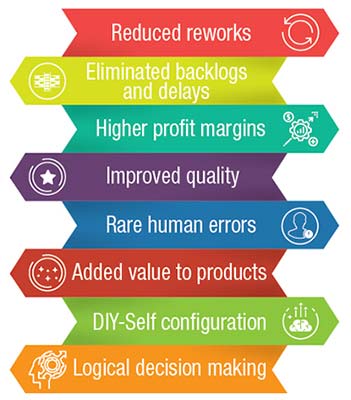 Our design automation experts can help you achieve this efficiency by generating 2D drawings and 3D models with sales quotes directly and automatically from a standard 3D CAD systems. We are committed to deliver engineering design automation for industrial equipment manufacturers, fabricators, custom furniture manufacturers, construction professionals and bespoke building products that optimally address end-users' needs.
With design automation through product configurator; we help you avoid expensive design errors and minimize change orders by following constraint-based solutions of each customized feature of the design, optimally.
Configure your products and get accurate quotes, drawings and BOMs for manufacturing
Go to configurator →
Areas of our expertise for design automation
If you manufacture products that are largely similar in utility but each has specific needs due to operational environment or varying mating parts; design automation is the right alternative. Besides saving you time and reworks; our expertise includes intelligent development of master 3D models for customization across enlisted areas:
Doors & windows for residential & industrial estates
Custom furniture for offices, hospitality, etc.
Oil and gas industry equipment
Pressure storage tanks
Piping & Plant layout
Shopfitting furniture: Racks, shelving, casework etc.
Playground equipment
MEP & HVAC ducts
Balustrades and canopies
Façades
Explore our work: Product Configurator development for a Furniture Manufacturer, USA
We help you generate fabrication-valid custom CAD drawings.
We focus on the needs of custom manufacturers to meet the delivery dates and schedules, whether you are launching new products or upgrading an existing one. By integrating your CAD systems, parts and modules to automation platforms; our design automation experts help you to develop custom CAD drawings and BOQs with complete specs of variants.
We also integrate ERPs with self-developed DIY Configurators to track machine data and resource availability for fabrication on shop floor and provide accurate sales quotes with delivery dates. From developing CAD configurators to CPQ (Configure, Price, and Quote) solutions; we help you set up design automation solutions amongst your sales and manufacturing teams to enable remote work.
Process Tank Configurator for industrial equipment manufacturer using Inventor & iLogic
Read Case Study
Why should custom manufacturers invest in design automation?
By collaborating with your design engineers; we enable right custom product designs the first time and enable faster manufacturing. Irrespective of number of individual design requirements from the customers; design automation platforms will empower you with:
Need based product customization
Drawing automation
BOM customization
Document generation PDF, Word, EXCEL etc.
Automation of repetitive tasks
Accelerated design cycle time
Integration of ERP, CRM, MES & CAD data
Implementation of ETO/BTO
Operate lean to save costs
We remain the most trustworthy partners in the engineering design offshoring industry. Our continued legacy of 25+ years of successful and on-time delivery empowers you with the right partnership values and improved manufacturing efficiency.
Contact us to discuss your requirements with our design automation specialists today.