3D Modeling and Manufacturing Support for Hollow Metal Doors & Frames, USA

The Client
Metal Door Manufacturing, USA
The Objective
Reducing repetitive design tasks and engineering lead time required in developing customized hollow metal doors, frames, locks and accessories to reduce the overall product delivery time to end customers.
The Solution
A full proof process was established using automation tools working in sync with SQL database for improving the engineering and manufacturing lead time. A team of 20 SolidWorks certified professionals worked on developing customized, accurate design information in terms of 3D models and manufacturing drawings as per the design specifications provided. Utilizing the advantage of time zone difference, engineers at Hi-Tech worked day and night to fulfill client orders, reducing the manufacturing and delivery time.
Technology/Software
SolidWorks, AutoCAD & DriveWorks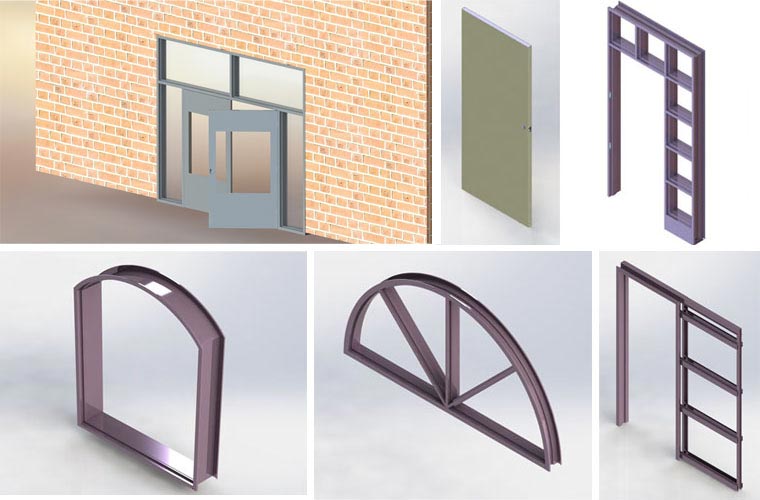 Metal doors are increasingly been seen as a replacement to wooden and FRP doors due to advantages of better strength and resistance to corrosion. However, the increasing demand puts pressure on manufacturers to deliver doors and frames on time and as per customer specifications. It is crucial for manufacturers to implement intelligence in the design and manufacturing processes to maintain balance in the supply chain and stay ahead in the competition.
A leading manufacturer of hollow metal doors and frames in US approached Hi-Tech to seek support for improving the design, manufacturing and delivery process and serve their customers better.
Client Challenges:
4-5 days of engineering and manufacturing time affecting the product delivery to customers
Fragmented design data transfer between internal teams
Repetitive design tasks leading to additional time consumption and possibilities of errors
No process developed to handle customized orders
The Solution
Hi-Tech developed a process to streamline the design process of hollow metal doors and reduce the engineering time through automation tools, while also connect the design data to SQL database for better data management. A team of 20 SolidWorks certified professionals worked in multiple shifts to convert the customer and client specifications to detailed 3D models and manufacturing drawings. To push the design to manufacturing faster, Hi-Tech utilized the advantage of time zone difference between India and US and developed metal door and frame designs that were made available for manufacturing US next day.
Responding to customized door designs and associated locks and accessories, Hi-Tech developed extensive knowledge on products that further helped in creating a custom template and data to bring down the engineering time. The SQL database allowed easy data management between multiple departments and hence reduced the possibility of errors and improved the quality. The client was able to reduce the engineering lead time from 4-5 days to one single day and thereby expediting the delivery of finished product to end customers.
Business Benefits:
Client was able to respond to enquiries faster
Capital expenditure reduced considerably with reduction in development time
Significantly improved the product delivery to customers
Enhanced the customer experience with the capability to order just in time of requirement