At Hi-Tech, we have broad experience in delivering SOLIDWORKS sheet metal design services for sheet metal contractors and fabricators. Our sheet metal designers have capabilities in custom metal products and components design such as door, window, metal furniture design, duct design, box, bracket, cabinet, enclosure, press tool, kiosks, hinge design and many more.
For sheet metal forming processes, we also provide support for die design as well as perform sheet metal forming simulation to predict stresses, spring back effect and formability. From delivering detailed 2D shop drawings, equipment fabrication drawings, flat patterns, 3D solid models and manufacturing documentation, we accelerate product development and support your design for manufacturability (DFM) strategy.
We initiated the design automation for metal & wood furniture for our client in USA, to bring down engineering and manufacturing lead time for sheet metal products. We also help product manufacturers with design automation for custom hollow metal door & frame.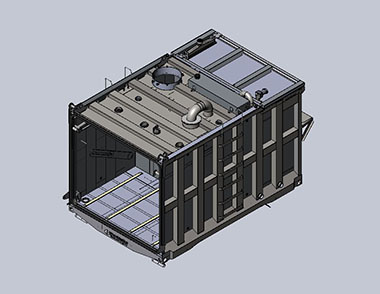 Our project of reverse engineering and virtual prototyping for caravan parts and accessories was a success story in itself and accrued lot of attention and clients from Australia. Our CAD specialists work in collaboration with sheet metal experts to better understand your shop setup and deliver digital CAD design information accordingly as per standards such as ASME, ANSI, BS and ISO.
Utilizing tools like SolidWorks for sheet metal parts, Autodesk Inventor, Creo, and SolidEdge, we accurately develop shop drawings and assembly drawings to keep your teams informed and reduce chances of errors and material scrap. Our additional expertise in design automation through DriveWorks enables you to respond to inquiries faster and generate accurate estimates, while also reducing the engineering and product delivery time.
While designing building roofs with sheet metal, aluminum and stainless steel panel, or designing metal frame and HVAC duct; we ensure that custom metal fabrication designs are readily provided for building owners and commercial clients, alike. Our building roof design and sheet metal clients include building supplies wholesale/retail, general contractors, building envelope contractors, siding contractors, masonry contractors, window contractors, stucco/EIFS contractors, plumbing/heating contractors, maintenance contractors and many more.
For more than 10 years, Hi-Tech has been delivering CAD and CAE solutions to manufacturers of building products, furniture, machine & tools, industrial equipment and HVAC equipment spread across USA, Canada, UK, Europe, GCC, Australia & APEC regions.
Our sheet metal design services include:
CAD conversion for legacy design data in PDF, image or other non-editable formats
Convert a hollow solid part to sheet metal flat pattern(s) with SolidWorks
Convert pipe from solid modelling to sheet metal/weld using SolidWorks
Convert standard part to sheet metal part with Autodesk Inventor
2D manufacturing drawings, fabrication drawings and assembly drawings and flat pattern for sheet metal products
SolidWorks 3D modeling for sheet metal with edges, miter, bends, flanges, rib, gusset, collars and more for Design for Manufacturability (DFM) requirements
Design automation of engineering-to-order products like doors, windows, panels, racks, etc. Create 3D sheet metal model and complete 2D flat drawings
Our integrated team of qualified engineers with broad experience and good exposure to various projects help in delivering creative and quality engineering services
Get in Touch