Our long standing experience of 10+ years empowers us to work efficiently even with the most complex modeling and drafting solutions for building product fabricators, sheet metal contractors and sheet metal fabricators. Our sheet metal design engineers deliver quick design and modeling solutions for sheet metal products such as door, window, metal furniture design, duct design, box, bracket, cabinet, enclosure, press tool, kiosks, hinge design and many more using SolidWorks and other CAD platforms.
From delivering 2D fabrication drawings, equipment drawings, assembly and installation, to all the way though 3D solid modeling as per DFM guidelines and strategy; we help sheet metal designs evolve efficiently for sheet metal enclosures, cabinets, sheet metal caravan parts, etc. as per ASME, ANSI, BS and ISO standards. We accelerate the entire design process by automating and eliminating the design grunt through CAD customization and design optimization using DriveWorks with SolidWorks or iLogic with Inventor and Configurator 360.
Our team of engineers collaborates with sheet metal contractors to perform sheet metal forming simulation to predict stresses, spring back effect and formability and develop insights of material behavior during the fabrication process. As official DriveWorks service partner, we help sheet metal fabricators bring down the engineering lead time for fabrication and help bring their products to market faster.
Our sheet metal design services include:
CAD conversion for legacy design data in PDF, image or other non-editable formats
Convert a hollow solid part to sheet metal flat pattern(s) with SolidWorks
Convert pipe from solid modelling to sheet metal/weld using SolidWorks
Convert standard part to sheet metal part with Autodesk Inventor
2D manufacturing drawings, fabrication drawings and assembly drawings and flat pattern for sheet metal products
SolidWorks 3D modeling for sheet metal with edges, miter, bends, flanges, rib, gusset, collars and more for Design for Manufacturability (DFM) requirements
Design automation of engineering-to-order products like doors, windows, panels, racks, etc. Create 3D sheet metal model and complete 2D flat drawings
We help fabricators address their customer's enquiries through product configurator that automatically generates fabrication drawings, BOMs and enhanced buying experience. Our CAD and design automation specialists deliver CPQ solutions with product configurator such as balustrades, stairs, rails and much more. Besides our sheet metal design modeling and drafting services encompass a range of industries including automotive, building products, processing plants, industrial components, aviation, etc.
While designing building roofs with sheet metal, aluminum and stainless steel panel, or designing metal frame and HVAC duct; we ensure that custom metal fabrication designs are readily provided for building owners and commercial clients, alike. Our building roof design and sheet metal clients include building supplies wholesale/retail, general contractors, building envelope contractors, siding contractors, masonry contractors, window contractors, stucco/EIFS contractors, plumbing/heating contractors, maintenance contractors and many more.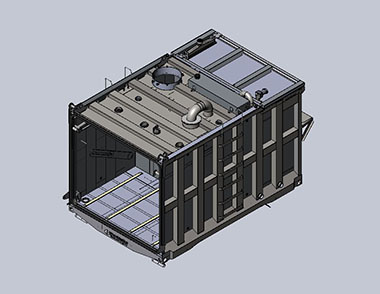 Our integrated team of qualified engineers with broad experience and good exposure to various projects help in delivering creative and quality engineering services
Get in Touch