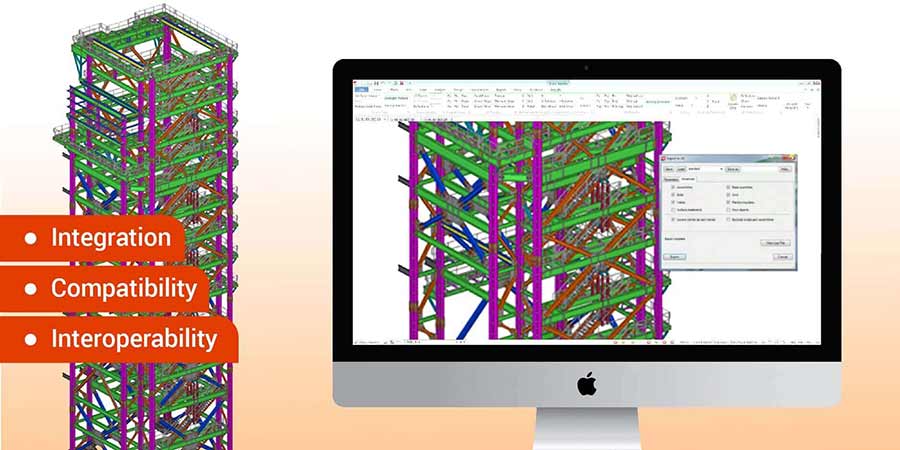 Tekla remains a popular tool for structural engineers along with numerous other construction industry professionals for almost two decades now. It has created new and simplified opportunities for structural steel detailing in association with as-built building designs in BIM platforms. Furthermore, it has facilitated in creating accurate and dynamic shared environment for steel detailers, structural engineers, fabricators, sub-contractors, and contractors.
Better integration of costs and order quantity with Tekla
Because of such collaborative environment, Tekla enables integrated detailing process with reduced delivery times and accurate order quantities for imparting necessary strength to the structure. Especially for industrial units and plants, Tekla plays an important role in saving costs as such facilities carry out very hazardous operations and heavy machinery causing heavy dead loads on the structural frames.
Such detailed shared work environment in Tekla enables better control over productivity for managers and centralized approach. And consequently, it results in better project and task management delivery along with reduced waste.
Interoperability with CAD designing platforms
Modeling in Tekla is the most advanced since it is seamlessly interoperable with the native CAD model for accurate steel and rebar detailing. Buildings like processing plants, industrial complexes, offshore platforms and jackets for oil and gas field plants, platforms for rigs etc. along with miscellaneous steel work can have accurate detailing.
Additionally, when the structural engineer shares Tekla models with plant design engineers, for PDM or FEED diagram, detailed plant layout or design phase, decisions for steel fabrication along with concrete and rebar detailing are made considering all the aspects. The interesting part is Tekla structure itself manages alterations in designs, models, and drawings so that there are no delays in rectifying the changes over and over.
Alongside design coordination with native models, Tekla enables checking of design element clashes for structural checks and continuity between the native models in DWG format, that is any 2D CAD file, and Tekla Structural model. When such collaboration between Tekla and engineering drawings is obtained, detailed reports for BOMs and 2D documentation can be automatically generated for downstream engineering works of construction, fabrication, assembly, and installation of columns and pillars.
Tekla modeling in plant structure design
While developing coal power station in China, Alstom Power Boiler GmbH was introduced to Tekla owing to its finer detailing, until then they had been using other designing and modeling tools. The company used Intergraph software for planning the systems and 2D designs for basic engineering diagrams.
Initially, the company confronted during the interoperability of structural models and native 2D designs. The workflow inconsistencies also led the parts to rejection during planning but later on, detailer with fine expertise in Tekla dealt with. However, the expertise of Tekla detailers and well-known flexibility of Tekla enabled seamless coordination between the two, and project concluded on time.
Extended flexibility of Tekla
The catch here is Tekla is BIM platform that essentially streamlines design delivery, sets the detailing straight, and allows planning of construction and manufacturing in an economical manner. It connects with several kinds of software used in the construction industry through Tekla Open Application Programming Interface [Tekla API] maintaining the design intent and security during data transfer.
In addition to the DWG and other 2D file formats, Open API in Tekla is also compatible with almost a majority of IFC modeling programs for architects. It establishes a bidirectional link between structural engineers and architects for better coordination project information between the two disciplines and the usage of Tekla remains ever growing.