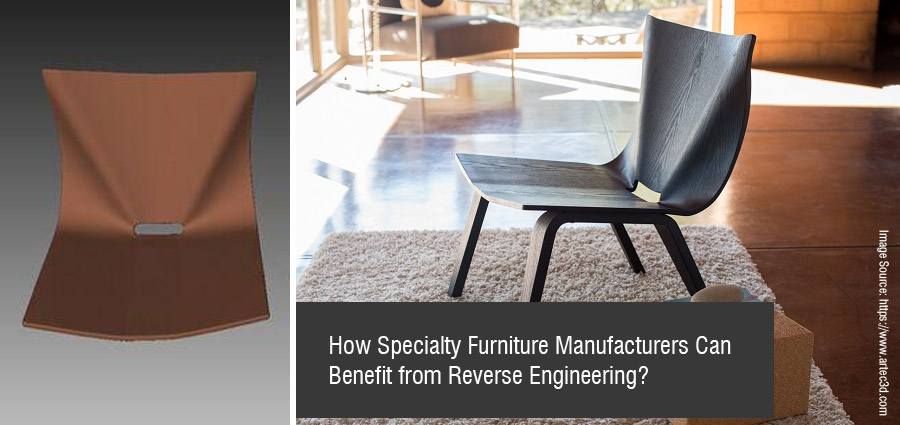 Furniture design firms develop high quality, special and original designs with a team of architects and interior designers. However, when it comes to manufacturing these complex designs, it is often a challenge. Replicating the design to create an actual product is often difficult and involves a lot of skills and tooling capabilities.
The usual workflow of developing furniture products involves design firms sending a prototype to manufacturers, who then study the product and try to replicate it by router duplicator to create a wooden mold. This mold is then considered as a reference to develop final products, ensuring accuracy in dimensions, aesthetics and features when compared with the prototype sent by the design firms.
However, this method is often not accurate. Manufacturers require performing trial and error methods to create a mold that is accurate for further applications. It requires fine-tuning the mold to ensure that the curvatures and surfaces in the prototype are replicated properly.
This affects the manufacturer's efficiency, product quality and consistency in each product being manufactured, and ultimately delays the shipment schedules. The usual time of develop a mold from a chair prototype takes more than 60-90 days, considering the complexity of the design.
Manufacturing of these designer products however can be made efficient through the use of 3D scanning and reverse engineering methods. The traditional workflow where the designer develops the physical prototype of the furniture can be enhanced by introducing 3D scanning to reverse engineer the prototype and develop a 3D CAD model, which can then be edited to add contours or curvatures. CAD model can easily be mirrored, saving scanning time for symmetrical designs.
The result is a final 3D model with all the curvatures and features, removing all the defects of prototype. This model can then be sent to the factory to create a metal mold using CNC machine.
The scanning process is very quick and takes less than 10 to 15 minutes in cases of furniture pieces like chairs. With this technique, CAD models with high accuracy can be generated in hours. And, as opposed to wooden mold, a metal mold can be generated with better accuracy and finish using CNC machines by simply exporting the CAD file to DXF format.
Manufacturers thus can increase the quality and consistency of the furniture product they manufacture, while maintaining efficiency and cost-effectiveness. However, the exciting part about scanning and reverse engineering is precision, since it allows manufacturers to fine-tune digital models and develop quality products with supreme accuracy.
At Hi-Tech, we deliver reverse engineering services for furniture manufacturers and provide them with accurate 3D CAD models to develop metal prototypes.
Interested to work with us? Send your project details at info@hitechcaddservices.com.