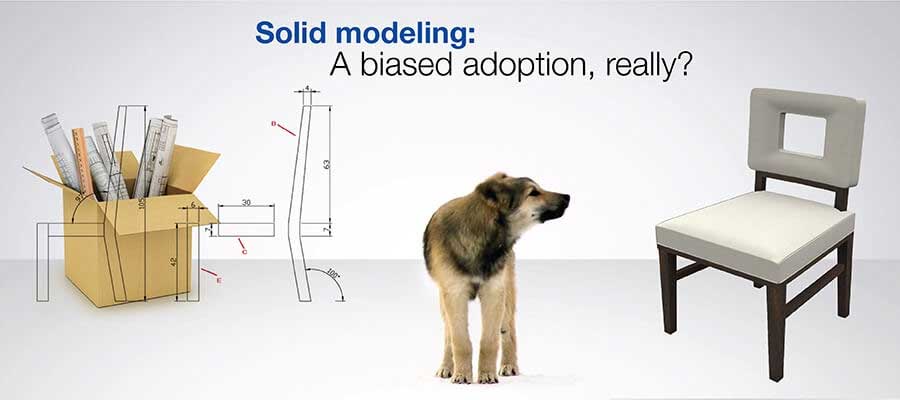 Encouraging the usage of 2D AutoCAD® is like singing the folklore to furniture manufacturers. And just like the folklore, importance of 2D CAD drawings too has become vague with the passing day as modular furniture designs emerge. Hence, the innate growth of 3D CAD modeling is the new normal as propagating new designs is of fundamental importance and experimenting novel manufacturing methods become inevitable.
But the pioneer furniture design engineers will downplay the capability of 3D CAD. They are opinionated as 3D solid modeling and visualization is an influence adopted from industrial product designing vertical. Furniture manufacturing companies will also advocate the idea just to keep the folklore alive.
So let's unravel the opinions and derive a logical conclusion over the acceptance of 3D CAD modeling in furniture design and manufacturing industry.
Folklore is for the amateur furniture manufacturers
2D CAD, although it has done significantly greater lengths of its tenure, is slowly being replaced by 3D CAD and that is an apparent reality. It initiated with the intent to communicate easily and seamlessly between the teams and is extended to better visualization and photo-realistic modeling for sales and marketing catalogues.
Only manufacturers today use 2D CAD for fabrication purpose. Even assembly and installation have been replaced with the sequential short animated videos with step by step instructions. Traditional yet new furniture manufacturing entrants use 3D for visualization and sales purpose or developing NC programs in manufacturing using tactical geometrical points.
3D CAD is the urban legend
But just as modern city designs have replaced citadels controllers, the furniture designs have also transformed from selecting through catalogues to made-to-order. Bespoke furniture manufacturing trends are on the rise that has dictated the emergence of product configurators and that in turn has encouraged 3D inevitably. Enlisted are the three major reasons to why 3D can be pronounced as the urban legend.
1. CAD furniture blocks and libraries are based on 3D
All the CAD platforms facilitate libraries and all the design engineers, novice or pros, will agree to their importance. All these libraries are stored as 3D CAD solid models or 3D isometric drawings largely due to easy and quick understand-ability.
It is so because any designer looking up for a standard part for quick replication lands up on the open online source of CAD portals should quickly understand the design essence which cannot be satisfied by 2D drawings.
2. Parametric qualities of 3D CAD
Since furniture designing has become Engineer-to-Order, [ETO] immediate client and end user are both closely involved at the design stage. Hence, the product design teams have expanded that makes the process even more complex with increase number of entry points for influx of design alteration requests.
In such cases, when 2D .dwg files are used as base documents, parametric characteristics will quickly change all the depending dimensions which cannot be quickly understood. On contrary to this, 3D depicts the changes explicitly. It doesn't mean that parametric qualities of CAD are a drawback, but it works well only with 3D in quickly understanding the changes.
3. DIY and self-configured furniture products
Another emerging trend is the bespoke furniture products or made-to-order which is encouraging more designer to adopt 3D. Since 2D CAD drafting has very limited facility of design communication, it's generally not preferred by most designers to avoid misruns and changes in form of ECOs later.
Furthermore, CAD configurator platforms too work in collaboration with traditional 3D CAD software which again boosts the use of 3D CAD. CAD configurators do generate 2D drawings for manufacturing, assembly and installation as output but the base frame models taken as inputs necessarily have to be in 3D.
Logical Derivation
Aforementioned trends have intensified across the industry which encourage design engineers and to accept 3D CAD. Thus, according to the past generation creators of furniture design and production 2D was the folklore hero. But today, 3D has become the urban legend due to the rising needs of furniture industry itself and not under the influence from elsewhere.