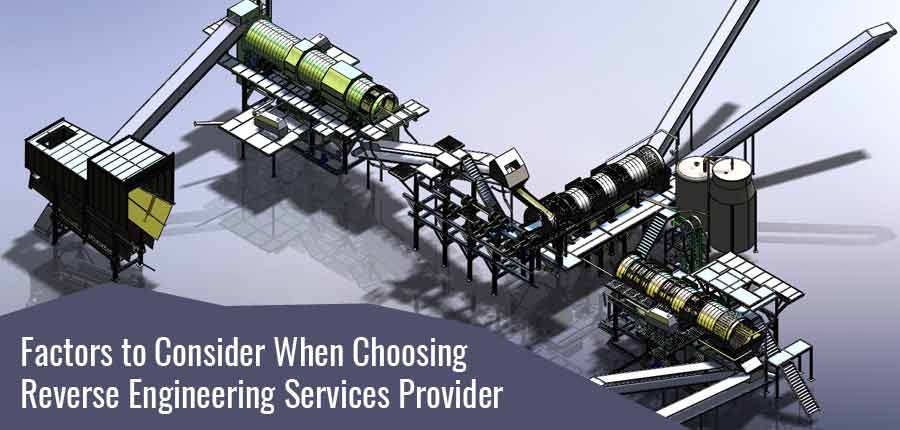 Reverse engineering is an exciting technique that allows engineers and manufacturers to recover accurate dimensions of a product, which can be re-produced. Service providers who specialize in reverse engineering have special equipment and access to technologies that enable them to capture geometries of any scale and complexity. The measured object is then delivered in a required CAD format to replicate the object.
In many cases, you might need to reproduce an object for which there is no original design plans available. Thus, RE services are extremely specialized; and not every provider will have the capabilities to meet the requirements of each and every unique customer demands.
Before you seek a support from reverse engineering service provider, here are few factors that you consider, to ensure that the deliverables they provide are as per your expectations:
Service provider's RE knowledge specific to your application
Product reverse engineering may not require accurate precision, if the application is for creating a 3D marketing video. But, if the requirement is to develop an exact replica of a critical component, say in an aircraft engine, measurement techniques are required to be highly precise and accurate.
It is thus important to ensure that your service provider understands your application well, and selects the appropriate measurement and modeling techniques that are specifically used for your application type.
Apart from accuracy, it is also important that the provider clearly understands the difference between reverse engineering for design intent or as built. While RE for design intent is meant to rectify the errors in the original product design, RE for as-built is to replicate the original product design including the imperfections.
Equipment capabilities that meet your needs
Depending on the level of precision required, ensure that your service provider has the equipment capabilities that meet your requirements. Precision quality also differs with material type as reflective or elastic object surfaces will require different sensors to capture accurate geometry. It is always good to discuss with your service provider about the type of equipment used and what are the reasons of selecting the equipment.
Deliverable format to suit your application
The output file through reverse engineering can be delivered as a drawing, PDF or a detailed 3D parametric model. It is important for you to know that your provider delivers output files that has all the required detail to suit the requirement of your specific application and is also compatible with the software you will be using for replicating the product.
Provider's ability to deliver results on Time
Meeting deadlines can significantly impact the decision of choosing the equipment and measurement techniques. If the need is for higher precision, the time required will be more. It thus important that your provider understands your requirements and priorities, and can deliver expected results within the given time-frame.
Hi-Tech CADD Services delivers reverse engineering services across multiple industries and for wide range of applications. We are equipped with high-precision scanning and measurement capabilities to help clients meet their application specific requirements quickly. Reach out to us at info@hitechcaddservices.com for your reverse engineering project.