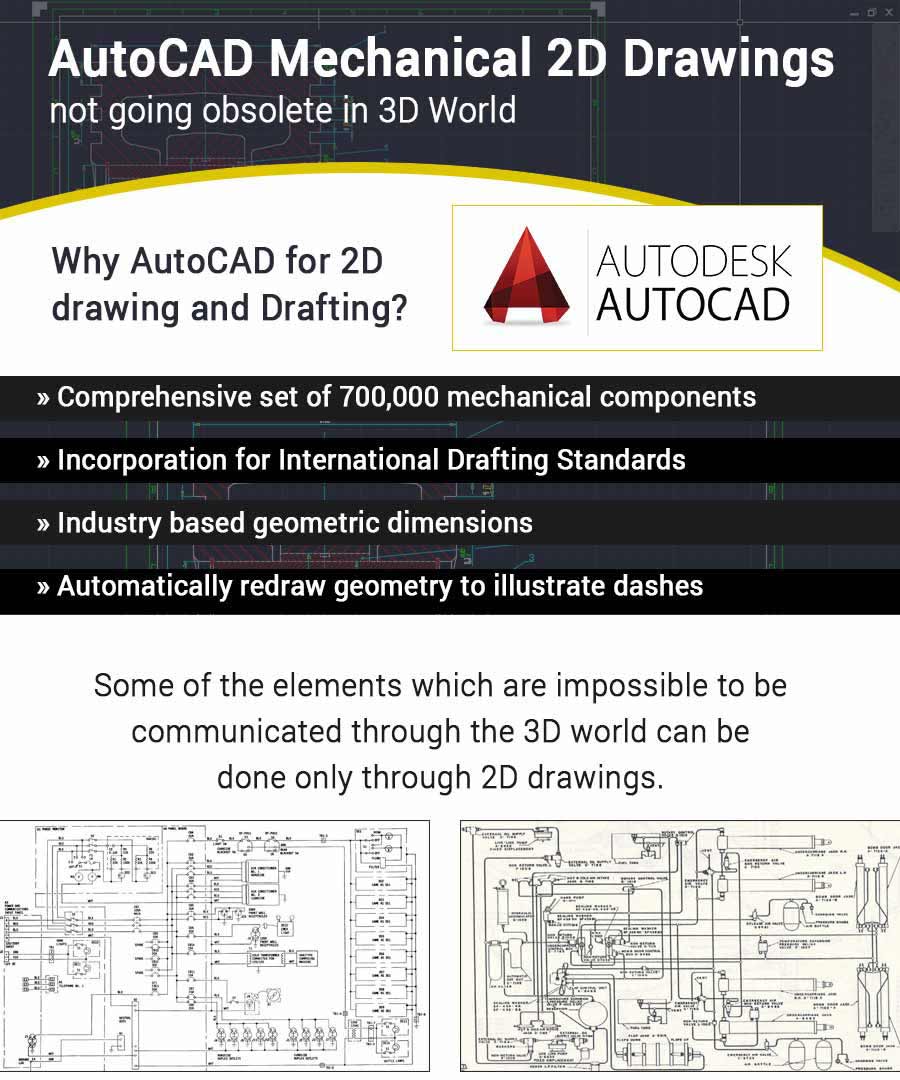 It's been more than 10 – 12 years, but I still remember buying all the required material such as a drafter, HB pencil, 2H pencil, and a 2B pencil; during my first year of mechanical engineering. However; if I take a look back at my entire academia and the mechanical engineering career, I hardly remember instances where I used a pencil for preparing mechanical engineering drawings or drafts on paper.
Though several really fast 3D CAD modeling software with complex functions are evolving and evolving to be the best with every new release, we cannot neglect the fact that still approx. 30 – 50% of engineering resources are utilized for preparing 2D drawings, especially in small or medium level engineering firms.
When computers were not in use to this extent in engineering and manufacturing segment, the only way engineers used to communicate conceptual 3D models is by making 2D drawings. However; now we are in a world where display screens, showcasing minutest details, are just a few feet away on the shop floor. And this is not specific to any industry; instead the scenario is same across aviation, automotive, building & construction, heavy engineering and machinery plants, fabricated metal & alloy products and many more.
Since more than two decades, we at Hitech, have successfully partnered engineering teams to convert scanned, hand-drawn or any other drawing sketches to manufacturing ready 2D drawings and 3D CAD models, as per Standards like ASME, ANSI, BS and others to meet shop floor requirements. Our mechanical design engineers utilize leading CAD drafting and 3D solid modeling tools such as AutoCAD, SolidWorks, Inventor, SolidEdge and Creo for 2D to 3D CAD conversion.
Our industrial product design teams provide industrial equipment design services for digital CAD design support, right from 2D drafting for manufacturing drawings, fabrication drawings and assembly drawings to detailed 3D modeling and engineering analysis.
We have been the trusted industrial design support partner for industrial heating equipment manufacturers to leverage the design and development of boilers, furnaces and oil fired burners. With help of AutoCAD, we reciprocate to our client needs in form of 2D layout and general arrangement drawings for different boiler configurations, 2D detailed manufacturing drawings and fabrication drawings for shop floor requirements and many more.
Why AutoCAD for 2D drawing and Drafting?
Delivering mechanical engineering design solutions with help of AutoCAD, one of the most comprehensive mechanical design and drafting software, has worked to our advantage, big time. Our drafting professionals utilize AutoCAD Mechanical design suite for delivering the most efficient solutions in mechanical product design.
Its comprehensive set of 700,000 mechanical components including Nuts, Screws, Washers, Rivets, Pins, Plugs, Bushings, Bearings, Structural Steel Shapes, Shaft Components, Keyways, Undercuts, Thread Ends and many more, saves a lot of time and cost when it comes to drawing them from scratch. With its automatic, powerful and quick dimensioning with fewer inputs; enables driving and adjusting design geometry to fix in certain sizes.
Incorporation for International Drafting Standards such as BSI, ANSI, DIN, CSN, GB, ISO and GOST drafting, is one of the best features today, as compliance with industry standards improves internal communication and results in reliable production outputs.
It is equipped specific drafting tools for generating standards Industry based geometric dimensions, surface texture symbols, mechanical symbols and weld symbols. We as an AutoCAD firm are empowered to increase our productivity manifold and deliver up-to-date, standards-based design documentation in a dynamic and technically equipped way. AutoCAD automatically redraw geometry to illustrate dashes and hidden lines of parts that are blocked by other parts in mechanical design, ultimately helping our clients save time and efforts revising their 2D designs.
So if this is the scenario why can't a manufacturing sheet metal and wood furniture, building products and industrial equipment industries, fabricated metal and alloy manufacturers rely for dimensions directly on a 3D model instead of using a 2D drawing?
2D Drawings Need Not Go Out-of-date
The reason why this so very evolved and progressed engineering fraternity still relies upon 2D drawings is that even sole dependency on 3D models would need several geometric and other tolerances called out in the drawings. Some of the elements which are impossible to be communicated through the 3D world, like electrical or hydraulic schematics, flow charts and more, can be done only through 2D drawings.
Conclusion
We certainly can be hopeful about a world where fabrication shops and fabricators on shop floor are using tablets to browse models and take accurate measurements for manufacturing or assembly lines. Manufacturers would further use animated exploded views, which would be capable to tell how exactly to install hardware with an absolute sequencing. Customers could directly browse 3D models on a website, point out which or what part they need, drag and drop it to a checkout cart and much more.
The possibilities are limitless, but I would still say that 2D drawings will stay; and stay for long.