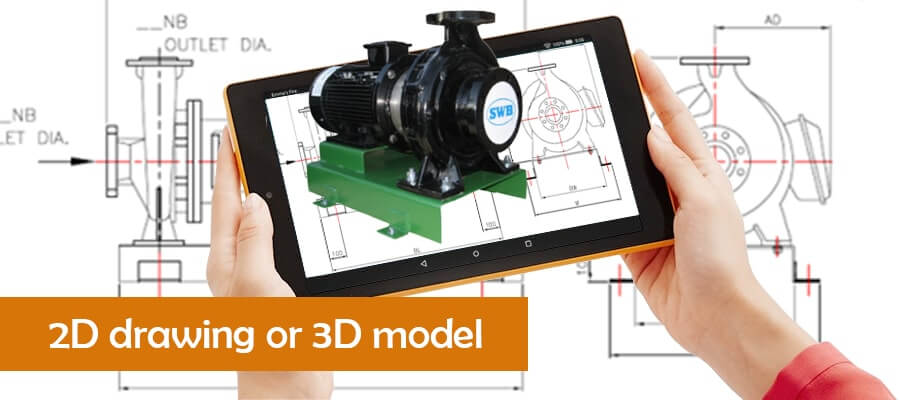 "You adopt a better alternative when one arrives or is discovered; until then you continue using the one that has established the legacy."
This is the story of 2D drawings being replaced by 3D models when a third dimension was added to engineering or industrial CAD designs which fabricators used. But today, fabrication industry needs both these features equally.
2D drawings are easy to generate but engineers prefer 3D models for complex applications and design generation. When both are easily achievable, they also are a choice of avoiding catastrophe in longer run. It basically demands foresight to decide and avail a smooth function of fabrication part of the engineering project and business applications on later stages.
2D Drawings: Two for one
To think that 2D drawing has been trashed out with the advent of 3D CAD modeling is far from reality. 2D drafting still has a very prominent place amongst the industrial product designers, and they have their own reasons for it.
2D is the best option when you are facing tight deadlines and the designs are to be developed for a single component or a single part. Basic geometries are easy to generate in 2D CAD sketching tools and are quick. They are intriguing when the drawings do not need any functionalities of 3D and require less space. A designer of any skill sets can easily work with 2D CAD and nearly any desktop will support 2D drafting.
For a crystal clear usage, engineers still use 2D drafts for fabrication drawings, plans, elevation, sectional drawings and shop floor drawings for fabrication. In fact, it is quite surprising that approximately 30% of engineering design firms and design engineers still use paper to design the initial concept sketched and then resort to 2D CAD for digitization.
Despite these benefits, there are a few drawbacks of using 2D. When sectional views are generated in 2D, updating them is time-consuming and also prone to errors. Also, 2D CAD software does not have rendering capabilities. This means, it involves an additional step to export and convert designs into 3D models before rendering.
So for a fact, just to save time, you are doing two more steps, exporting and converting before any other action is being taken– literally two for one. It reduces the productivity and lengthens the designing cycle. For these reasons, industry-wide shift to 3D modeling is witnessed among mechanical and industrial product design engineers.
3D Models: Make a three-way profit
As business needs became bigger, design cycles were required to get shorter and engineering lead time needed to get easier and without errors; this is when more and more engineers started resorting to 3D CAD software. The advantage of using 3D CAD over 2D CAD is that it reduces the design cycle time to almost half and gives a competitive advantage to designers as well as fabricators by accommodating alterations, much fasters.
Another takeaway with 3D CAD is that it offers excellent work around while generating rapid prototypes. And with additive manufacturing gaining momentum over traditional manufacturing practices, 3D CAD is the way to adapt to easily transform designs into tangible products.
Since additive manufacturing is a process that eliminates material cutting, it has a dramatic control over scrap produced. This is one among many reasons why this phenomenon has gained traction for every fabricator in any industry – be it industrial sheet metal tools, automotive, building products, furniture or any other that one can think of.
Such a paradigm shift makes it even more important than ever to adopt 3D CAD and drop 2D drafting process for saving material, directly targeting to increase their profits and connects the digital thread opportunity directly with the designs.
Other than these three major benefits, 3D CAD usually offers more functionality to the user. These functionalities encompass 3D arrays, special views, referencing and much more. But at times these are too many for generating basic part models like line-types, line-weights, and other form features are good to go. In such times, it feels that 2D drawings should be preferred instead of 3D.
Also because since 3D CAD is advanced, licensing is much expensive and renewing it each time the software company rolls-out new version, [not to mention it happens almost every year] it costs heavily to designers. Thus, it is much needed to weigh your needs of design requirements and analyze the cost you are paying for it.
By now, you must have realized that, on the contrary to popular belief, there will be times when you'll find 2D CAD to be the need of the hour and not 3D models. While during the other times, you'll find your designing world revolving in the three dimensions of 3D CAD models, whatever be your need – fabrication, design intent clarity or profits – to avoid catastrophe and binge working at the last moment. The hitch is that you select the one that addresses most of your needs since there isn't any single CAD system that will address all your design and fabrication needs.