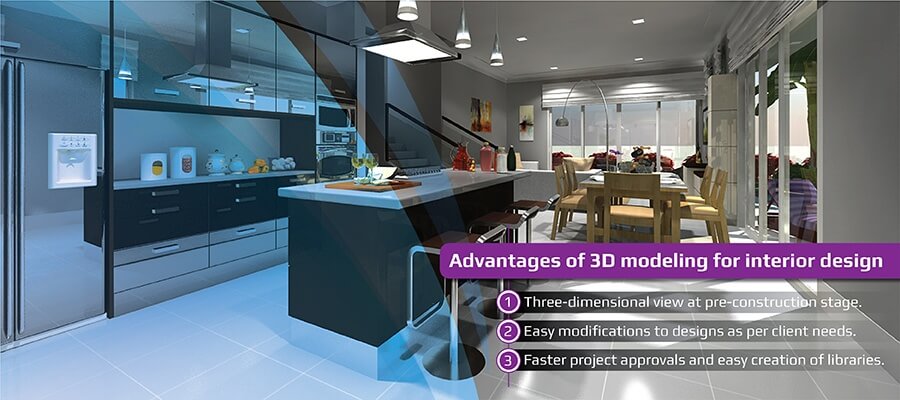 3D models are a potent tool for interior designers to effectively communicate designs to their clients via three-dimensional visualization, increasing project approval rates. 3D interior design shifts the control to the hands of clients by enabling them to alter or transform designs.
"A picture is worth a thousand words". The visual competence of a 3D model lets interior designers convey their designs to clients in a much more powerful and effective manner.
3D models visually capture designs from multiple angles and layouts, which was a major challenge with the earlier handmade sketches or 2D drawings. The feature-enriched and reliable 3D models have had a transformative impact on the practice of interior designing. The ease, speed, accuracy and finesse of such visualizations is unparalleled.
In this blog, we focus on significant advantages interior designers gain using 3D models.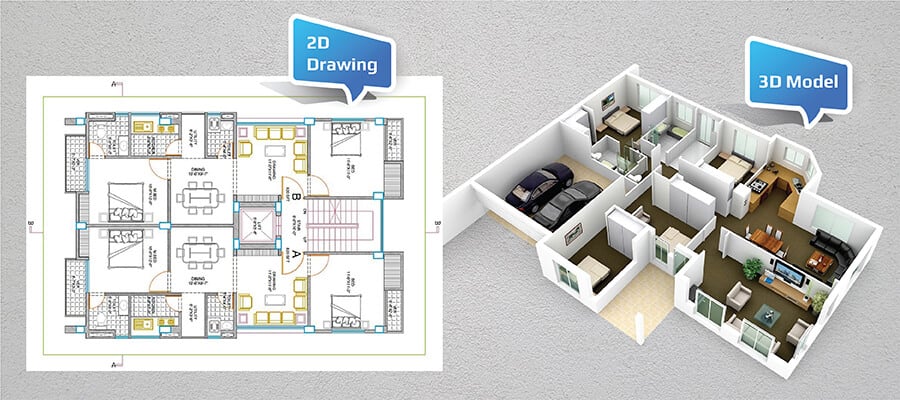 What are the benefits of 3D modeling to interior designers?
1. Effective client presentation via 3D visualization increases chances of design approvals
2D drawings and handmade sketches made it difficult for interior designers to communicate their designs during client presentations. Often clients could not visualize the designs, which resulted in non-approval of projects.
With 3D BIM, the client can easily visualize and understand the design. The client can simultaneously make any kind of changes in the design as per his requirements. The realistic visualizations make the process of project approval very smooth for both the client and the interior designer.
See how Hitech used 3D BIM to enable a top design firm to secure quick approvals.
A leading design firm needed a photorealistic 3D rendering of the interiors with appropriate texture and lighting for a hospitality facility in Los Angeles, USA. They wanted to have an exact night view of the nightclub interiors so that they could visualize and communicate the designs to their clients with reflective walls and floors.
Hitech developed an interior 3D rendered model with illuminated walls, floors, furniture, serving tables etc. Appropriate night-lights, texturing on the walls and floor area etc. were assigned to visualize the night scene in the interiors without using glare lighting.
The vivid visuals helped the architectural design firm present its case convincingly to its client, speeding up the approval process.
Read Case Study →
Here is what we presented to the client: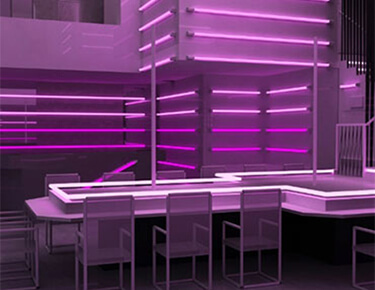 Floor Level 3D View Plan Rendering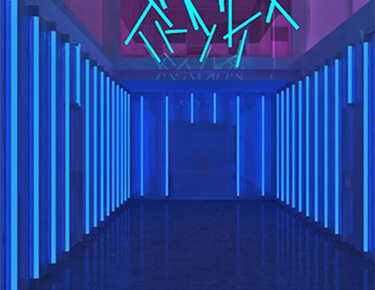 Corridor 3D Rendering Lighting Texturing
2. Easy to make design amendments
3D BIM enables interior designers to experiment and virtually place an item or product in a specified area or space before actually purchasing it. This reduces the risk of high costs.
You as an interior designer can create multiple design options quickly and easily in 3D models. You can present these to the client and any changes or a combination of designs can be developed as per the client's requirements. A 3D model's participative approach makes it easy for you to work with clients to change, replace or shift elements or items in a virtual three-dimensional environment.
The ease in incorporating changes in 3D BIM saved time and cost for a recreational facility in USA.
A recreational facility project taken up by a leading architectural firm in Boston, USA needed a photorealistic 3D rendering of the club interiors with texturing and lighting. Hitech created a 3D model in 3DS Max for the entire club's interior including walls, flooring, furniture etc. Variations of lighting, color schemes, textures and shadow effect were also included. The client company could successfully deliver the presentation with variations and sub variations to their potential customers. The client saved on time and costs due to ease in making amendments and incorporating all changes required by the end customer quickly and easily in the given 3D model.
Read Case Study →
Here is what Hitech presented: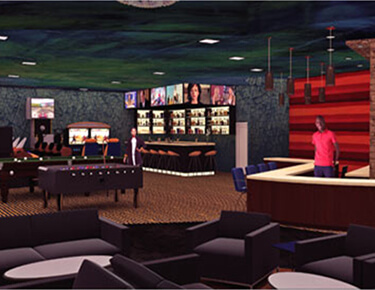 3D Rendering of Pool Zone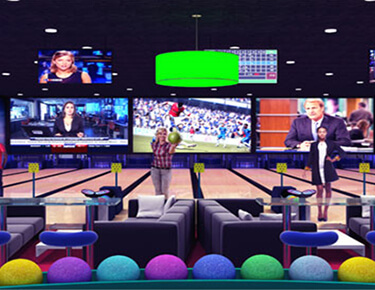 3D Modeling of Bowling Alley
3. Easy creation of 3D Libraries of products to display multiple design options to clients
Online shopping being the current trend, 40% of customers prefer online surfing while choosing items and products for home interiors. Online home decor product retailers, furniture designers or manufacturers of bathroom and light these days develop a 3D interior design model library on their website and an interior design application. This allows their clients to choose color schemes, furniture pieces, wallpapers and all the upholstery as required and buy it off the shelf immediately.
If you are an interior designer, 3D BIM enables creation of your own 3D library of products and components to aid your designs right from the initial stages. You can display multiple designs of the finished product to potential clients including items, materials, fittings and furniture that are arranged in a specific area or space as per the client's requirements. You can also create 3D libraries of all the products used frequently. This speeds up the process of designing as frequently used design components easily available with varied variations and sub variations of shape, size, color, fabric etc.
Experience the future with Walkthroughs
The next step up from 3D modeling would be creating a walkthrough. To experience a design model as a tangible final product can best come across through a walkthrough. A walkthrough is not merely a snap shot of the building or its interiors and exteriors created using 3D technology, but a true-to-life representation through photorealistic objects, characters and animations.
Thus, a virtual reality is created that includes the minutest of details through realistic design rendering that enables to feel, experience and examine the model internally, literally walking through it.
Conclusion
To conclude, 3D modeling and rendering technology has substantially profited the world of interior designing. Multiple design options, better visualization of layouts and greater chances of getting a project approved are major factors for more and more designers adopting new 3D modeling software or services. 3D interior designing provides a more participative and collaborative platform where the interior designer and client can work together on common design understanding.
3D remains the foundation for augmented reality or virtual reality through simulations, which is the way forward, cutting across and permeating disciplines apart from AEC.