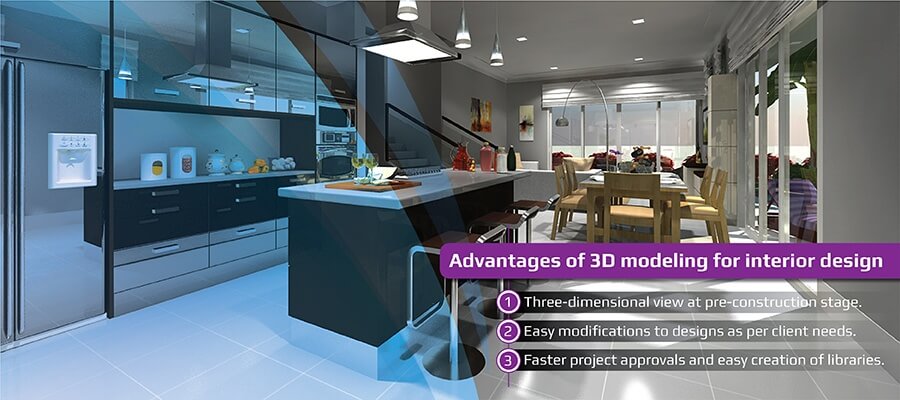 3D modeling for interior design revolutionizes client communication, problem-solving and sales efficiency. 3D architectural visualization and photorealistic renders help in fast design revisions and project approvals, resulting in more successful design outcomes than what's possible with 2D tools.
As an interior designer in the digital age, you're no stranger to the impact of technology on our craft. The powers of 3D modeling for interior design and architectural visualization have transformed how we conceptualize, develop, and present our design ideas to clients and stakeholders. On the other hand, clients gain greater clarity of the overall concept and design layout with material and colours from a 3D model.
Architectural BIM modeling visually captures designs from multiple angles and layouts, which is usually a major challenge with handmade sketches or 2D interior design drawings. With the power of 3D architectural visualization, we can now create lifelike representations of our designs, providing clients with a more comprehensive and realistic view of their future spaces. At the same time material exploration and error detection become easier for both interior designers and their clients.
In this article, we look at the three core reasons why 3D modeling and rendering have become non-negotiable tools in the modern interior designer's toolkit.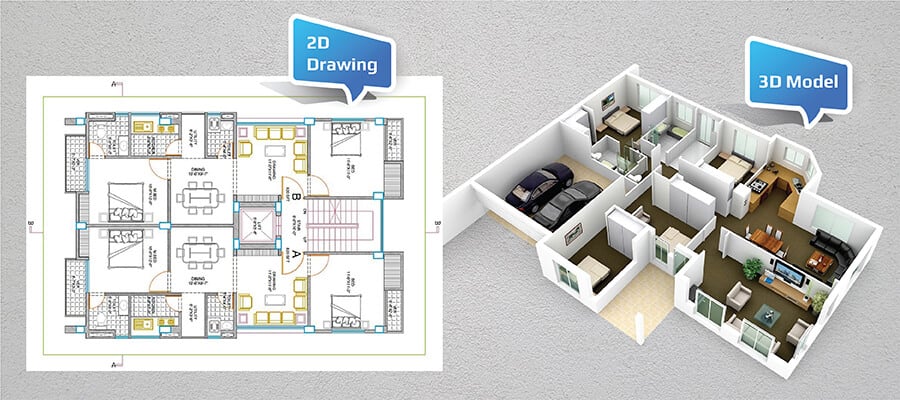 2D drawings vs. 3D BIM model
3 main benefits of 3D modeling and visualization to interior designers
1. 3D architectural visualization facilitates design approvals
2D interior design drawings and handmade sketches make it difficult for interior designers to communicate their designs during client presentations. Often clients are not able to visualize the designs, resulting in communication gaps, project proposal rejections and rework.
With 3D architectural visualizations and 3D interior rendering nothing is left to the imagination of the client, as presentations closely mimic reality paving the path to project approvals. With the ability to visualize exactly how the finished space will look, clients can make informed decisions quicker, thereby streamlining the design process and increasing efficiency.
See how Hitech CADD Services used 3D BIM to enable a top design firm to secure quick approvals.
A leading design firm needed a photorealistic 3D architectural rendering of the interiors of a building in the hospitality sector in Los Angeles, California, with appropriate texture and lighting. They wanted to have an exact night view of the nightclub interiors so that they could visualize and communicate the designs to their clients with reflective walls and floors.
Hitech CADD Services developed an interior 3D rendered model with illuminated walls, floors, furniture, serving tables etc. Appropriate night-lights, texturing on the walls and floor area etc. were assigned to visualize the night scene in the interiors without using glare lighting.
The vivid visuals helped the architectural design firm present its case convincingly to its client, speeding up the approval process.
Read Case Study →
Here is what Hitech CADD Services presented: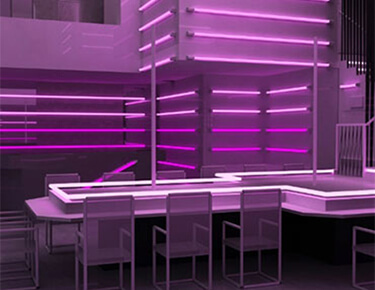 Floor Level 3D View Plan Rendering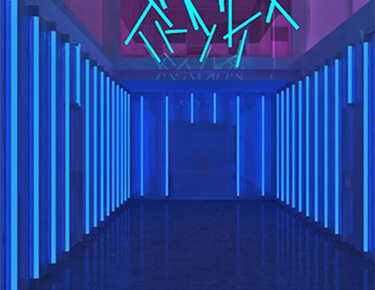 Corridor 3D Rendering Lighting Texturing
2. Timely error detection and cost-effective design revisions
3D architectural BIM enables interior designers to experiment and virtually place an item or product in a specified area or space before actually finalizing it. This helps to detect potential design issues early and corrected at pre-construction stage. This helps reduce the number of design revisions needed during on-site work.
You as an interior designer can create multiple design options quickly and easily in 3D models. You can present these to the client and any changes, or a combination of designs can be developed as per the client's requirements. 3D rendering makes it affordable and cost-efficient to present final looks of design modifications to clients.
A 3D BIM model's participative approach makes it easy for clients to compare, change, replace or shift elements or items in designs in a virtual three-dimensional environment, making the decision-making process easier. It also becomes easier to explore materials, textures and finishes and make more informed decisions about the functionality and flow of the designs.
The ease in incorporating changes in 3D BIM saved time and cost for a recreational facility in USA.
A recreational facility project taken up by a leading architectural firm in Boston, USA needed a photorealistic 3D architectural rendering of the club interiors with texturing and lighting.
Hitech CADD Services created a 3D model in 3ds Max for the entire club's interior including walls, flooring, furniture etc. Variations of lighting, color schemes, textures and shadow effect were also included. The client company could successfully deliver the presentation with variations and sub variations to their potential customers.
The interior 3D visualization enabled the client to save on time and costs. The client was able to make amendments and incorporate all changes required by the end customer quickly and easily in the given 3D rendered model.
Read Case Study →
Here is what we presented to the client: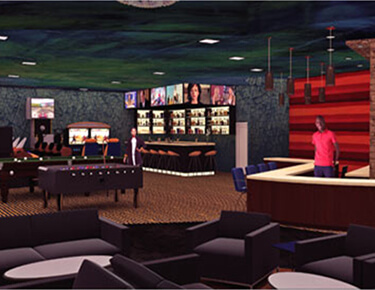 3D Rendering of Pool Zone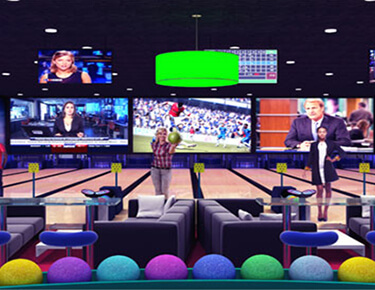 3D Modeling of Bowling Alley
3. Easy creation of 3D libraries of customizable and reusable models
3D modeling for interior design provides an unmatched platform for material and design experimentation. 3D models can be easily modified and reused to create different visualizations and design variations. This level of customization is vital for presenting clients with different design options and for adjusting designs based on evolving client needs.
If you are an interior designer, 3D BIM enables creation of your own 3D library of products and components to aid your designs right from the initial stages. You can display multiple designs of the finished product to potential clients including items, materials, fittings and furniture that are arranged in a specific area or space as per the client's requirements.
You can also create 3D libraries of components that are used frequently for designing. This speeds up the process of designing as frequently used design components easily available with varied variations and sub variations of shape, size, color, fabric etc.
Hitech CADD Services creates AR/VR ready 3D models that you can use to display to your end clients on any device in their own home environment.
3D modeling and texturing have greatly transformed the interior industry from last 15 years and the work and decisions made are far more mature and data driven, which in turn helps clients gain more project clarity. As an architect, in my opinion the transformation that 3D architectural modeling brings to the AEC industry is extremely beneficial.
– Kaushik Gajjar, Certified Architect, India
Experience the future with walkthroughs
3D architectural visualization excels in creating virtual walkthroughs. Virtual reality (VR) walkthroughs represent a groundbreaking advancement in the interior design industry, offering unprecedented interactive experiences for both designers and clients.
The immersive nature of VR allows designers to construct a realistic, three-dimensional representation of a space, which clients can then explore in a way that feels tangible and immediate. This technology extends beyond the capabilities of static 3D models and renderings, enabling clients to "walk through" a design and visualize how it would look and feel in real life.
This level of detail and interactivity helps clients understand the spatial relationships and aesthetics of a design in a much more nuanced way. Furthermore, VR walkthroughs allow for instantaneous feedback and alterations, making the design process more efficient and collaborative.
The adoption of this technology is not only transforming the way interior designers present their ideas but also enhancing client engagement leading to faster project approvals.
Conclusion
The power of 3D modeling for interior design cannot be overstated. With its ability to enhance visualization, facilitate material and design experimentation, and detect potential design issues early on, 3D architectural visualization has become an indispensable tool for interior designers.
Multiple design options, better 3D architectural visualization of layouts and greater chances of getting a project approved are major factors for more and more designers adopting new 3D modeling software or services. Embracing these advancements, like 3D interior modeling and rendering, will ensure that we continue to deliver innovative, high-quality designs to our clients.
3D modeling and visualization remain the foundation for augmented reality or virtual reality through simulations, which is the way forward, cutting across and permeating disciplines apart from AEC.