Whether one owns a huge bungalow or a small apartment, the owner always desires to have the interiors designed just as they prefer. 3D modeling and rendering comes to rescue in more than one way.
Whether it's a newly built apartment, a palatial property up for renovation, or an interior design assignment for commercial property, 3D modeling and renderings allow visualizations that help clients make the best choices when it comes to interior design.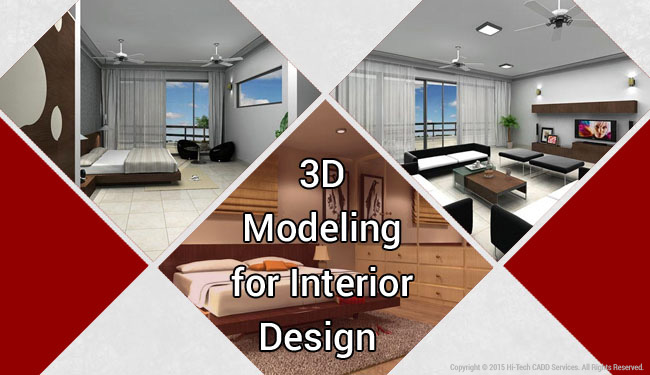 The three significant reasons, why we say that interior design 3D modeling and rendering is the best thing that happen to interiors:
1. Client Presentation, visualization and Approvals
Earlier, client presentations and getting approvals was the most dreaded process, as it became extremely difficult to make client visualize the interiors from handmade 2D sketches. However now with 3D spaces, the client not only understands the design but is also very sure about what kind of changes he needs in the design so as to fulfill his envisioned requirements.
The realistic visualizations make it very easy for both the client and the interior designer.
2. Interior Design 3D Model Library Development for Professional and DIY Help
When it comes to acquiring items for home interiors, 40% of consumers resort to online surfing and buying products they want. Online home decor product retailers can develop a 3D interior design model library and an interior design application that allows their clients to choose color schemes, furniture pieces, wallpapers and all the upholstery as required and buy it off the shelf immediately. These ready to use products enable clients to adopt DIY approach and yet design the best interiors, and also increase revenues for online stores and brands.
Furniture designers, home décor product manufacturers, manufacturers of bathroom fittings, light fittings etc, can outsource 3D modeling services to create an extensive product library that can be readily used by clients for DIY – Do It Yourself.
3. Easy to Amend Changes, Whether It is Used Professionally or for DIY
Within a 3D virtual environment, it is easy to choose and replace or shift objects easily. Once the demarcated house plan and 3D model is ready, a lot of experimentation and innovation can be introduced and creating multiple design options is fast and easy.
3D modeling and rendering technology has always, and is vastly affecting the interior design trade and is influencing the way interior designs are visualized, developed and approved. Virtual reality hence sees an increasing trend as of now. Taking it forward, now it remains to be seen as to how virtual reality that has become such a commonplace will be replaced by augmented reality.