As an established plant design modeling and drafting services provider, at Hi-Tech, we deliver BIM modeling and design drafting services for the efficiently managing construction of a plant facility services. We offer a range of 3D modeling and drafting services for industrial construction for processing and manufacturing plants.
We help EPC firms, general contractors and engineers design and construct efficient and resilient plant facility to sustain for a span of decades and processes carried out in plants. We deliver structural steel detailing and rebar detailing services for roofs, columns, beams, ceilings, and foundation to construct immensely strong plant structures using Tekla.
We convert conceptual architectural sketches to 3D models and information rich intelligent BIM 3D models in Autodesk Revit with piping arrangement and MEP component arrangement across the facility. We deliver efficient P&IDs, and clash free MEP layout to stay efficient and avoid reworks.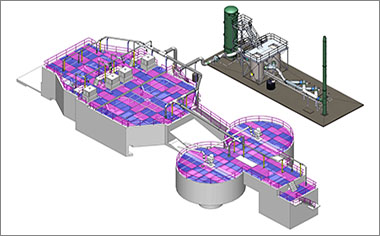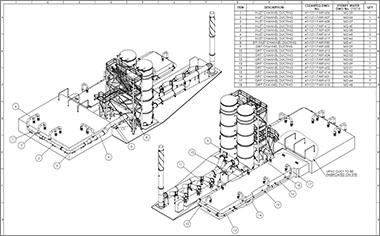 We also deliver 2D assembly and fabrication drawings for piping design and fabrication along with MEP component fabrication and installation drawings. We empower MEP contractors by creating Revit Families for MEP components and BIM content of other products such as machinery, shelving and racks etc. to develop insights about the floor area occupancy and generate the layout.
Our core services for plant designs include:
Legacy data conversion from 2D CAD to 3D BIM for efficient planning
3D BIM modeling of plant structures with LOD 100 to LOD 500 AIA standards
MEP coordination drawings and piping layout
P&ID diagrams for plant owners and clash detection and resolution
BIM content for equipment and machinery using SolidWorks
3D CAD modeling and analysis of foundation and installation base for machinery vibration absorption
We support BIM implementation and mechanical engineering design needs of process plants, power plants, refineries, petrochemical, fertilizer units, oil & gas rigs/plants, chemical plants, pharmaceutical plants, manufacturing and processing facilities, factory, foundry, mills, brewery, cement & steel plants. We have gained knowledge and are certified to work with international standards such as ASME Section VIII, BS PD5500, EN13445, TEMA and API for plant design services.
As a full-spectrum design support company, our services for plant design engineering are for:
Our integrated team of qualified engineers with broad experience and good exposure to various projects help in delivering creative and quality engineering services
Get in Touch