We deliver robust and reliable pressure vessel design services that abide by ASME codes written under Section VIII Division 2, to operate vessels under safety stress limits and precise calculations. We develop manufacturing and fabrication drawings with the details of stress concentration for the body and mounting of pressure vessel made of copper, stainless steel along with other alloy products including spherical head, cylindrical nozzles, tanks etc.
Our design engineer partner with pressure vessel fabricators to deliver 2D CAD drafting for installation and assembly drawings of all types of pressure vessels, storage tanks and accessories deployed in chemical, food & beverages, oil and gas, cement plant and power plant applications.
Our turnkey pressure vessel design services include:
Detailed 2D fabrication, layout and installation drawings using AutoCAD
Custom pressure vessel design development according to its application
3D modeling for piping runs and surrounding accessories
Detailed 3D model for pressure vessels and plant layout in SolidWorks and Solid Edge
Finite element analysis for structural and fatigue studies as per ASME guidelines
Heat transfer and fluid flow studies using CFD and FEA using ANSYS Fluent and ANSYS Mechanical respectively
Platform/equipment asset life assessment
We are a design consulting company having design engineers and drafters possessing extensive experience of working with AutoCAD and SolidWorks to develop comprehensive 3D CAD models compatible to inspection and tests for design verification. We also deliver pressure vessel design analysis services using ANSYS Professional for hydrotest, buckling, and thick-walled pressure vessels and identify critical parts and piping systems for design optimization and safety.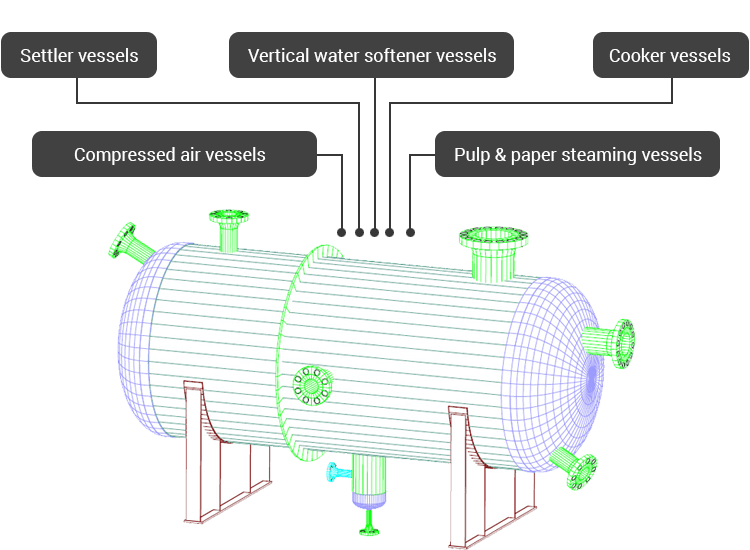 We remain an efficient partner to our global clients including pressure vessel design engineers and manufacturing firms by delivering unprecedented design and analysis support for 25+ years with a workforce of 200+ certified engineers and CAD drafters. Our expertise of working with multiple clients and any region as well as international design standards empower us to avoid design reworks and operational hazards for any design we deliver.
Pressure Vessel Design Case Studies