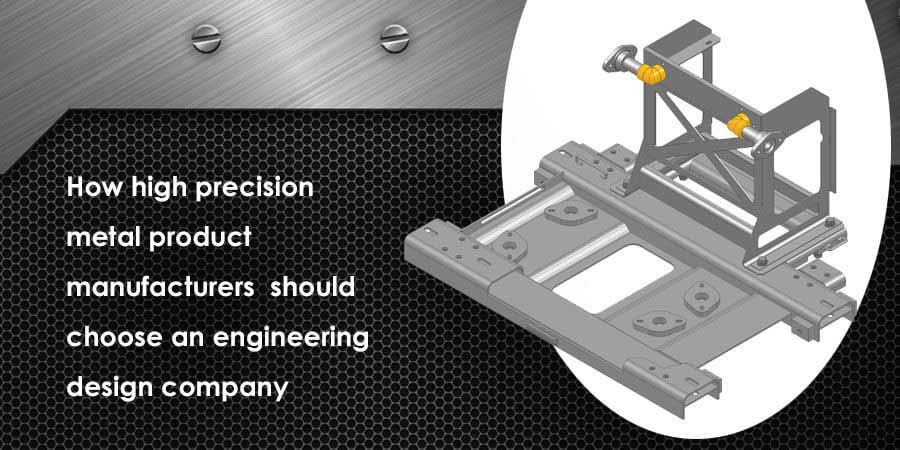 Top manufacturers are well aware of the fact that hundredth of an inch is enough to compromise the quality of high precision metal products. Design engineers, only with extensive experience, know that focus mainly has to be on intricacies involved with production, to ensure that exact specifications and tight tolerances are met for precision metal works such as HVAC parts, sheet metal enclosures, light fixtures, metal fixtures, industrial sheet metal components and many more.
Dedicated efforts of product design engineers are focused solely at providing their customers with a finished product, which not only meets but exceeds their expectations.
Details of production
First consideration is to be given to the detail of production of any workpiece, which directly impacts the caliber of the end product. Leading manufacturers are sane enough to start with the highest-grade metal, may it be steel, brass, copper, aluminum etc., and then fabricate both, standard and customized parts and components.
In order to maintain high efficiency and costs competitive, manufacturers leverage the potential of various forms of raw material such as sheet, coil, tubing, plate and bar.
Equipment and machinery used
Second consideration, along with precision metal fabrication, is given to the equipment and machinery used. In order to keep pace with growing demand for superior quality metal parts and components, best manufacturing companies do not hold back themselves from using the latest and most advanced solutions.
It not only ensures precision metal production of sheet metal products free of imperfections, but also empowers manufactures to handle high production runs.
The efforts from manufacturers don't get over at this stage. As part of the production process for precision metal parts and components, companies offer a broad range of services including shearing, forming, cutting, straightening, welding, and rolling, thereby offering customers real value.
Metal design phase of the entire project
However; the main challenge is the stage that comes even before starting the precision metal fabrication, the sheet metal design phase of the entire project. Sheet metal Manufacturers still face challenges in this phase of taking their inventive product idea from concept to reality. Handing it over to metal product design engineer's hands is what they fear.
Well aware of the fact that choosing a product design company which can partner them at every step of the process, they still get confused with so many different companies offering a wide plethora of services.
How to choose right engineering design company?
Skills are the most important criteria for making the selection. Reason being, an engineering design firm may offer one-stop-shop capabilities, might have a hefty portfolio, provide a single point of contact during the project's duration; but if they don't have diverse expertise – everything crumbles down.
For any high precision metal products manufacturing project, there always comes a stage when diverse set of skills and expertise walks into picture. Mind well, skills required during product design are way too different that those required during prototyping or manufacturing.
Design engineering firms, the one a manufacturer chooses for product design and rapid prototyping or simulation; should have professionals onboard with expertise in multiple areas of product design.
Does the firm have design engineers, CFD/FEA simulation experts, and 3d modelers onboard – is something that needs to be paid serious attention by product manufacturers. It would not be wrong for manufacturers to ask for team's engineering services education background to take a deep dive in the level of expertise of the team.
Manufacturers should ask question such as:
What are the sheet metal design firm's CAD customization capabilities with DriveWorks, Inventor iLogic and Configurator 360?
Does the sheet metal design company convert CAD models into sheet metal part & component designs for machine operations such as stamping, punching and bending?
Will the manufacturer be empowered with efficient fabrication through CAD design information for everything from enclosures to car chassis SolidWorks and Solid Edge?
Do their sheet metal design services adhere to DFM guidelines, and international design standards including ASME, ANSI, BS, ISO, etc. for seamless fabrication?
Are their designers equipped to deliver SolidWorks 3D modeling for sheet metal with edges, miter, bends, flanges, rib, gusset, collars and more for Design for Manufacturability (DFM) requirements?
Competent engineering design service providers meet the manufacturers to discuss their specifications, goals and objectives as well. Based on initial ideas or samples of sketches provided by the manufacturer, design teams at engineering firms develop and prepare drawings that can be used for production. Apart from all these, a lot goes into the fabrication process for precision metal works.
Trust the skilled source
Manufacturers are in need of precision sheet metal parts or components to be fabricated should select a metal product design company with experience and expertise of the intricacies of the production process, from start to finish.