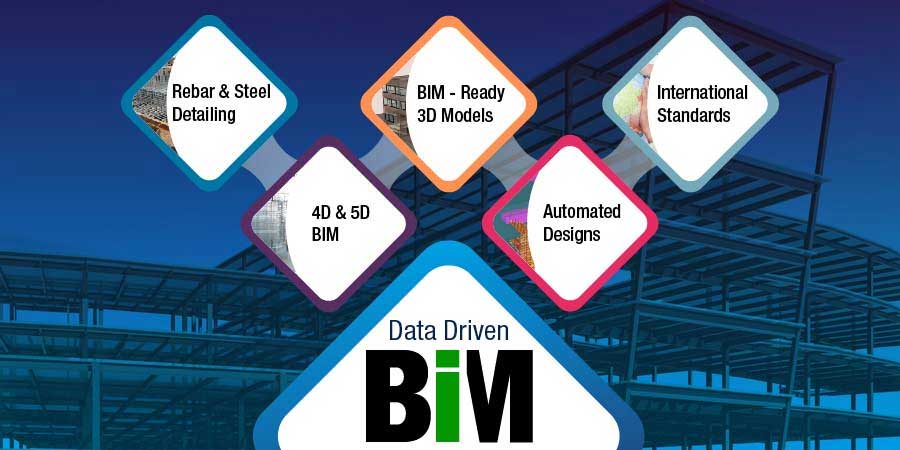 BIM is on its way up, and with software technology advancements in its court, it has trashed out all the redundant AEC industry practices to replace with the digitized workflows. BIM workflow certainly has changed the way we design and construct; from blueprints to 3D as-built models and from bottom-top to modular construction, respectively. In a nutshell, it has made building design and construction practices to be more data centric.
Structural engineers agree that platform such as Autodesk's Revit is more than just a tool for developing 3D structural models with design documentation and Bill of Materials(BOM) to them. It has become a gateway for efficient installation of prefabricated structural components, achieving accurate dimensional accuracy, enhancing constructability, and for streamlining the construction project processes.
Today's structural engineers have started using BIM platforms and gateways for more data driven decisions. Along with changing practices AEC professionals strive to put in efforts to leverage technology in more efficient ways. Their core aim has now become to make BIM deploy-able in pioneering ways by utilizing acquired data.
BIM and Gen Y's BIM are apparently different
New generation structural engineers use innovative construction material [by using reinforced concrete from just cement], and along with that their tools for construction to have evolved. Rebar detailing and modeling features of BIM redefines how structural engineers and contractors leverage BIM data.
In an era when AEC industry is becoming data driven, site engineers and contractors hardly find any challenge in acquiring data. It is just that leveraging this data and managing it is crucial for them; and BIM rectifies this exact shortcoming.
Software architecture for BIM exemplifies EPC firm's ambition of executing data driven design and construction by utilizing automation. It streamlines construction processes downstream by leveraging data for every decision made.
This data driven BIM concept essentially helps structural engineers in more than one aspect, as enlisted:
Utilizing rebar and steel detailing information to develop designs in Tekla
Designing in 3D to develop a single source of information throughout the construction stage
Producing design documentation, drawing reports, quantity takeoffs, RFIs and construction schedule leveraging data throughput in 3D models
Automate designs and create 3D rebar cages
Work with all internationally accepted standards of construction
BIM thus serves as a multi-user platform to bridge the gap between foremen on construction site and structural engineers making designs. Say for instance, stairs and railing designs, steel detailing for joists, anchor setting plans, shop bolt summary, pre cast walls etc. can be planned with BIM when planning for reinforced concrete structure building design.
Gen Y structural engineers are welcoming new BIM openings warmly
The profound growth of AEC industry owes its credit to strategic changes brought by BIM. Somewhere around the globe, contractors are busy building sky scrapers, and also there are contractors working to construct sustainable buildings for efficient energy conservation somewhere else on the Earth.
Furthermore, the current ratio of prefabricated construction to onsite construction is 4:1, which is also gradually reducing as more contractors are adopting BIM. In fact, it would not be an exaggeration to say that prefabrication popularization is due to BIM content developed by fabricators of building products and contractors to schedule the entire construction project timely with 4D BIM features.
Key features of BIM are being strongly embraced by AEC industry contractors and structural engineers in specific line of works. It has been embraced because there are reduced risks of safety and a crystal clear transparency in works. Usually, owners feel 'done' as far as responsibility is considered, forgetting the fact that they pay economic costs for every minute's delay. It is time to change our mindset and welcome new generations BIM that is data driven.