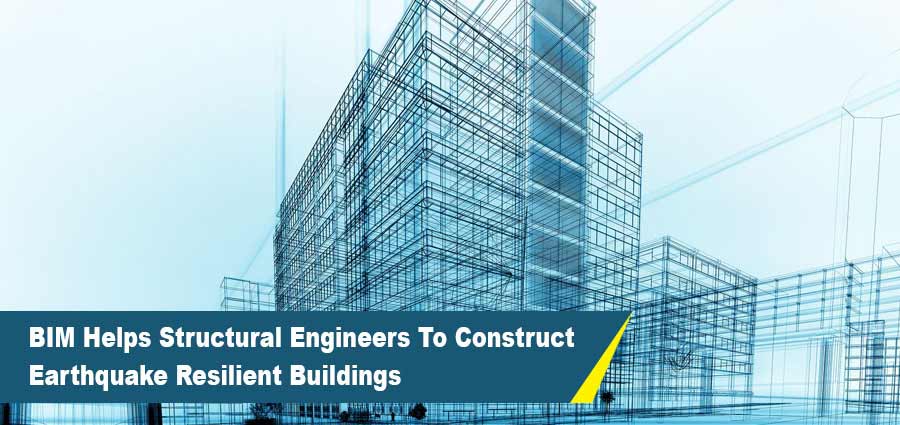 Today, several major construction companies and EPC firms are dedicatedly investing their structural design engineering resources for designing earthquake proof structures and buildings.
Structural and civil engineers needs to keep updated for constructing disaster resilient buildings and infrastructure such as expanding knowledge for cross bracing, earthwork real estate, calculations and much more.
Numerous earthquake proof housing, earthquake proof structures etc. have been designed and constructed around the globe especially in the zones which are prone to seismic natural occurrences. Cross bracing and appropriate rubber padding at foundation are some of the widely accepted designs for imparting adequate strength and absorbing seismic vibrations for earthquake resistant buildings.
Leveraging BIM for earthquake proof structural designs
Structural design engineers and researchers have designed fiber-reinforced concrete beams, base isolated buildings and what not. However, researchers often forget the most widely used technology, BIM for structural engineers, in today's construction practices. BIM technology holds all the four aces to turn the game of infrastructure development in favor of structural and civil engineers.
By leveraging BIM technology, proportionately, structural engineers can reach the zenith of building and infrastructure development. BIM along with a finessed 3D model of infrastructure and/or custom API programming have the capability to conduct fortification analysis and seismic analysis of the structure.
Earthquake retrofitting, design coordination, building codes and developing efficient earthquake proof building designs are some of the sectors where BIM plays protagonist with its imperative virtual design and construction tools.
Compliance to earthquake proof designs in BIM environment
With continuous population explosion, the lateral expansion of buildings has in fact shifted to vertical rise. Skyscrapers and high-rises have become an increasing necessity of urban infrastructure development along with flyovers, bridges and underground tubes.
BIM incorporates early earthquake safe design consideration, to eliminate design modification once the construction starts. Information rich intelligent BIM ready 3D models of infrastructure designs are critical when complying with seismic specification. Regulations call for a two inch space between ducts to prevent damages in earthquake and its inclusion in 3D models is an example of how neatly BIM ensures correctness of designs and compliance to codes.
Fundamentally, with BIM, any hanger, brace etc. can be modeled; designs of sleeves, decks, roofs, beams, columns etc. can also be validated using BIM. Alongside, by developing more custom plugins and tools that offer access to their APIs, tasks are automated and code compliance checking is streamlined.
Retrofitting of Earthquake Affected Infrastructure
BIM not only aids structural engineers while working on preparation of designs from scratch but also ensures that structure is revamped as it was before the earthquake. Having said this, BIM plays a significant role while working on retrofitting of earthquake affected infrastructure and buildings. It captures the reality of as built condition of any structure with help of point cloud information and converting it to 3D BIM models or photogrammetry.
It is impressive to see how AEC professionals are using unmanned aerial vehicles (UAV) and a high resolution camera to get exact as built conditions of roads, bridges, and tunnels. Upon modeling and analysis of this captured information in BIM structural software such as Autodesk Revit Structure, it shows the displacement under seismic load when virtually simulated. However, while retrofitting, just knowing the particle displacement of structure material is not enough.
Challenges and solutions with BIM
Other challenge lies in meeting the supply and demand of material as envisioned for retrofitting project. Additionally, it is also difficult to coordinate all the energy in a choreographed construction methodology that ensures timely completion and fall within financial budgets in earthquake affected geography. BIM plays a pivotal role in programming and sequencing all construction activity, aligning materials on sites and optimizing supply and delivery. BIM thus removes inefficiencies and inaccuracies that are caused due to piecemeal ordering of materials.
BIM was initially meant to upgrade fundamental ways in which designing was done and bring efficiency to overall construction process. But with the gradual advent in technology, BIM now serves construction management processes as well. Also when stakeholders and public can see proposed building designs in form of 3D models and can walk-through a virtual prototype of intended infrastructure piece, decisions can be streamlined and retrofitting earthquake affected infrastructure can be accelerated.
Innovations for anti-earthquake building design models
Among the other options, in the year end of 2015, a professor in one of the leading universities of the USA came up with the patent registration for beams made of fiber mixed with concrete. These beams when reinforced with concrete and steel fiber can sustain seismic loads at higher levels. Such innovations find applications in bridges, flyover and high-rise construction.
Besides, there are several other popular facilities constructed, such as Taipei 101 in China, that are built on separate foundation which acts as a shock absorber. It essentially allows the building to stay stationary relative to the ground even during earthquake events and have earthquake safe designs.
Additionally, Japan too is speeding up in designing and building anti-earthquake buildings. The collapse ratio of earthquake resistant houses in Japan is significantly low and new construction works are approved only by stringent laws set by earthquake-proof standards. Their major innovations involve usage of iron reinforcing bars with concrete.
Conclusion
Adopting such modern approaches based on a static nonlinear algorithm, also known as dynamic analysis; give more exact representation of buildings when simulated for seismic conditions. This pushover analysis delivers erecting a stronger foundation for high-risk construction.
Using BIM is a cost-effective solution for infrastructure project development and it is unarguable. As the industry enters the next decade, it will have the ability to perform with a single BIM model. BIM itself will soon become the new normal for structural engineers to develop earthquake resistant building.