Updated: October 6th, 2017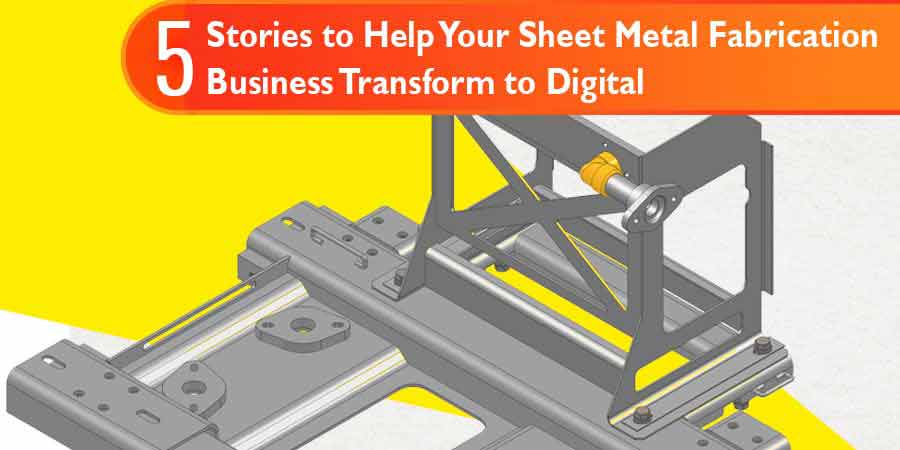 Industry 4.0 is all about digitizing manufacturing operations, capitalizing on big data, automating factories and collaborating efficiently with suppliers through 3D design and visualization tools. There are discussions growing all over about how technologies like Augmented Reality (AR) and Internet of Things (IoT) will take manufacturing sector further to the next level.
But, when we look at the actual scenario, almost 90% of small fabrication units still rely on 2D processes. While 2D is important especially for sheet metal to perform number of operations to give a final 3D shape, the fabrication industry is losing big time in enhancing productivity through 3D and preparing for upcoming technology changes. From keeping the design communication efficient, reducing errors and material scrap to design automation and effective sales, 3D CAD is the way forward to remain competitive.
For a more detailed, holistic understanding on the importance of 3D and how you, as a sheet metal fabricator can migrate your 2D design processes to 3D, here are 5 interesting stories that you must read:

The design process of sheet metal products is completely different from solid modeling. This is because the metal sheet is required to be bent, welded, stamped or machined to finally form a 3D shape. As such there is a need to consider factors such as bend allowance, tolerances, hole spacing and other design parameters while developing the model inside CAD environment.
However, fabricators still spend 30-40% of time in design rework and fixing errors which are related to manufacturability. These errors however can be eliminated by bridging the gap between ideal and real world using DFM (Design for Manufacturing) strategy. The use of right CAD tool is also important to efficiently implement the strategy and keeps the design process smooth while alerting the designer whenever there is difference sensed between exact and real world.
DriveWorks, one of the leading CPQ tools that work with SOLIDWORKS based 3D CAD designs help fabricators to automate the designing of modular products using rule based approach. But with this tool, fabricators can also accelerate sales quotation process with much higher accuracy.
Using online configurator, there is a possibility to provide effective guided selling and engage more customers to buy the product. This is specifically useful for fabricators of ETO (Engineer-to-Order) products that offer customized solutions to their customers.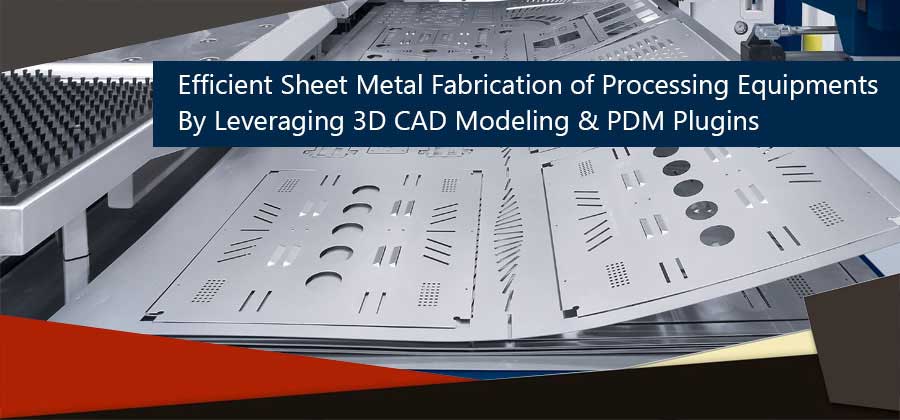 Increased use of CAD modeling and drafting techniques essentially accelerates the design stage of sheet metal fabrication. Not only does it nullify the errors usually occurring during fabrication or dimensioning but also manages the design data well.
A typical CAD system accompanies with add-ons and plugins such as PDM or Driveworks will manage the design data well for future use and eliminates repetitive design tasks, respectively. Driveworks lets the design engineer use the existing data design the 'same but different' products with just bespoke changes.
CAD thus empowers the efficient fabrication of sheet metal fabrication for making processing industry equipment. It pay attention to little design details and eliminates any probability of being wrong, boosting higher efficiency in fabrication.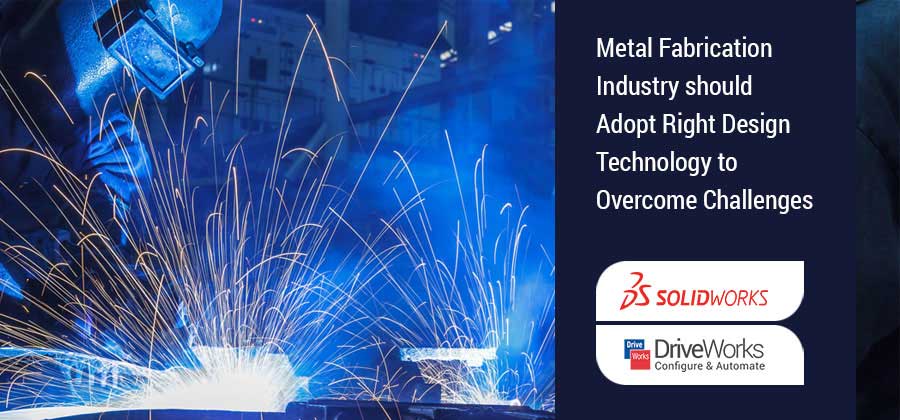 Several major shifts in US manufacturing industry have upgraded everything from software technology to shop floor equipment. Strict design regulations, government compliance, meeting customer delivery expectations etc. are some of the challenges that fabricators are facing.
Amongst this up-side down situation, 3D CAD modeling and sheet metal designs save fabricators an immense amount of pain. These attributes of CAD will go further than just modeling and deliver enhanced renderings and accurate billing quotes. It is actually the time for metal fabricators to adopt these right technologies to overcome their challenges without compromising the quality.
With changing fabrication trends, designers need to upgrade their CAD systems, since standalone CAD systems aren't sufficient to address the changing trends. When it comes to these new processes, it is not only about fabrication drawings that you need; fabricators need nesting reports and bills of materials for details.
Since these trending processes such as laser cutting and helium welding are costly they can't be redone every now and then because of mistakes. CAD will facilitate fabricators with early elimination of mistakes and bring quality finished products to markets early. With CAD systems, new avenues for cost saving and brand creation can be attained.