Wind Driven Rain CFD Analysis for Façade Systems in High Rise Buildings

The Client
Façade Systems Manufacturing, India
The Objective
To investigate the effect of wind driven rain wetting on high-rise building under various wind and rain condition.
The Solution
WDR CFD analysis on high-rise building was executed to investigate the effect of wind driven rain wetting on façades. Various wind load and rain conditions were chosen to study the effect. Discrete Phase Model (DPM) was used to perform tracking of rain drops considering catch ratio on windows as one of the main parameter for the study.
Technology/Software
ANSYS Fluent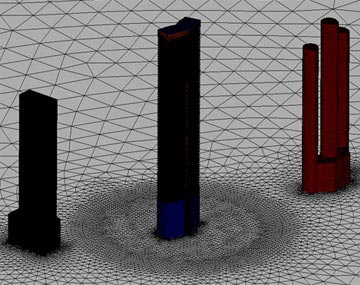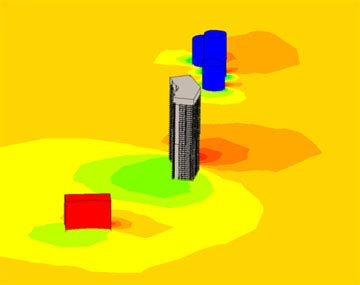 Wind-driven rain or driving rain is a kind of rain that is given a horizontal velocity component by the wind. The effect of wind driven rain on building façades is extremely important to consider while designing the façade systems to avoid moisture sources and degrade the efficiency of the system. Numerical simulation to measure the intensity of wind-driven rain impinging on building facades is extremely helpful over experimental studies, as it directly reduces the physical trials required and subsequently reduces the cost and time involved in finalizing the design for production.
Hi-Tech provided support to one of the leading façade systems manufacturer in India to evaluate the design of façade considering the effects of wind driven rain using Computational Fluid Dynamics (CFD).
Client Challenges:
Developing efficient façade design to withstand wind driven rain
Identify the effect of rain wetting on facades installed on high rise buildings
Determine the optimum catch ratio on windows to avoid excessive moisture formation
The Solution:
CFD specialists at Hi-Tech developed a computational domain to capture the flow physics around the building envelope design. Wind Driven Rain (WDR) CFD analysis was performed with discrete phase model and various wind load and rain conditions to identify the effecting climatic parameter on the façade. Catch ratio was considered as one of the important parameter to compare the effect rain drops on windows.
A detailed design assessment report was developed to help client in evaluating the performance of façade design based on different wind speed, direction, rain intensity and rain drop diameter. The simulation thus helped in reducing the physical trials required to select the right façade design for high rise buildings and further reduced the development cycle.
Business Benefits:
Design validation through computational technology
Shortened design cycle: design was tested using simulation methods and hence the time required for testing or modifying the design was saved considerably
Shortened design cycle led to savings in both design and manufacturing