Structural Strength Assessment of Battery Rack Subjected to Seismic Loading, UK

The Client
Engineering Consultancy, UK
The Objective
Determining seismic response of battery rack to predict structural strength of the system
The Solution
To evaluate the structural strength of the battery rack under the influence of seismic loads, finite element based Response Spectrum (RS) Analysis was used. The process of conducting structural and modal analysis prior to seismic analysis was automated using scripting in APDL (ANSYS Parametric Design Language), in order to reduce time required for case setup. The FEA results showed critical regions of the rack undergoing extreme stress and deformation, allowing the client to optimize the rack design prior to actual fabrication.
Technology/Software
ANSYS Professional NLS 17.0
Industrial platforms and storage racks are often required to be designed with high structural strength and resistance against deformation during the event of earthquakes. Seismic events of higher magnitude induce lateral movement within these racks, which can lead to excessive stress and deformation, eventually leading to a collapse. These structural members are as such designed considering not only static but dynamic loading as well to ensure safety and reliability.
A leading fabricator of racks for storing batteries approached Hi-Tech to evaluate the structural strength of the rack design under the event of earthquakes. The client needed to visualize the impact of seismic loading on the structural members of the rack and further perform optimization to improve the design for safety and reliability.
Client Challenges:
Accurately predict the structural behavior of the racks under the influence of seismic load
Determine first natural frequency of the rack structure
Keep test trials cost-effective to avoid increase in final development cost
Develop optimized rack design to withstand seismic and static loads without failure
Engineering Solution: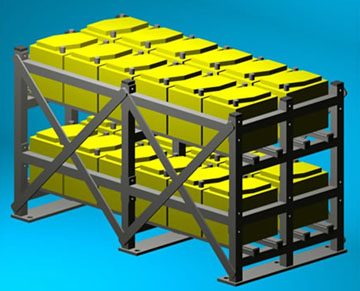 Input – 3D Model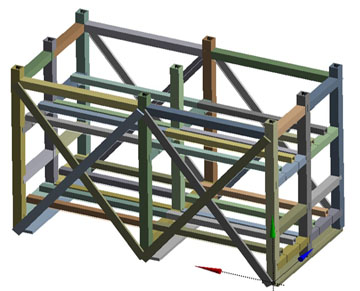 Geometry Created in DM
The rack model was designed to carry a total of 24 batteries in a set of 4 with each battery weighing approximately 15Kg. Based on these input, a FE model for battery rack was developed with 1D beam elements. Seismic analysis was performed using Finite Element Method to obtain preliminary assessment of dynamic behavior of mechanical structures when excited by earthquakes. The prerequisite to seismic or response spectrum analysis is modal and structural analysis. FEA specialists at Hi-Tech, used inbuilt macros in APDL to automate the modal and structural analysis, and efficiently used the results to perform seismic analysis. The scripting helped in reducing the time required to setup the case for different seismic loading condition.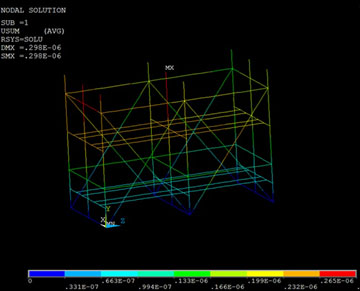 Response Spectrum Analysis Results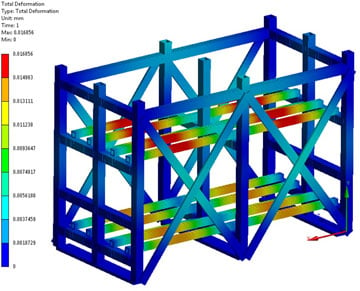 Static Structural Results – Total Deformation
Results obtained through seismic response analysis showed critical regions in the structure subjected to excessive stress and deformation. The simulation results provided client the opportunity to perform necessary changes and optimize the battery rack structure, to ensure safe and reliable design.
Business Benefits:
Reduced design cycle and development time
Provided opportunity to improve structure design prior to fabrication
Reduced physical test trials and associated costs
Assurance of building safe and reliable product for end customers