Storage Tank Structural Analysis for Design Testing and Validation, New Zealand

The Client
Process Equipment Manufacturing, New Zealand
The Objective
Design assessment of a storage tank as per Australian regulatory standards.
The Solution
The storage tank geometry provided by the client was simplified to perform structural analysis using finite element method. The boundary conditions such as fixtures and pressure were applied on the FE model as per AS 1692-2006 to evaluate the structural integrity of storage tank. Results indicated that the storage tank design was safe as per the specifications and can be utilized for actual production.
Technology/Software
ANSYS Professional NLS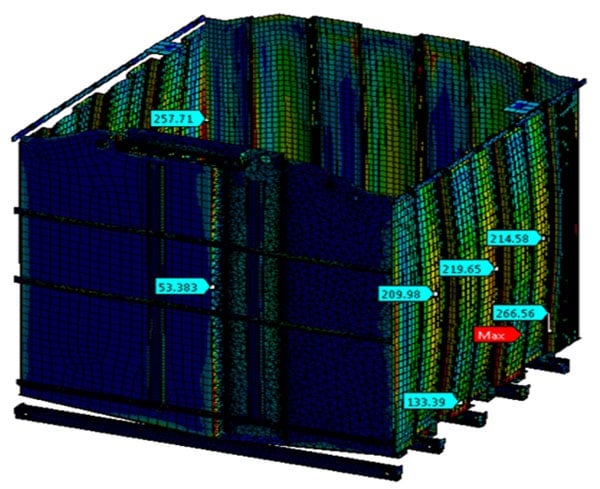 Storage tanks are critical for many industrial plants and processing units, storing pressurized liquid/gas for diverse set of applications. The design of these tanks is usually based on standards established by local or national regulatory bodies to ensure the safety and sustainability. However, in a competitive landscape, manufacturers are also required to ensure that their designs are cost effective and yet maintain the quality. In a conventional development cycle, the storage tank designs are first utilized to perform several prototyping tests considering number of load conditions to finalize the design for actual production. This unnecessarily stretches the development time as well as affects the cost of manufacturing.
A leading manufacturer of hazardous liquid control systems in New Zealand was looking to implement simulation driven design for storage tanks to reduce the development schedule and associated costs.
Client Challenges:
Development schedule of storage tanks excessively long
Too much cost involved in performing physical test trials and design validation
Difficult to meet customer delivery deadlines
The Solution:
To assess the design of storage tank as per AS 1692-2006 regulatory standards, static structural analysis using finite element approach was adopted. The geometry of the storage tank provided by the client was first simplified ensuring no change in the design intent. Being a sheet metal component, shell elements were used for meshing to capture accurate physics on the storage tank geometry. Boundary conditions such as fixtures and pressure were selected from the regulatory document and structural analysis was performed.
Results indicated that the stress and deformation values were within the permissible range and hence the design was safe to be used for actual production. A detailed design assessment report was developed to assist client in identifying the behavior of the storage tank geometry subjected to pressure loading conditions resulting from the fluid present within the enclosure.
Business Benefits:
Design validation through computational technology in conjunction with AS 1692-2006
Shortened design cycle: design has been tested using simulation methods and hence the time required for testing or modifying the design is saved
Cost and time savings in both design and manufacturing
Delivering the tank as per customer specifications possible within short turnaround time