Hitech remains fully operational amidst the Covid-19 challenges. Our business continuity plan is fully in place and allows our teams to conduct 'business as usual' remotely and safely. For any questions, please connect with Bachal Bhambhani (USA)
+1 408 338 8047
or Brett Parnham (UK/Europe)
+44 782 436 5444
.
Project Information
Client Profile
Environmental systems manufacturer
Industry
Power engineering
Inputs
Autodesk Inventor models library
Software
Autodesk Inventor 15
Services
CAD Customization
Client Challenges
Design delivery period of 3+ days delaying final product delivery 
Time consuming repetitive tasks, with high possibility of errors
Managing and finding relevant drawings for standard component from the improperly maintained CAD library with several duplicate drawings
Business Needs
Develop an automation tool for finding all drawings related to any standard component used in a particular assembly. Once the documents are found, they have to be copied in a structured folder and change the document references as and when needed.
Our Detailed Engineering Solution and Approach:
The manufacturer approached Hitech design automation engineers with his concerns of prolonged design cycles affecting the final product delivery. Automation engineers examined the originally shared CAD libraries by manufacturing firm's design teams.
Based on the initial audits, Hitech's automation engineers suggested to develop an Autodesk Inventor macro to automatically fetch the relevant technical documents of the standard components used in the assembly.
.ivb file, equipped with logical decision making rules, was developed with search criteria and filters to find the most accurate documents out of all the copies found. It makes a copy on the local system and updates the current model references in the drawing documents.
In case of multiple files found, the macro would list out the files in descending order matching filter criteria.
Furthermore, when the macro is executed relevant flies are fetched from the library and all 3D CAD models and drawing documents are arranged in a structured format at the said location.
Towards the end, the tool will generate a report listing the number of documents found/not found in the listing.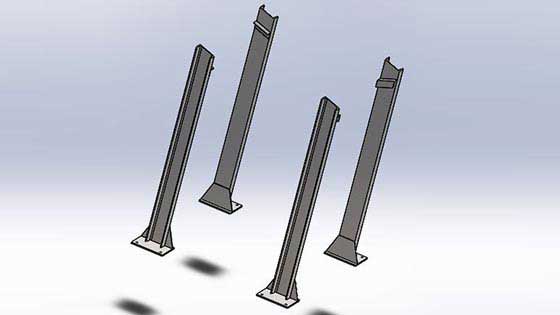 Beam Arrangement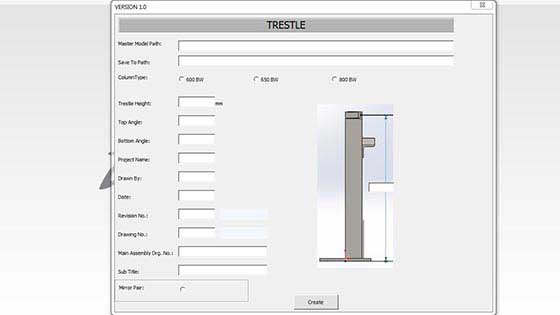 Developed Automation Macro for Autodesk Inventor
The development of such a tool helped the design team at manufacturer's facility to significantly reduce errors and increase production rate.
Business Impact
Reduced lead time and higher profitability.
Saved time and accuracy finding relevant documents.
The tool could be replicated for any drawing and component saved in the CAD library.