CFD Analysis for Erosion Management in Pipes Subjected to Multiphase Fluid Flows for EPC firm, USA

Industry
Oil & Gas Industry, USA
The Objective
Determine erosion rates in critical areas of the pipes due to multiphase water-sand slurry flow.
The Solution
To accurately predict the erosion rates in pipes due to slurry flow, particle impact angle, velocity and diameter were calculated experimentally. To simulate impingement of particles on critical regions of the pipe, Discrete Phase Model (DPM) was utilized along with suitable turbulence model as well as inlet and outlet boundary conditions. The results obtained through CFD analysis were in close agreement with experimental data, showing high erosion rates near elbows or pipe bends.
Technology/Software
ANSYS Fluent v15.0
It is a common phenomenon in multiphase flow configurations, especially in piping systems; that erosive wear due to particle impingement. Severe erosion due to particle impingement on metal walls damages pipes, pipe fittings and valves, and can defunct entire fluid flow systems. It is thus crucial to determine proper piping configuration and select suitable elbows that do not influence increase in erosion rates. While experimental tests are crucial, these are often costly and time consuming. Moreover, it is more complex to determine erosion rates for different pipe and elbow configurations.
A leading EPC firm approached Hi-Tech to evaluate their piping system for erosion, designed for oil & gas facility.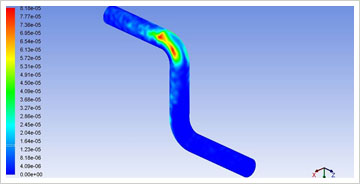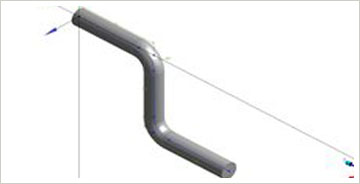 Client Challenges:
Increased erosion in pipes due to slurry flow (water and sand) damaging the system early
Determine optimized pipe bends and piping arrangement to reduce erosion effects
Reduce cost of experimental trials
Reduce design cycle time
The Solution:
To predict erosion rates in pipes subjected to multiphase flow (water + sand), CFD analysis was conducted using Discrete Phase Model (DPM). Suitable inlet and outlet boundary conditions were applied on the fluid domain along with turbulence model to capture the flow physics accurately. Factors such as particle impact velocity, impingement angle and diameter were considered from experimental tests and the fluid domain was solved and converged to 10e-6 in terms of residuals.
Results obtained through CFD simulation showed higher erosion rates near the pipe bends or elbows, suggesting change in the bend angle. The results were also compared with experimental data and were found in close agreement, thus validating the CFD model and allowing the client to perform future simulations without undergoing tedious experimental procedures.
Business Benefits:
Prediction and prevention of high erosion rates in pipes
Reduction in design cycle
Reduction in cost due to less experimental trials
Ability to evaluate different pipe and elbow configurations quickly
Design quality systems with better useful life expectancy for customers