3D Design and Fabrication Drawings for Stairlifts Manufacturer, Europe

The Client
Metal Fabrication, Europe
The Objective
Reducing lead time for customized rail design orders for stairlifts according to multiple international standards through design support and CAD customization.
The Solution
Hi-Tech's engineers parameterized existing CAD processes, and added new features in the existing CAD system along with other macros and tools, to create GA drawings with country specific standards for customized rail design used for stairlifts. The time required for repetitive design tasks was reduced from client's end, which resulted in seamless information exchange between external systems for quality and manufacturing as well as increased the overall productivity.
Technology Used
Software
SolidWorks API, AutoCAD
Database
Oracle, MS Access, SQL
Languages
C++, VB, .NET, ASP, Java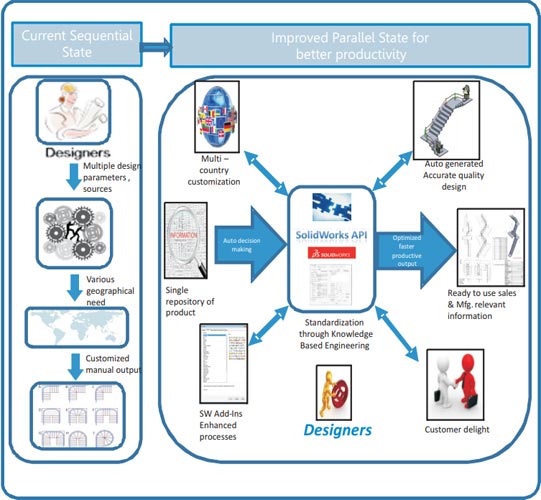 The demand for strairlifts all over the globe is on a rise with rising elderly population. These assistive devices are increasingly being adopted in North America, Europe and U.K by disabled or elderly people to move up and down the stairs. The increasing challenge however for stairlifts manufacturer is the ability to respond to customer needs on time, especially in the cases of curved rail stairlifts as they are manufactured according to individual staircase. These types of stairlifts consume a large amount of time in measurement, design, manufacturing and installation. To remain competitive in such demanding market, manufacturers are required to harness their knowledge and turn it into processes that help them in maintaining productivity and shorten the lead time.
Hi-Tech partnered with a leading European stairlifts manufacturer to support rail design for different curved, straight and outdoor stairlifts customized according to country specific safety standards and staircase structure.
Client Challenges:
Repetitive design tasks increasing the manufacturing lead time
Difficult to manage design data for multiple international standards for chairs and lifts
Design and manufacturing information not aligned as per the available bending machines
Addressing customized orders with special bends leading to extra engineering effort
The Solution:
To address the client challenges, CAD specialists at Hi-Tech replaced the client's manual legacy CAD systems with SolidWorks while keeping the vital functionalities intact to optimize the engineering steps involved in rail design, manufacturing and installation. Utilizing in-house as well as client end resources, special features, macros and tools were developed to customize the CAD system according to the design requirements. This change allowed client to easily convert design information from images to editable 3D CAD models of rails according to custom staircase structures.
The use of additional tools and macros also enabled client to easily extract fabrication drawings and standard GA drawings for production and sales purposes. Our dedicated team ensured that all the design information for custom curved rail stairlifts were according to country specific standards and made the design production ready. The client was able to perform "what-if" simulation by changing design parameters digitally to identify design trade-offs quickly.
Business Benefits:
Quality of rail design was significantly improved with reduction in repetitive tasks and adherence to country specific standards
Seamless data exchange between external and internal systems
Productivity enhancement through right mix of software usage and skills pyramid
Created opportunity for the manufacturer to implement 24 hour delivery model for end customers and remain competitive in the market