CAD Engineering
Evolution and Growth of Engineering Services Outsourcing
Posted by Nikunj Patel on September 24th, 2014
The engineering services sector is growing exponentially with an estimated $750 billion value addition every year. Several engineering design and support activities are outsourced across a wide spectrum of industries like automotive, aerospace, oil & gas, heavy equipment manufacturing, utilities, construction, power generation etc. to name a few.
The overall spending on the engineering research and development in expected to reach $1.4 trillion by the year 2020, globally. The major contributor to this growth is India, as it remains a dominant player in the engineering R&D outsourcing industry. In India alone the ER&D market growth is expected to be reaching approximately to $45 billion by the year 2020.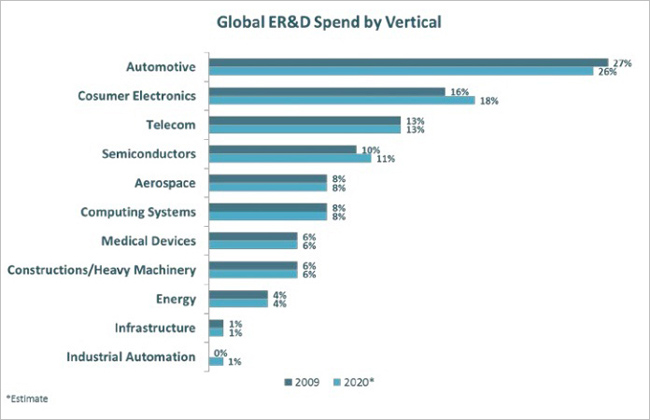 The diversity of engineering services that range from providing 2D/3D CAD drafting, PLM consultation, product design and development using computer aided engineering and simulation techniques, reverse engineering, preparing CAD files for 3D printing etc, has lured companies across the world towards outsourcing.
Additionally the industry needs like design innovation, reducing manufacturing costs, designing for a smaller footprint, higher performance and energy efficiency to name a few, are also addressed.
The key drivers of growth in ESO industry are:
Cost reduction
Access to a global talent pool
Shrinking R&D budgets
Technology convergence
Shorter and faster life cycle
While earlier outsourcing engineering services was limited to availing services of the most rudimentary nature, today services of crucial importance to the client company are also being outsourced.
This is because several companies like Hi-Tech have braced up to the emerging requirements across various sectors and ramped up their facilities, infrastructure and resources to address these demands in the best possible manner. When outsourcing is safe, reliable and delivers better results, and when clients find it to be beneficial for the growth of their business, they go ahead and engage the engineering service provider.
The trend of joining hands with a client company as a sustainability partner or an innovation partner has also increased. Formation of strategic partnership between client and service provider is becoming increasingly popular. In the wake of this trend, a lot of engineering service providers have mushroomed.
Players, who want to stand tall and outdo competition have not only upped their technologies, infrastructure and resources but also changed their digital marketing strategies. Online visibility and good reputation can help bag the first few projects, however consistently delivering the best quality all along, builds long termed business relations.
Hi-Tech is an engineering service provider with a global presence. The company leverages its infrastructure, technology and skilled resources to deliver engineering services of the utmost quality. Hi-Tech has end-to-end engineering expertise across varied industry verticals, and has executed projects of varying scale and complexities.

About Author: Nikunj Patel is a design engineer working with Hi-Tech CADD Services for the past 4 years. He loves designing specialized industrial equipments and can always be found in the lab discussing, brainstorming & tweaking designs. He has also worked on architectural projects taking interest in every aspect of design & analysis.