To transform intuitive furniture design concepts to quality craftsmanship, we deliver design support through our expertise in 3D CAD modeling, virtual testing and design optimization for wood and sheet metal products. With digital workflows, we keep manufacturers informed throughout the furniture product design development cycle and expedite the product development process.
We have provided furniture design services to companies such as custom metal furniture, stainless steel furniture, wooden furniture that increased productivity by manifolds. We focus in developing 3D CAD models in SolidWorks of metal furniture for living room, dining room, bedroom, vintage, kids' room and offices.
We assist you in office furniture components design such as desks, chairs, tables, office panels, carts etc. and having specialization in designing sheet metal components such as reinforcement plates, structural pieces, connector plates, drawer inserts, mounting plates, and brackets for custom sheet metal components manufacturers. Our capability mainly lies in creating 2D drawings & 3D models for metal & wood furniture, door, window, fixtures and prefabricated equipment, specifically for residential apartments, offices, museums, shelters and retail buildings.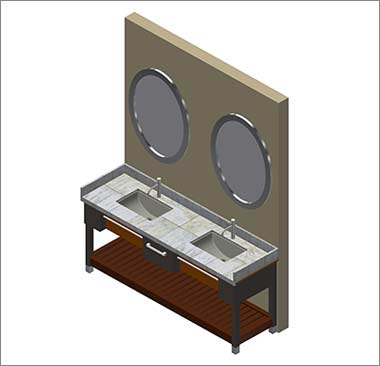 Vanity Unit with Shelf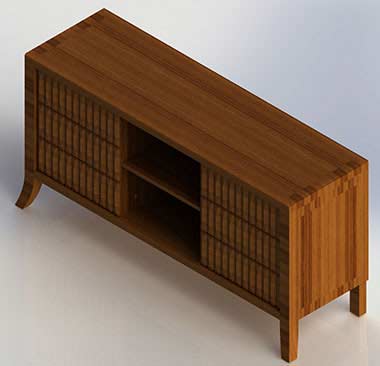 Wooden Cabinet
For furniture products utilized in residential, commercial, institutional and healthcare facilities, we develop 2D CAD drawings, manufacturing and assembly drawings as well as detailed 3D models for BIM requirements. We also support furniture products manufacturers to respond to inquiries faster and generate accurate quotes through our expertise in design automation using SolidWorks and DriveWorks. Hi-Tech provided design automation solution to a leading wood and metal furniture manufacturer in USA, which resulted in the reduction of engineering lead time from 4-5 days to one single day and boosted the delivery process.
Our additional support to validate and optimize furniture design through FEA and CFD further augments the manufacturer's capability and helps in reducing design iterations. We also provide support for reverse engineering to recover obsolete design data or perform competitor analysis and subsequently build better products for end customers.
As a full-spectrum engineering design support services providing company, we also provide rapid prototyping services to visualize the design and make key decisions prior to actual production.
With right mix of talent and technology, we have demonstrated excellent furniture design project management capabilities for clients spread across USA, Canada, UK, Europe, Middle East, Australia & APEC regions.
The Hi-Tech Advantage
Access to experienced and certified team of CAD, BIM and CAE experts
Scalable infrastructure and resources capability to handle projects of any scale & complexity
Adherence to industry standards such as ASME, ANSI, BS, etc.
Flexible engagement models to meet project specific requirements
Our integrated team of qualified engineers with broad experience and good exposure to various projects help in delivering creative and quality engineering services
Get in Touch