Hi-Tech provides sheet metal design support services right from 2D drafting and 3D modeling to virtual testing and design optimization for building products like wooden and sheet metal furniture, doors, windows, facades and decorative/ornamental or architectural & structural components.
At Hi-Tech, we ensure that custom fabricated orders for designing sheet metal building roofs, aluminum and stainless steel panels, metal frames and HVAC duct; are fulfilled on time with accurate development of design information.
With extensive experience of more than 10 years, we have delivered sheet metal design services to building product suppliers, general contractors, siding contractors, window contractors and contractors for masonry, plumbing/heating and maintenance.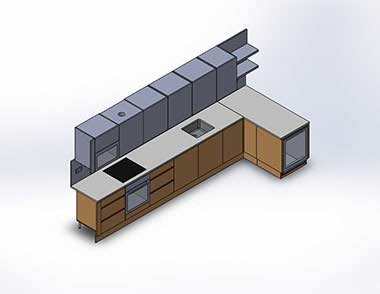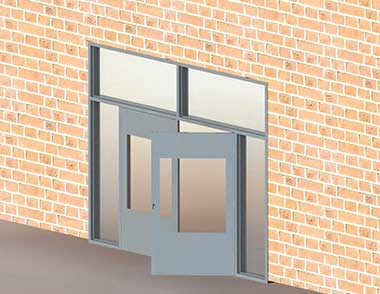 Our engineering team primarily supports manufacturers to design metal building products like metal frames, elevators/lifts, escalators, fire suppression equipment, HVAC, A/C, roofing panels, structural steel (I-beam & column), structural metal and metal plate work products or metal fabrications like stairway, ladder, railing, grating, strut channel, roofing (including copper), prefabricated metal building components, security systems, hardware for buildings, electrical components, moisture & thermal protection products.
We also support building accessories design like purlin and canopy roof extensions, gutters, downspouts, jamb flashing, Interior liner panels, walk doors, windows, vents, light transmitting panels (roof & wall lights) as well as roof jacks. With our expertise in CAD, we develop 2D fabrication drawings, manufacturing drawings and assembly drawings with detail BOM to support the product design process.
With increasing use of BIM in construction projects, we also support manufacturers in developing informative 3D models that can be utilized in the BIM process by architects. Hi-Tech developed MEP BIM Clash Free Model for plant room in Europe, which increased business opportunities for the client. We also perform virtual testing for wood and metal building products through finite element analysis (FEA) and computational fluid dynamics (CFD), to validate and optimize product design prior to actual production.
With a team of 700+ professionals, we have excellent infrastructure capabilities and industry experience which helps us to deliver complex and large scale projects efficiently and subsequently enable building products manufacturers to move from modeling to decision making faster.
Our building product design support services are mainly focused for:
The Hi-Tech Advantage
Dedicated team of CAD, CAE and BIM experts with an experience of 10+ years
Scalable infrastructure and resources capabilities for projects of any scale & complexity
Adherence to international standards and codes (e.g. ASME, BS, ANSI, etc.)
Flexible engagement model to suit client specific requirements
Our integrated team of qualified engineers with broad experience and good exposure to various projects help in delivering creative and quality engineering services
Get in Touch