As an engineering design support providing company, we collaborate with your design & development team to realize product behavior, predict failures and optimize product design. Our FEA consulting specialists help your engineers to take key decisions on product design during early stages, enabling reduction in development time.
We reduced the development time of a valve assembly by 40% using CAD modeling and structural analysis, providing manufacturer the ability to manufacture the valve faster.
Our expertise reflects in FEA analysis services and the engineering design optimization solutions that we have delivered to industrial plants, sheet metal product manufacturers, automotive OEM and ancillaries and pressure vessel manufacturers.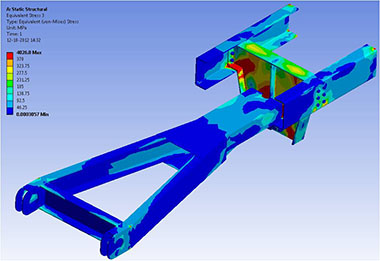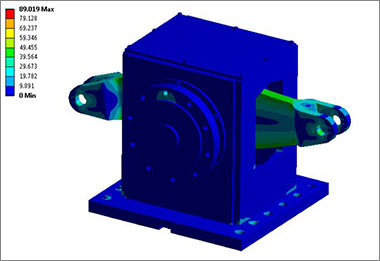 We supported automotive part manufacturer in USA to locate and analyze fracture in a universal joint using FEA and helped in evaluating the design faster and better.
Aligning ourselves with your product development process, we leverage your capabilities and help you deliver products at the right time to the market. Our engineering facility is equipped with industry leading FEA tools like ANSYS Mechanical, ANSYS NLS and ANSYS LS Dyna to evaluate the product performance for different static and dynamic loading conditions.
Our design optimization experience helped extrusion machine manufacturer in USA to optimize the breaker plate design using FEA, which helped in increasing the productivity of the extrusion machine and reduced the time required for plastic forming.
To ensure accuracy in results, we also perform validity checks such as convergence analysis, boundary conditions review and hand calculations, allowing manufacturers to validate their designs faster.
With our proven project management capabilities, we have remained a valuable engineering design support partner for clients located in USA, Canada, UK, Europe, GCC, Australia & APEC.
What We Provide
The technical expertise of our FEA consultants in delivering Finite Element based product design optimization enable you to address complex engineering design problems, and help validate product designs prior to production.
Software Capabilities
Our integrated team of qualified engineers with broad experience and good exposure to various projects help in delivering creative and quality engineering services
Get in Touch