Working on large scale projects makes it difficult for design engineers to model various building products and fixtures repetitively multiple times. We help building product manufacturers in developing BIM content through Revit families for as-built models.
We deliver Revit family creation services for industrial, residential, commercial, retail and institutional building requirements to quickly replicate in entire building models.
We, at Hi-Tech, generate Revit families for various mechanical, electric, plumbing fixtures, components of building products such as stairs, rails, cables, trays, doors, windows, etc. for creating as-built models.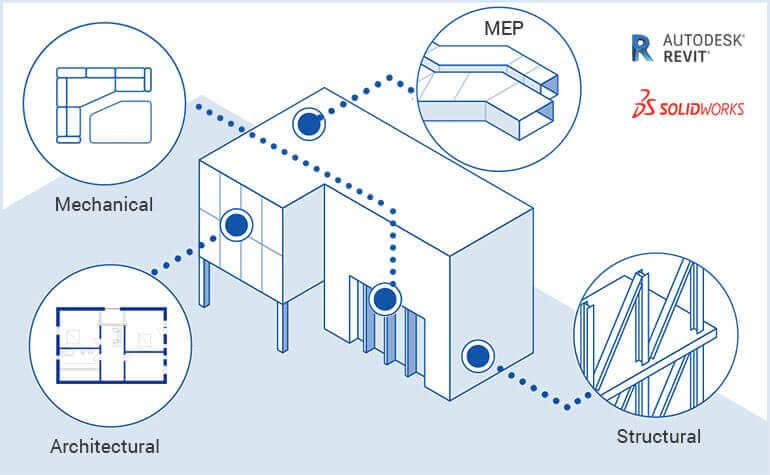 Our Revit family creation services include:
Architectural Revit Families
We create Revit families for architectural fixtures such as doors, windows, furniture, walls decoration, partition, ceilings and floors. We also help architects by creating models and libraries ready and compatible to manipulation according to project requirements.
Structural Revit Families
We develop Revit Structural families for components including beams, columns, joints, trusses, decks etc. for steel, wood, concrete and RCC structures. Our Revit Structural families empower structural engineer practice modular construction to stay efficient across the construction stage.
MEP Revit Families
We develop MEP families for HVAC ducts and equipment, switchboards, lighting fixtures, toilet fixtures, water pipes and other such MEP components. We aid manufacturers of these products to develop BIM content to collaborate with MEP contractors and HVAC contractors for BIM workflows.
Mechanical Revit Families
We develop plant room component models such as compressors, overhead tanks, pumps, etc. and furniture products such as shelving, rack systems, shop fitting furniture, etc. to store as Revit families and replicate according to the client's needs.
Let us know your requirements and we will deliver a complimentary project to help you gauge our proven project management and CAD/BIM capabilities.
Get in Touch